GHD Glätteisen
GHD Straightener, erhalten Sie die Besten der Besten!
-5% Sale

189,95 179,95

-10% Sale

249,- 225,-

-12% Sale

199,- 175,-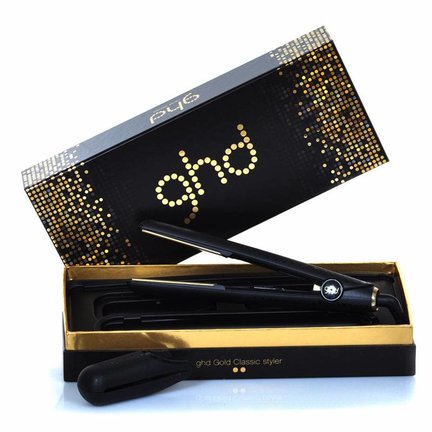 GHD Haarglätter ist die absolute Wahl des Lachses. Good Hair Day hat mehrere Haarglätter in der Kollektion. Auf haarspullen.nl finden Sie die hauptsächlich Haarglätter aus der GHD V Gold Serie. Der GHD V Gold Haarglätter und der GHD V Gold Mini Haarglätter . Sie haben den GHD Mini Straightener entwickelt, weil die Männer von GHD wissen, dass Frisuren mit kürzeren Haaren mit den herkömmlichen Haarglätter schwierig sein können. Mit anderen Worten, sie denken wirklich über alles nach. Alle GHD Haarglätter sind für kreatives Styling gemacht, jedes Flacheisen hat bewegliche Keramikplatten. So können Sie neben dem Styling Ihrer Haare mit den schönen Haarglättern auch luftige Locken kreieren oder nonchalante Wellen erzeugen! Die Haarglätter basieren nun alle auf dem alten GHD Eclipse Haarglätter, der von der Daily Mail "The Rolls-Royce of irons" genannt wurde. Sie können sicher sein, dass Sie mit den GHD Glätteisen pure Qualität bekommen. Mit anderen Worten, welcher Tag ist ein guter Tag!


Herkunft der GHD-Produkte
Die Geschichte von GHD ist eine wahre Erfolgsgeschichte. Martin Penny, Gary Douglas und Robert Powls gründeten 2001 den Good Hair Day. Gemeinsam kauften sie die Rechte an einem Haarglätter von einem südkoreanischen Erfinder. GHD wuchs organisch so unglaublich hart, dass sie in den ersten zwei Jahren nie wirklich werben oder gar nachdenken mussten. Nach zwei Jahren hatten Friseursalons und Mund-zu-Mund-Werbung dafür gesorgt, dass GHD £ 12 Millionen statt der erwarteten 3 bis 4 Millionen Pfund wert war.
2011 starteten sie mit dem GHD V Gold Series Styler, der in 3 Größen erhältlich ist. Im Jahr 2012 wurde der GHD Air Professional Haartrockner hinzugefügt. Im März 2013 kamen die Herren mit der GHD Eclipse, die sechs Sensoren verwendet, die sicherstellen, dass der Glätter bei einer konstanten Hitze von 185 Grad bleibt. Laut GHD ist diese Temperatur die optimale Temperatur für die besten Ergebnisse. Die Daily Mail nennt die GHD Eclipse "The Rolls-Royce of irons". Das ist nicht nichts! 2014 kam der GHD Aura Föhn und Curve hinzu und das letzte, was sie auf den Markt brachten, ist der GHD Platinum Styler.
Wir können auch sagen, dass GHD ein unglaublich wichtiger Teil der Haarpflege-Industrie geworden ist. Außerdem hat GHD etwas getan, was noch nie zuvor jemand getan hat. Sie sind die ersten Sponsoren aller Zeiten mit Styling von Victoria's Secret Fashion Show und das ist bei beiden Parteien so beliebt, dass sie jetzt sogar einen jährlichen Beitrag leistet!
Vision von GHD
GHDs Vision "Du kannst alles mit deinen Haaren machen".
Um diese Vision zu verwirklichen, haben sie Haarglätter, Haartrockner und Lockenstäbe, aber sie haben auch Bürsten und Sprays. Das ist kein sehr großes Sortiment, aber das ist laut GHD nicht notwendig mit wenigen Produkten können Sie Ihre Magie in eine wahre Kreation locken. Sie müssen nicht mehr zu einem Stylisten gehen, um diese schöne Frisur zu bekommen - holen Sie sich einen Good Hair Day mit den Produkten von GHD.


Service von Haarspullen.nl
Bei haarspullen.nl können Sie GHD Glätteisen online in unserem Online-Shop kaufen. Wir sorgen dafür, dass Ihre Bestellung, die Sie vor 23 Uhr aufgeben, am selben Arbeitstag an Sie versendet wird. Mit allen GHD Tools profitieren Sie von kostenlosem Versand. Darüber hinaus bieten wir Ihnen den After-Sales-Service.
Haben Sie eine Frage zu einem unserer Produkte oder unserem Service? Sie können erwarten, dass wir Ihre Fragen schnell per E-Mail beantworten. Oft auch außerhalb der Bürozeiten. Sie können uns auch telefonisch erreichen. Willst du mehr Informationen? Schauen Sie sich unsere häufig gestellten Fragen an. Wir wünschen Ihnen viel Spaß beim Einkaufen GHD Haarglätter bei haarspullen.nl.