Black Week Festival bij Haarspullen.nl
Black Friday komt eraan en dat betekent: extra voordelig shoppen! Bij Haarspullen.nl shop jij niet alleen op Black Friday, maar een week lang met kortingen en leuke acties. Dit allemaal tijdens onze: BLACK WEEK FESTIVAL!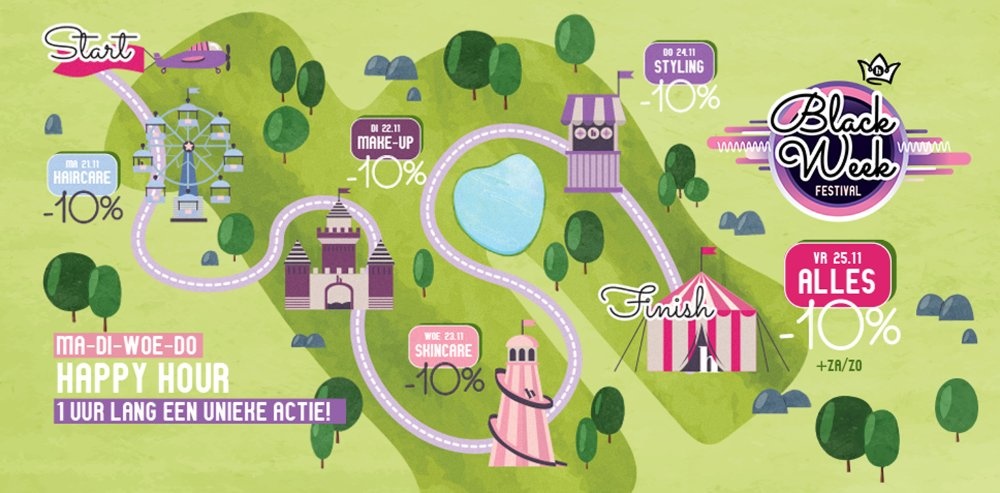 Dit kun jij verwachten:
Profiteer van extra kortingen (natuurlijk ;))
Maandag t/m donderdag HAPPY HOURS met vette acties
Livestreams met o.a. de leukste feestlooks uitgelegd
Voorkom fomo, want al deze acties wil je natuurlijk niet missen. Schrijf je in op onze nieuwsbrief om als eerste op de hoogte te blijven, dit kan rechts onderaan deze pagina. Of volg ons op de socials, waar we geweldige tips & tricks delen. Hit the follow button and stay tuned!
Haarspullen Festival Week start maandag 21 november, en loopt t/m zondag 27 november. Heb jij je wish list al gevuld? 
P.S. Neem gerust contact met ons op voor al je (beauty)-vragen. Onze experts zitten voor je klaar om deze vragen te beantwoorden! Zo kun jij gericht shoppen tijdens Black Week Festival. 
MAANDAG 21.11
Maandag staat in het teken van haarverzorging! Deze dag shop je jouw haircare extra voordelig, nét zo voordelig als op Black Friday. Hierdoor weet jij zeker dat je niet hoeft te wachten op jouw pakketje! Alles op een rijtje:
KORTING
-10% EXTRA korting op alle haarverzorging, met de code: HAIRCARE10
HAPPY HOUR
19:00-20:00 | Bij besteding vanaf €75,- een gratis promo-pakket! Dit promo-pakket bestaat uit de Good Vibes Totebag, de All The Things I Need Inside Toilettas en 3 mini's! Het pakket wordt automatisch toegevoegd aan jouw bestelling. 
LIVESTREAM
Haartutorial voor een feestelijke look + Q&A. Stel al je vragen over beauty tijdens de Q&A, samen met onze expert Ingrid gaan we al jouw vragen beantwoorden!
DINSDAG 22.11
A little make-up never hurts. Maar met de actie van vandaag kun jij a lot inslaan voor minder! Shop make-up van merken als Maybelline, L'Oréal Paris of Max Factor. Dit kun je nog meer verwachten vandaag:
KORTING
-10% EXTRA korting op alle make-up, met de code: MAKEUP10
HAPPY HOUR
12:00-13:00 | 10x een MEGADEAL met 10 bestsellers. Deze bestsellers shop jij tijdens dit uur extra goedkoop, dus wees er op tijd bij!
LIVESTREAM
De 10 productdeals uitgelicht, we vertellen je alles over deze items!
WOENSDAG 23.11
Skincare - je gebruikt het iedere dag. Investeer in jouw lievelingsitems, of ontdek wat er allemaal nog meer mogelijk is om jouw routine te verrijken. Van een fijn serum tot een Naïf giftset, today is the day!
KORTING
-10% EXTRA korting op alle skincare, met de code: SKINCARE10
HAPPY HOUR
19:00-20:00 | Zoek het pakket & win! We verstoppen vier heerlijke haircare pakketten van Schwarzkopf Professional op de webshop. Gevonden? Gebruik de code die bij het pakket omschreven staat tijdens het afrekenen en je kunt het pakket gratis afrekenen. Done, and all yours for free!
LIVESTREAM
Skincare tutorial + Q&A. Stuur al jouw vragen in over skincare via de vraagsticker op onze Instagram, deze plaatsen we op deze dag!
DONDERDAG 24.11
Enjoying the festival? De feestmaanden gaan vaak gepaard met party looks. Maar ook een haarolie voor everyday is een must in de wintermaanden. Shop vandaag extra voordelig en maak je klaar met Haarspullen. 
KORTING-10% EXTRA korting op alle styling met de code: STYLING10
HAPPY HOUR
12:00-13:00 | 5x Golden Tickets. Plaats jij een bestelling tussen 12:00-13:00? In 5 pakketjes voegen wij een Golden Ticket toe, met shopping money t.w.v. €50,-! Zo shop jij de volgende keer megavoordelig of gratis, meevaller!
LIVESTREAM
Hairlook in 5 minuten + gaat de Golden Ticket in jouw pakketje?
VRIJDAG 25.11
IT'S HERE! Vandaag shop je met -10% extra korting op de hele webshop*.  
KORTING
-10% EXTRA korting op ALLES met de code: BLACKFRIDAY
LIVESTREAM
Haartutorial voor een feestelijke look + Q&A.
ACTIE
Geen Happy Hour, want dit feestje blijft de hele dag geweldig! Wél storten we 2x het aankoopbedrag terug van willekeurige bestellingen. Misschien wel die van jou...
ZATERDAG & ZONDAG 26/27.11
De afterparty is soms net zo leuk als de party zelf. Wij willen dit feestje zo lang mogelijk voortzetten, daarom shop jij niet één dag, maar het hele weekend met dezelfde kortingen. Sla nu alvast in voor de feestdagen, want dan ben jij de party straks!
KORTING
-10% EXTRA korting op ALLES met de code: BLACKFRIDAY
*m.u.v. J Beverly Hills