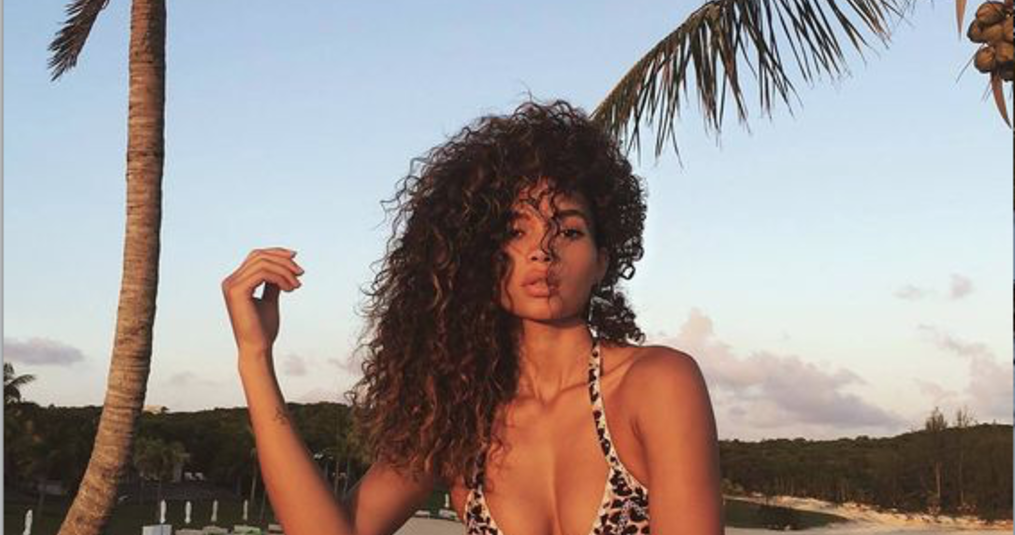 Het weer begint alweer een beetje op te klaren en hoge temperaturen staan op de loer. Natuurlijk zijn we daar allemaal super blij mee, maar de zomer heeft ook zo zijn nadelen. Je hebt het misschien niet door, maar in de zomer kan jouw haar erg beschadigen. In de zomer kom jij namelijk in aanraking met veel verschillende invloeden die jouw haren doen uitdrogen en verkleuren.  
Zonnestralen zorgen ervoor dat het pigment in je haar wordt verlicht. Daarnaast onttrekt het zout in zeewater vocht, waardoor het jouw haar uitgedroogd achterlaat. Verder verwijdert chloor bruikbare talg van je hoofdhuid door zijn intensief reinigende werking. Uitdroging in het haar kan leiden tot gespleten, afgebroken, pluizig en beschadigt haar. Je haar werkt minder makkelijk mee, is niet meer soepel en de gevolgen zijn duidelijk terug te zien in de gezondheid van het haar. 
Met deze simpele tips kun jij deze zomer de schade beperken, waardoor jouw haar de zomer goed doorkomt. Lees dus vooral verder voor een betere gezondheid van jouw haar!  


1. Laat je haar zo min mogelijk in contact komen met zee- en zwembadwater 
In de zomer is het natuurlijk heerlijk om met warme temperaturen even af te koelen in het water. Helaas is dit water niet altijd even goed voor je haar als voor je oververhitte lichaam. Er zijn een aantal manieren om ervoor te zorgen dat je haar zo min mogelijk in contact komt met het water en de schadelijke invloeden die het kan hebben. 

Je kunt ervoor kiezen om te gaan zwemmen zonder kopje onder te gaan. Zorg ervoor dat het haar niet of weinig in contact komt met het water, zo kan het ook geen schade aanbrengen. Als je erg lange haren hebt, maak het dan vast in een knot, zodat het haar boven het water oppervlakte blijft. 
Verder kun je bijvoorbeeld een conditioner aanbrengen in het haar voordat je gaat zwemmen. Hierdoor sluiten de haarschubben, waardoor zout en chloor niet of minder snel opgenomen wordt door het haar. Je kunt je haar gewoon los houden en eventueel kopje onder gaan!


2. Draag accessoires om te veel contact met de zon te voorkomen
Naast chloor en zout kan de zon ook een serieus effect hebben op de gezondheid van het haar. Een beetje zon is goed voor het haar, maar wanneer het te veel wordt kan het je haar erg uitdrogen. De zon volledig ontlopen in de zomer is natuurlijk onrealistisch, maar er zijn wel een aantal manieren om ervoor te zorgen dat de zon geen grote invloed gaat hebben op de gezondheid van jouw haar deze zomer. 
Zo kun je namelijk:
Het bereikbare haaroppervlakte kleiner maken door een vlecht of een knot te maken in het haar. Zo heeft de zon geen kans om het hele haar uit te laten drogen en omdat veel minder haar wordt blootgesteld aan UV-straling.
Een hoed dragen. Zo komt jouw haar niet direct in contact met de zon en heb je minder kans op verkleuring en uitdroging. Natuurlijk zijn er veel meer alternatieven dan alleen een hoed om je haar mee te bedekken, zo werkt een sjaal ook prima!
3. Vermijd schadelijke chemische behandelingen
Chemische behandelingen zijn niet goed voor de gezondheid van het haar, maar dat weet iedereen onderhand natuurlijk wel. Tijdens behandeling zoals permanent of kleuringen wordt je haar beschadigt en hierdoor droger. Normaal is dit geen groot probleem, maar doordat de zon het haar nog meer uitdroogt is dit in de zomer een stukje heftiger. Vermijdt deze behandelingen dus zo veel mogelijk in de zomer om te kunnen genieten van soepeler en gladder haar. 


4. Gebruik haarproducten met een UV-filter
Door producten te gebruiken met een UV-filter wordt jou beschermd voor de schadelijke invloeden van de zon. Zo kun jij nog uren lang van de zon genieten zonder dat jouw haar daarvoor moet boeten. Veel shampoos met een UV-filter verzorgen ook haar dat al beschadigd is. Gebruik naast een shampoo ook een conditioner en een masker om jouw haar optimaal te beschermen voor de zon en te voeden als het vocht nodig heeft.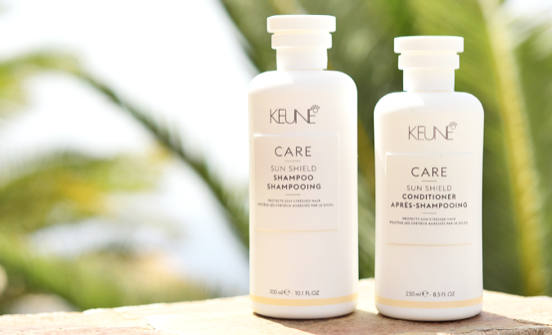 Op Haarspullen.nl vind je ook veel verschillende soorten producten met een UV-filter, zoals de Keune Sun Shield hierboven. Klik hier om onze Sun protection producten te bekijken!


5. Nuttig de juiste voedingstoffen
Goede haarverzorging kan je al ver op weg brengen naar een gezonde coupe, maar om dat te bereiken is het ook belangrijk op te kijken naar wat je eet. Voeding doet veel voor het lichaam, zo ook voor het haar. Met de juiste voeding zorg jij ervoor dat jouw haar van binnen uit verzorgt is, waardoor het er stralend en gezond uit ziet. Denk aan genoeg groentes en fruit, veel water en de juiste hoeveelheid vlees en vis.  
Vitamines A, B, C en E zijn de belangrijkste vitamines als het gaat over de status van het haar. Hieronder een kort overzicht waar deze vitamines onder andere in te vinden zijn.
Vitamine A: Zuivelproducten, eieren, wortelen, leverworst, boter, gerookte paling.
Vitamine B: Vlees, vis, melkproducten, eieren yoghurt en vis. 
Vitamine C: Rode paprika, kiwi, aardbeien, sinaasappels, aardappelen. 
Vitamine E: zonnebloemolie, margarine, brood, graanproducten, noten, zaden, groente en fruit.
 
6. Smeer je scheiding in met zonnebrandcreme
Dit klinkt misschien super raar, maar tegelijkertijd is het ergens ook wel logisch. Als je geen hoed of knot of iets draagt kan het stukje hoofdhuid in je scheiding gemakkelijk verbranden en dit kan erg veel ongemakkelijke velletjes in je haar veroorzaken. Smeer daarom dus je scheiding even in met een kleine hoeveelheid zonnebrandcreme. Het is helaas wel een beetje vettig, maar zeker aan te raden. Zo voorkom je pijnlijke en jeukende hoofdhuid die ook nog eens kan beginnen met vervellen. 


Met deze makkelijke tips kun jij zonder al te veel moeite ervoor zorgen dat jouw haar niet de dupe wordt van een zomer lang genieten van de zon. Je wel verdiende vakantie is nu nog beter aangezien niets jouw haar deze zomer meer kan aantasten, waardoor het soepel en gezond blijft. Geen vakantie foto's meer met een zichtbaar droge coupe dus!