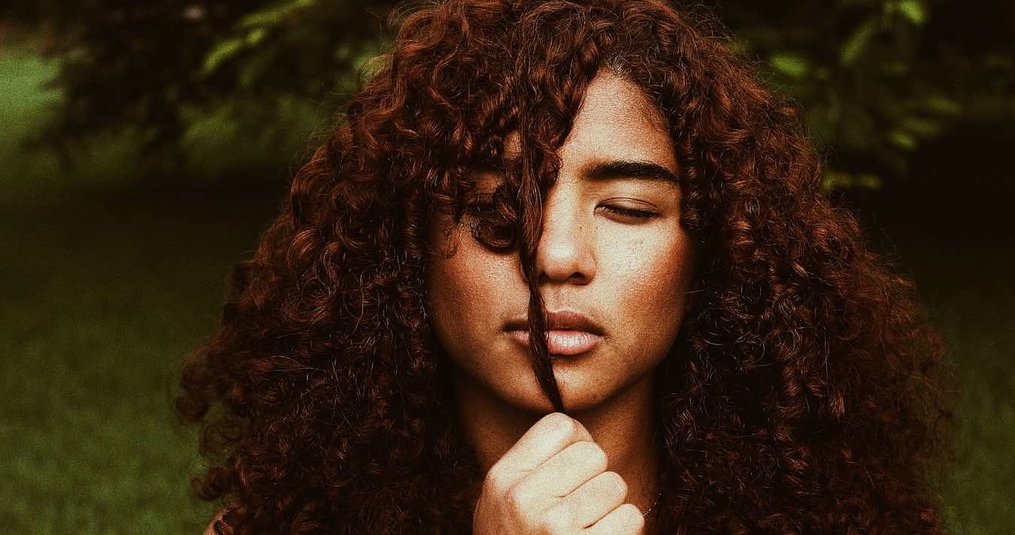 Wat houdt laag poreus haar nou precies in?
Laag poreus haar is haar waarbij de haarschubben plat, dicht en gesloten op elkaar ligt. Doordat je haar helemaal afgesloten is, is het niet makkelijk om vocht op te nemen. Is er vocht naar binnen gedrongen in je haar, dan houdt je haar het vocht juist goed vast. Je zult vast wel gemerkt hebben dat je haren niet snel nat wordt, en als het eenmaal nat is lang duurt voordat je haar weer droogt. Goed nieuws is is dat je krullen bijna tot helemaal niet beschadigd is. Lage porositeit is bijna altijd natuurlijk haar waar verder weinig mee is gedaan, echter voelen je krullen vaak wel droog aan omdat de absortie slecht is.
Haar met een lage porositeit is erg gezond en sterk haar. Het haar heeft meestal voldoende proteïne maar te weinig vocht.
Wat zijn kenmerken van krullen met een lage porositeit?
Hebben je krullen lage porositeit, dan zul je hieronder veel herkennen!
Je krul is makkelijk te onderhouden omdat het is enorm gezond is
Je krullen glanzen intens, het is net een briljant. Als er licht op schijnt kan het zelfs reflecteren
Je haar voelt droog aan, het is stram en er is weinig flexibiliteit
Je voelt breekbaar aan
Je haar neemt lastig vocht op (hierdoor kan het dus droog aanvoelen, als je hier niet goed op let)
Je krul kan gevoeliger zijn voor build-up (gesloten haarschubben, minder absorptie)
Proteïnen laten je haren stijf en stro-achtig aanvoelen
Je haren worden snel vet, dit komt doordat haarproducten op je haren blijven liggen. 
Je haar is gevoelig voor moisture-overload, oftewel teveel hydratatie. Je haren voelen abnormaal zacht aan als het nat is
Je haar is lastig te verven, het pakt het niet makkelijk.  
Waar moet ik opletten bij verzorging van krullen die laag poreus zijn?
Als je laag poreuze krullen hebt is in de meeste gevallen belangrijk dat je dikke crèmes, zware oliën en vette boters links laat liggen. De ingrediënten blijven namelijk op je haren liggen, in plaats van dat het erin trekt. Gevolg hiervan is vettig haar. Hitte en stoom zijn je grootste vriend, het zorgt er namelijk voor dat je haarschubben open gaan staan. Hierdoor kunnen je haren producten goed opnemen. Denk hierbij aan douchen of een stomer. Een sauna is natuurlijk ook een ideaal moment om je krullen een deep conditioning te geven. 
Heb je fijne krullen, dus dun haar of medium dikte? Dan is het helemaal vermijden van proteïne ook weer niet altijd nodig. Hoewel je er wel mee het oppassen, kan het fijn zijn voor dun en fijn haar om toch af en toe toch iets van proteïne te gebruiken. Uiteraard ga je niet all out als dames en heren met hoog poreus haar, maar af en toe een maskertje met proteïne is voldoende. Probeer het vooral uit, en let goed op hoe je krullen reageren.
Welke richtlijnen kan ik het beste aanhouden voor mijn krullen?
Gebruik lichte producten voor je krullen. Vermijd dus Butters, dikke oliën zoals castorolie en dikke crémes
Gebruik warmte voor je krullen, je haarschubben gaan dan openstaan en neemt het alles beter op.(douchemuts, huishoudfolie, pedaalemmerzakje etc. is ideaal bij deep conditioning)
Maak de producten die je gebruikt warm in water, ook dan wordt het beter opgenomen door je haren
Was je haar met enige regelmaat met een 'final wash' shampoo om build-up te verwijderen. Ook zet de shampoo je haarschubben open, maak hier gebruik van en doe er vervolgens een haarmasker in om te moisturizen.
Gebruik een leave-in die humactanten( Aloe Vera, hydrolyzed proteïns, panthenol etc.) bevat, moisture is the way to go! Let ook op conditionerende ingrediënten en de juiste, lichte oliën
Vermijd zoveel mogelijk stylingsproducten voor je krullen. Dit kan makkelijk voor build-up zorgen en een flinke filmlaag om je haren. Hierdoor wordt het nóg moeilijker om voor ingrediënten door te dringen tot binnen in je haar
Welke olie is geschikt oor mijn laag poreuze krullen?
Je weet nu dat je dikke en verzwarende oliën moet vermijden, welke olie kan je dan wel gebruiken die niet op je haren blijven liggen maar er ook echt intrekt? Dat zijn oliën met een penetrerende eigenschap. Je hebt namelijk sealer olie en penetrerende olie. Een sealer zorgt ervoor dat het je haren afsluit en het vocht er binnenin houdt, deze oliën zijn uitermate geschikt voor hoog poreus haar. Echter hebben jouw haren moeite met het opnemen van producten, juist omdat het lijkt alsof je haar hermetisch is afgesloten. Daarom moet je opzoek gaan naar penetrerende oliën. Hieronder volgt een lijstje dat de eigenschap heeft om je haar binnen te dringen:
Arganolie
Jojoba olie
Zonnebloemolie
Kokosolie
Amandelolie
Druivenpitolie
Heb ik een moisture treatment nodig voor mijn laag poreuze krullen?
Absoluut, krullen zijn van nature altijd droger dan gewoon haar. Geef je krullen geregeld een deep conditioning of moisture treatment. Gebruik daarbij vooral warmte, zodat de haarschubben van je haren open gaan staan en je haren de voedende ingrediënten ook écht kunnen opnemen in plaats van dat het op je haar blijft liggen. 
Moet ik ook een leave-in conditioner gebruiken voor laag poreus haar?
Absoluut, leave-in is de ideale manier om je haren extra te hydrateren. Ga uiteraard voor een hydraterende leave-in zonder proteïne om te voorkomen dat je krullen stro-achtig en stijf worden. Ga naar het artikel "De Girly Curl Methode: Van A tot Z" voor leave-ins zonder proteïne en andere krulproducten die vrij zijn van proteïne. 
Succes! En vergeet niet dat je je krullen in de gaten blijft houden, blijf geregeld testjes doen en kijk hoe de proteïne/moisture ervoor staat. Ontdek je ideale balans voor je krullen. Wees er echter bewust van dat dit tijd nodig heeft, en dat er variatie zal zijn in het gebruik van producten.