-39% Sale

44,95 27,50

-51% Sale

60,- 29,50

-6% Sale

169,- 159,-

-55% Sale

42,90 19,50

-49% Sale

77,- 39,50

-24% Sale

169,- 129,-

-10% Sale

29,95 26,95

-10% Sale

39,95 35,95

-54% Sale

41,50 18,95

-10% Sale

55,- 49,50

-52% Sale

41,45 19,95

-52% Sale

60,85 29,50

Free

delivery from €35
Advise? Call

+3138-4582584

Voor

23:30

besteld morgen in huis!

-54% Sale

41,50 18,95

-25% Sale

73,55 55,-

CADEAUTIP

44,95 27,50

-10% Sale

65,95 59,35

-35% Sale

28,95 18,95

-10% Sale

50,- 45,-

-52% Sale

41,50 19,95

-52% Sale

41,50 19,95

-10% Sale

49,- 44,10

-10% Sale

49,- 44,10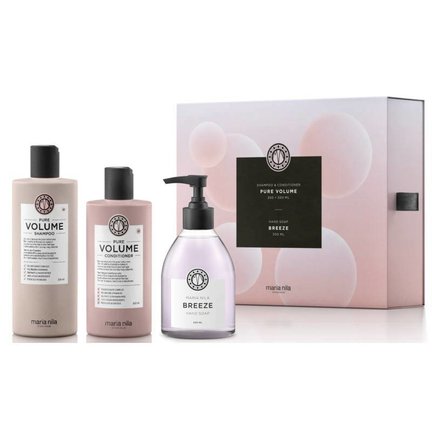 Hair Giftsets
Discover our most beautiful pre-packaged gift sets!
Can these brilliant gift sets be for any occasion?

Need a present soon? It is not easy to come up with a nice, wrapped and original gift. Why not just buy a gift set! Then you have a pre-packaged luxury gift and also full of variety. Not only do you have many products, but you can also experiment with the smaller quantities. It is not only nice to receive, but also to give.  
The products - which range from hair shampoos, styling products but also pigment rich hair care - are part of your hair ritual. To experience the entire line, we have ensured that you can experience your favorite hairline at an affordable price. These gift packages are special because they are not available anywhere else.  
You can give a gift set as a gift, to thank someone but also to pamper someone.  
Gift sets are not only nice to receive, but also nice to give. You can leave a big impression and everyone needs that!  
Can a gift set be used as a promotional gift?
A gift set is suitable for everything. Also for a promotional gift or Christmas gift. You can always arrive with it. Of course it is always a nice advantage to give your relationship a nice gift. You not only make a good impression, but you also do something nice for the other.
Are there also gift sets that are sulphate and paraben free?
Hell yes! The gift sets from Maria Nila are sulfate and paraben free. This means that they work on the basis of natural ingredients. Maria Nila is known for its beautiful natural products.

Are there any gift sets that are cruelty free?
Maria Nila is completely cruelty free. Maria Nila was born out of love and compassion for animals. Maria Nila is certified by no fewer than three organizations that stand up for animal rights and who want to ban animal suffering. The three organizations are: PETA, Leaping Bunny and the The Vega Sociaty. They do not only work for the animal world but also for the environment and sustainability. They are committed to various organizations in order to contribute to improving the climate.
Are there any gift sets for men?
Yes these are there! The gift sets from Maria Nila are suitable for both men and women. This also applies to the sets of L'Oreal. Are you looking for something specific for men, then look at the gift set from Reuzel . This is a beautiful set focused on shaving. This contains the necessary care products to make the shaving process even more beautiful, caring and precise.
Shop quickly!