Fudge Clean Blonde Violet Xpander Foam - 200ml
Fudge Clean Blonde Violet Xpander Foam geeft je haar volume, glans, is niet kleverig en door de violet pigmenten is dit de mousse om je warme gloed weg te werken. Deze Xpander Foam van Fudge treedt in de voetsporen van de Fudge Clean Blond Violet shampoo als het gaat het verwijderen van de ongewenste gele tonen in het haar.
De rijke, maar lichte mousse verhoogt de haardichtheid met maximaal 180%. Vezeldichte technologie, bestaande uit snel absorberende vezelactiviteiten, tarweproteïne en enzymen, maakt het haar zichtbaar en voelbaar voller van de wortels tot de punten. De toegevoegde Keratine en Vitamine B5 richten zich op de zwakke en beschadigde gebieden. De versterkende polymeren bieden ook thermische bescherming tot 235°C.
Wat zijn de belangrijke kenmerken van de Fudge Violet Xpander Foam?
Om het besluit te nemen of de Fudge Style Xpander Foam is wat je zoekt en of het aansluit op de behoeftes van jou heeft ons team de belangrijkste kenmerken op een rijtje voor je gezet:
Niet kleverige, lichtgewicht foam
Absorbeert snel
Beschermd tegen de warmte van hitte stylingtools tot 235°
Stevigheid factor 6
Hoe gebruik ik Fudge Clean Blonde Violet Xpander Foam?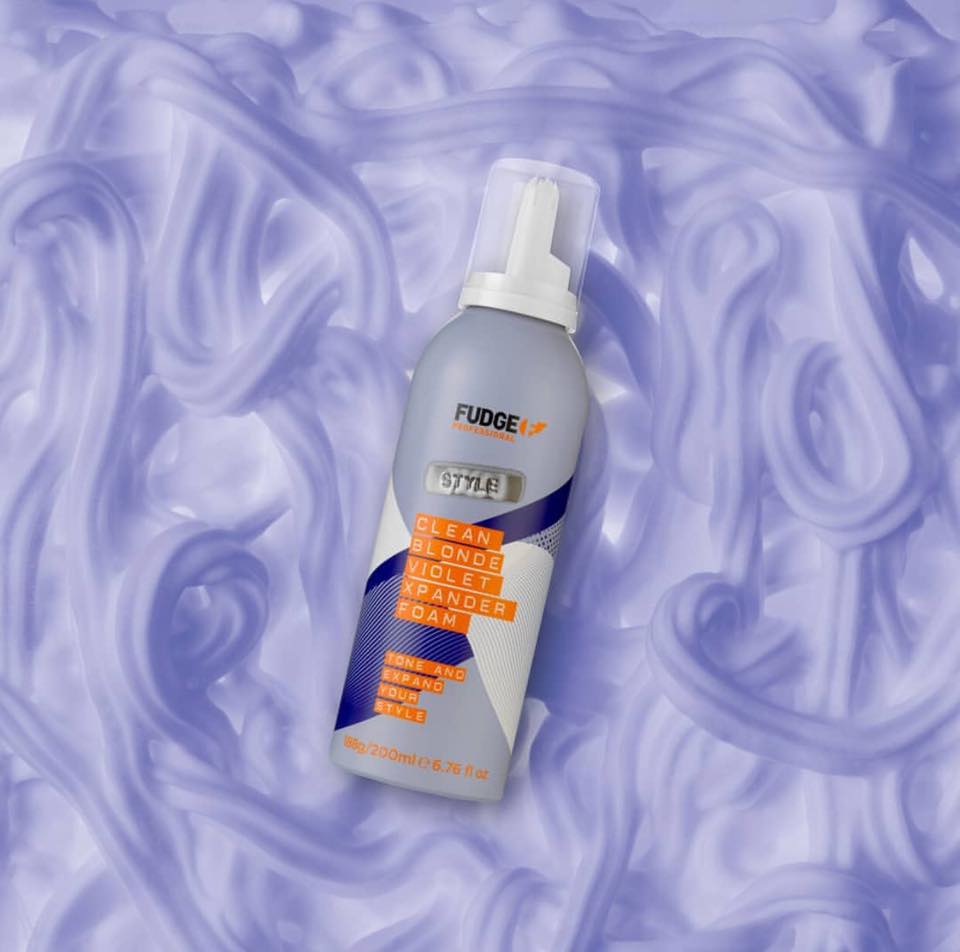 Bron - fudgeprofessional.nl
Breng Fudge Xpander Violet Foam aan op de handpalmen en verdeel door het haar. Verdeel door handdoekdroog haar en föhn droog voor gewichtloos volume. Verdeel door droog haar en knijp met de handen textuur en hold in het haar.
Hoe creëer ik meer volume met de Fudge Clean Blonde Violet Xpander Foam?
Het is heel eenvoudig: hoe meer je gebruikt van de Fudge Clean Blonde Violet Xpander Foam, hoe meer volume je haren krijgen. Hierdoor neemt ook de assige, koele tint toe. Op deze manier kan je heel makkelijk de Violet Xpander Foam afstemmen op jouw wensen.
Is de Fudge Style Xpander Foam geschikt voor mijn haar?
Wij raden aan om dit product te gebruiken voor mensen met dun haar. De reden daarvoor is omdat dit de haardichtheid verhoogt met 180% zodat je haar voller word. Mensen met dik haar hebben al een hoge haardichtheid maar je kan het nog steeds gebruiker voor als je gezonder haar wilt.
Is er ook een travelsize van de Fudge Clean Blonde Violet Xpander Foam?
Ons team begrijpt ontzettend goed dat je voor onderweg áltijd iets bij je wilt hebben om je haar even een opkikker te geven. Alhoewel je met Fudge na één je ideale lokken hebt gecreëerd. Wellicht heb je een festivalletje, en dan is het toch wel heel erg handig om het bij je te hebben. Uren dansen, genieten en gezelligheid gaat vaak samen gepaard met veel in je haren zitten met je handen. Even een Quick Fix is dan toch écht wel even nodig. De Violet Xpander Foam komt in een bus van 200ml. Hoewel dat niet heel klein is, is dat ook niet heel groot zoals sommige bussen dat wel zijn. Een travelsize is dus niet nodig, aangezien de 200 ml een ideaal formaat heeft.
Ik heb een vraag over de Fudge Clean Blonde Violet Xpander Foam?
Heb je een vraag over de Violet Xpander Foam? Neem dan contact op met ons team via [email protected] Wij helpen je graag verder. 
Fudge Violet Xpander Foam is verkrijgbaar in een verpakking van 200ml.