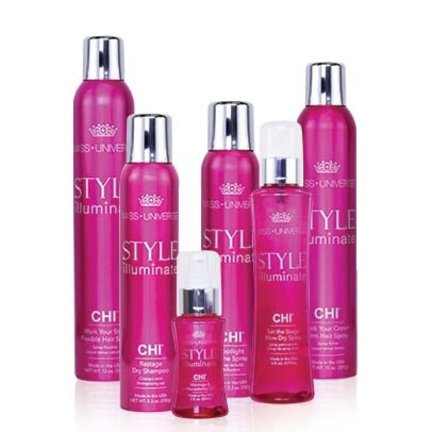 CHI Miss Universe styling producten zijn speciaal gemaakt om je look een ware Miss Universe look te geven! De Miss Universe producten beschermen je lokken, verzorgen het diep èn het geeft ontzettend veel volume aan je lokken! Omdat CHI echt volledig achter haar producten staat, omdat het gewoon weg werkt, is men backstage bij de Miss verkiezingen er helemaal verzot op. De haarproducten uit de CHI Miss Universe lijn bevatten moringa olie die afkomstig is van de Moringa Oleiferaboom en is rijk aan antioxidanten, vitamine A en C. Hierdoor wordt het haar beschermd tegen schadelijke invloeden van buitenaf terwijl het haar wordt gevoed en prachtig gaat glanzen. De Macadamia olie die verwerkt is in de producten is verrijkt met calcium, vitamine B-complex, vitamine E en verzadigde vetten beschermt de hoofdhuid tegen beschadiging. Tezamen zorgen ze ervoor dat de olie een einde maakt aan kroezend en pluizig haar en tegelijkertijd bescherming biedt tegen hitte styling tools.
CHI Miss Universe producten
De CHI Miss Universe producten bestaat uit 4 stylingproducten. 
De CHI Miss Universe Style Illuminate Flexible Spray is een haarlak die volume en textuur geeft, terwijl je lokken soepel blijven. Naast het feit dat deze hairspray fantastisch ruikt bevat het ook beschermende en voedende ingrediënten zoals Moringa- en Macadamia olie. De CHI Miss Universe Style Illuminate Moringa & Macadamia Oil beschermt en voedt je lokken en het reguleert het vocht in je haar. Je lokken zien er prachtig glanzend én gezond uit, en het zal zijdezacht voelen. De CHI Miss Universe Style Illuminate Spotlight Shine Spray is een verzorgende spray die onmiddellijk glans geeft na het aanbrengen. Deze speciale glans spray helpt statisch en kroezende lokken te elimineren, zonder dat je lokken zwaar worden. De CHI Miss Universe Style Illuminate Restage Dry Shampoo is een droogshampoo die je lokken vetvrij maken en ervoor zorgt dat je lokken meer body, volume en textuur krijgen. De CHI Miss Universe Style Illuminate Rock Your Crown Firm Hair Spray is een sterke haarlak die een prachtige glans aan je lokken geeft. 
Is CHI Miss Universe geschikt voor jou?
Is de CHI Miss Universe lijn niet geschikt voor jouw lokken, of is dit niet helemaal wat je zoekt. Dan verwijzen wij je graag door naar de hoofdpagina van CHI, hier vindt je alle productlijnen van CHI. Hier staat tevens aangegeven voor wie en welk soort haar de producten geschikt is. Heb je alsnog vragen? Neem dan gerust contact op met ons team via [email protected]
Achtergrond informatie over CHI
CHI, afkorting van Cationic Hydration Interlink, onderdeel van Farouk Systems USA is een van de snelst groeiende merken in de professionele kapsalons. CHI is doordat alle haarproducten niet getest zijn op dieren, een diervriendelijk merk. CHI heeft een ruim assortiment haarproducten waarbij u kunt denken aan shampoos, conditioners, treatments en nog veel meer haarproducten. Daarnaast heeft CHI ook een divers assortiment haartools, zoals de CHI stijltang, CHI föhn en CHI krultang. Bovendien is topmodel en tv-presentatrice Daphne Deckers ambassadrice voor het merk. 
Service van Haarspullen.nl
Bij haarspullen.nl kun je in onze online shop CHI Miss Universe online kopen. Wij zorgen ervoor dat je order, die je plaatst vóór 23.00 uur, dezelfde werkdag aan jou wordt verzonden. Bij een bestelling vanaf € 35,- profiteer je van gratis verzending. Daarnaast bieden wij jou de service van achteraf betalen.  
Heb je een vraag over één van onze producten of onze service? Je kan van ons verwachten dat wij supersnel antwoord geven op al jou vragen via mail. Vaak ook buiten kantooruren. Daarnaast kun je ons ook telefonisch bereiken. Wil je meer informatie? Bekijk dan eens onze veelgestelde vragen. Wij wensen je veel plezier met het shoppen van CHI Miss Universe bij haarspullen.nl.