Finishing Spray
Het is nog niet zo eenvoudig om een goede professionele Haarspray te vinden. Benieuwd welke haarspray het meest geschikt is voor jouw haar?
-44% Sale

15,95 8,95

-30% Sale

17,95 12,50

-58% Sale

60,- 25,-

-53% Sale

16,95 7,95

-42% Sale

18,95 10,95

-60% Sale

24,95 9,95

-45% Sale

17,95 9,95

-53% Sale

16,95 7,95

OP=OP

19,95 18,95

-42% Sale

25,80 14,95

-53% Sale

16,95 7,95

Gratis

verzending vanaf €35!
Advies nodig? Bel

038-4582584

Voor

23:30

besteld morgen in huis!

-8% Sale

29,95 27,50

-27% Sale

25,- 18,15

vegan

19,90

-37% Sale

19,95 12,50

-48% Sale

16,95 8,75

-41% Sale

16,95 9,95

-23% Sale

29,95 22,95

-42% Sale

25,80 14,95

-46% Sale

26,- 13,95

-46% Sale

26,- 13,95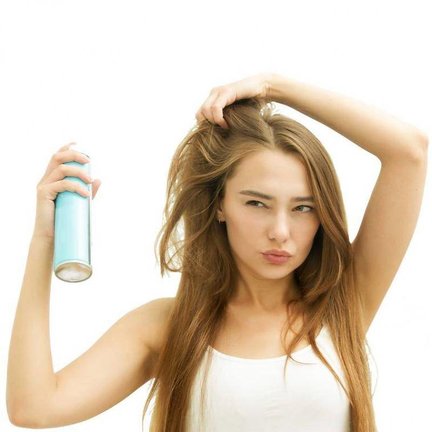 Haarspray is een fantastisch middel om meer fixatie en volume aan je haar te geven. Een goede haarlak zorgt ervoor dat je lokken mooi in model blijven en is daarom niet meer weg te denken als finishing touch. Er zijn sprays die als pre-styling spray kunnen worden gebruikt en sprays die je juist kunt gebruiken nadat je je haar hebt gestyled. De pre-styling spray gebruik je als je onder de douche vandaan komt en je haar redelijk is opgedroogd. Dan kan je met behulp van de pre-styling spray je haar alvast redelijk in het gewenste model brengen om vervolgens een goed haarstyling product te gebruiken om het af te maken. Andere sprays kun je juist gebruiken na het stylen van je haar voor net wat meer hold of net wat meer effect.

Ook varieren de haarsprays onderling nog veel in soort. Je hebt verschillende soorten haarspray voor dik haar, fijn haar, droog haar en beschadigd haar. Daarnaast zijn er ook haarsprays die meer volume creëren, extra glans geven of extra verzorging bieden. Haarspullen biedt u een groot assortiment aan met de beste merken zoals TIGI, Fudge, Schwarzkopf, Chi en Goldwell. Zoekt u naar de haarspray die het beste bij u past? Gebruik dan de productfilters om de beste haarspray voor uw haar te vinden.
L'Oréal Paris Elnett Haarspray
Één van de meest bekende haarsprays is wel de de Elnett haarspray van L'Oréal. Ook wel 'de haarlak in de grote gouden bus' genoemd. Deze haarlak heeft een fijne nevel en het houdt je haar écht prachtig in model. Het verzwaard je lokken niet, wat uiteraard een absolute must is met een haarlak. 
Verschillende wensen, verschillende haarsprays
Het is belangrijk dat je een haarlak kiest die bij jouw wensen passen. Een andere veel verkochte haarlak is de Fudge Skyscraper. De Skyscraper heeft een langdurige gemiddelde fixatie, is gemakkelijk uit te borstelen en geeft geen schilfers. Maria Nila Style & Spray is een 100% vegan hairspray die geen parabenen of sulfaten bevat. De hold van de Maria Nila haarlak is sterker dan gemiddeld. De TIGI Bed Head Flexi-Head Hairspray is een haarlak die ook een prachtige glans aan je lokken geeft én je kan je lokken restylen gedurende dag. 
Verschil tussen aerosol en non-aerosol haarlak
Op de haarspray zie je vaak aerosol of non-aerosol staan. Maar wat is nu het verschil tussen aerosol- en non-aerosol haarlak? Dit is heel simpel uit te leggen. Als je de drukknop van een aerosol hairspray indrukt, blijft die net zolang sprayen totdat jij je vinger ervan af haalt. Bij een non-aerosol haarlak is dit anders. Wanneer je hier de drukknop indrukt,  geeft de spuit een kortstondige spray, ook al houd je de knop langer ingedrukt.
Is Haarspray geschikt voor mij?
Vindt je niet dé haarspray waarna je opzoek bent?  Dan verwijzen wij je graag door naar de hoofdpagina styling, hier vindt je alle andere stylingproducten zoals een mousse of een glansspray die wellicht beter bij je wensen passen.. Hier staat tevens aangegeven voor wie en welk soort haar de producten geschikt is. Heb je alsnog vragen? Neem dan gerust contact op met ons team via [email protected]
Service van Haarspullen.nl
Bij haarspullen.nl kun je in onze online shop Haarspray online kopen. Wij zorgen ervoor dat je order, die je plaatst vóór 23.00 uur, dezelfde werkdag aan jou wordt verzonden. Bij een bestelling vanaf € 35,- profiteer je van gratis verzending. Daarnaast bieden wij jou de service van achteraf betalen.  
Heb je een vraag over één van onze producten of onze service? Je kan van ons verwachten dat wij supersnel antwoord geven op al jou vragen via mail. Vaak ook buiten kantooruren. Daarnaast kun je ons ook telefonisch bereiken. Wil je meer informatie? Bekijk dan eens onze veelgestelde vragen. Wij wensen je veel plezier met het shoppen van Haarspray bij haarspullen.nl.