TOPPER

16,95 6,95

CG-Proof

16,95 7,90

-60% Sale

95,80 37,95

BESTSELLER

20,95 12,95

CG-Proof

8,95

-53% Sale

19,95 9,35

-57% Sale

22,95 9,95

16,95 7,90

-50% Sale

17,95 8,95

-40% Sale

19,95 11,95

-60% Sale

93,80 37,95

-57% Sale

29,95 12,95

Gratis

verzending vanaf €35!
Advies nodig? Bel

038-4582584

Voor

23:30

besteld morgen in huis!

-41% Sale

21,95 12,95

-42% Sale

30,- 17,50

-59% Sale

19,50 7,95

vegan

19,90

-58% Sale

18,95 7,95

-53% Sale

17,95 8,50

-52% Sale

16,50 7,95

-50% Sale

13,95 6,95

NEW

16,95 6,50

CG-Proof

23,-

-38% Sale

20,95 12,95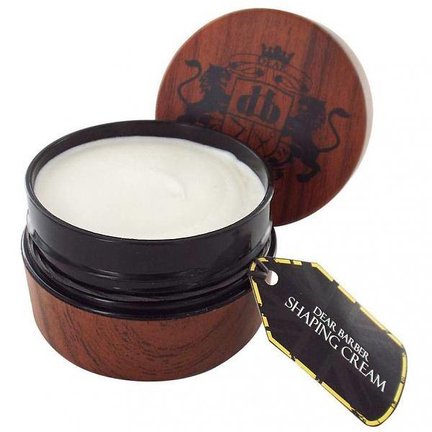 Créme of ook wel cream genoemd is een brede categorie. Cream is het natste styling product die ertussen zit. Creams kunnen een hoge als lage hold hebben, maar meestal hebben haarcreams een lage tot medium hold. Ze zijn vooral bedoeld voor structuur en controle en ze zijn minder geschikt voor strakke kapsels. Qua glans kan een crème een hoge en lage glans hebben, maar meestal voorziet een haarcrème niet in een matte finish. Als je een out-of-bed look of messy creatie wilt, dan is een haarcrème je beste vriend. Dit geldt ook als je golvend of krullende lokken wat stijler wilt maken óf wat meer controle wilt.
Dus als je geen strak of gemodelleerd kapsel wilt en je messy look een charismatische twist wilt geven, dan is een haarcream jouw styling product waar je een jarenlange band mee gaat opbouwen. Dit geld trouwens ook wanneer clays of waxen te droog of krachtig zijn voor je dikke/onhandelbare lokken, dan kan een écht cream uitkomst bieden voor iets meer controle en definitie zonder een te droge of hoge hold.
Fudge Shaper Créme
Één van de meest verkochte creams is de Fudge Shaper Crème. Dit is een boetseer crème met een sterke fixatie, geschikt voor elk haartype. De cream is één van de best verkochte stylingsproducten van de wereld, een populair product en zeer gewild. Het versterkt je lokken en houd je lokken langer in model. De conditie van je lokken wordt verbeterd en het heeft gedurende de dag een frisse geur. Boetseer er lustig op los en shape your style. 
Verschillende wensen, verschillende crème's
Ben je opzoek naar een cream die naadloos aansluit bij jouw wensen, dan zit er geheid iets tussen. We hebben uiteraard naast de Fudge Hair Shaper veel meer creams in ons assortiment. Ben je opzoek naar een crème die een medium hold heeft met medium glans, dan zit je helemaal goed met de Esquire Grooming The Forming Crème. De cream is eenvoudig te gebruiken en gedurende de gehele dag te restylen. Daardoor is het eenvoudig om elk gewenst kapsel te creëren en aan te passen. Deze cream heeft een zalige charismatische geur van agarhout. 
Zoek je een lichte styling Crème, dan is de Dear Barber Shaping Cream wat je zoekt. Deze cream is echt voor de finishing touch van je look. Een beetje gezonde glans en fixatie en you are ready to go! 
Ben je juist opzoek naar een crème die zo sterk is als een tijger, dan raden wij de Affinage Controlfreak aan. Deze sterke jongen zorgt voor vorm, volume en geeft dat gouden randje (glans) aan je lokken. Deze crème is verrijkt met (mega lach) fibers. Yup, hier wordt iedere control freak intens content van.
Is Cream geschikt voor mij?
Vindt je niet dé Cream waarna je opzoek bent? Dan verwijzen wij je graag door naar de hoofdpagina styling, hier vindt je alle andere stylingproducten zoals een pomade of paste die wellicht beter bij je wensen passen.. Hier staat tevens aangegeven voor wie en welk soort haar de producten geschikt is. Heb je alsnog vragen? Neem dan gerust contact op met ons team via [email protected]
Service van Haarspullen.nl
Bij haarspullen.nl kun je in onze online shop Styling Crème online kopen. Wij zorgen ervoor dat je order, die je plaatst vóór 23.00 uur, dezelfde werkdag aan jou wordt verzonden. Bij een bestelling vanaf € 35,- profiteer je van gratis verzending. Daarnaast bieden wij jou de service van achteraf betalen.  
Heb je een vraag over één van onze producten of onze service? Je kan van ons verwachten dat wij supersnel antwoord geven op al jou vragen via mail. Vaak ook buiten kantooruren. Daarnaast kun je ons ook telefonisch bereiken. Wil je meer informatie? Bekijk dan eens onze veelgestelde vragen. Wij wensen je veel plezier met het shoppen van Styling Crème bij haarspullen.nl.