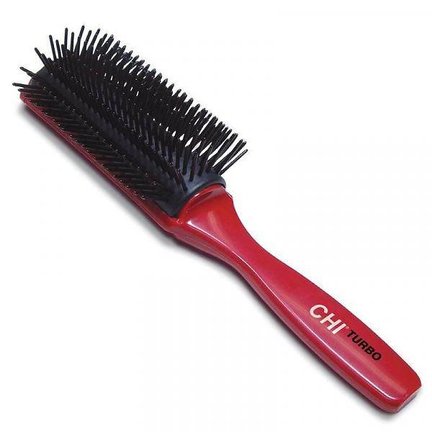 Als basis zorgt de styling borstel ervoor dat je lokken ontklit worden, maar hiernaast zorgt de borstel ook dat je lokken perfect kan stylen. Na het gebruik van de Styling Brush worden je lokker gladder en zachter. De stylingborstel is geschikt voor alle haartypes. Styled en borstelt je lokken zonder gezond haar te beschadigen.
De styling borstel CHI 9 Row Styling Brush
De CHI 9 Row Styling Brush is een borstel bestaande uit negen evenwijdige rijen, perfect voor het stylen. De borstel maakt het haar zacht en is ideaal om het haar mee te stylen. De evenwijdige rijen zorgen ervoor dat het haar gelijkmatig geborsteld wordt. Het haar wordt ontdaan van knopen, klitten en pluizig haar. Het haar voelt zacht en glad aan. Daarnaast geeft de CHI 9 Row Styling Brush het haar een mooie glans.
Stylingborstel en de L'Oreal Brush Inforcer Leave in 
De L'Oreal Brush Proof Anti-Breakage Detangler is de perfecte haarspray waarmee je wrijving tussen je borstel en je lokken minimaliseert en haarbreuk vermindert. Heb je prachtige lange lokken, veel lokken of dikke lokken maar is het een beetje verzwakt? Dit merk je doordat er meer haren afbreken dan gewoonlijk. Dan is de Brush Spray ideaal om te gebruiken vóór lokken! Op deze manier ontklikt jij je lokken op een verantwoorde manier.
Service van Haarspullen.nl
Bij haarspullen.nl kun je in onze online shop een Styling Borstel online kopen. Wij zorgen ervoor dat je order, die je plaatst vóór 23.00 uur, dezelfde werkdag aan jou wordt verzonden. Bij een bestelling vanaf € 35,- profiteer je van gratis verzending. Daarnaast bieden wij jou de service van achteraf betalen.  
Heb je een vraag over één van onze producten of onze service? Je kan van ons verwachten dat wij supersnel antwoord geven op al jou vragen via mail. Vaak ook buiten kantooruren. Daarnaast kun je ons ook telefonisch bereiken. Wil je meer informatie? Bekijk dan eens onze veelgestelde vragen. Wij wensen je veel plezier met het shoppen van een Stylingborstel bij haarspullen.nl.