Professionele Haardrogers
Professionele föhns of haardrogers van de merken Max Pro, Balmain en GHD. Welke föhn past het beste bij jouw haartype en wensen, ontdek het nu!
-15% Sale

199,- 169,-

-22% Sale

64,22 49,95

264,95

169,-

-45% Sale

89,90 49,50

NEW

159,- 129,-

-13% Sale

159,- 139,-

-29% Sale

96,48 68,95

-18% Sale

96,48 78,95

-32% Sale

95,- 65,-

-25% Sale

73,52 55,-

-4% Sale

129,95 125,-

Gratis

verzending vanaf €35!
Advies nodig? Bel

038-4582584

Voor

23:30

besteld morgen in huis!

-7% Sale

189,- 175,-

-14% Sale

175,- 149,95

-20% Sale

87,95 69,95

-29% Sale

96,93 68,95

-29% Sale

94,60 67,50

-14% Sale

76,- 65,-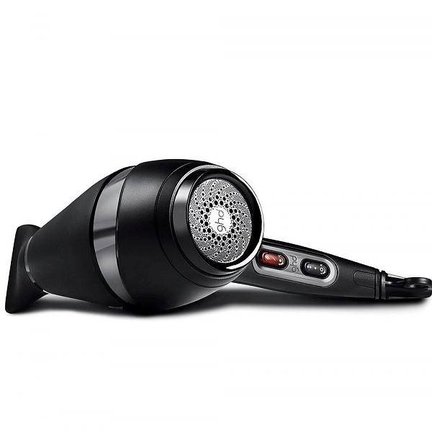 De ideale föhn
Wil je niet ellenlang in de weer zijn met het drogen van je lokken, maar wil je de droogtijd aanzienlijk korten? En wil je daarnaast ook dat je lokken er prachtig gezond uitzien en niet pluizen? Kies dan voor een kwalitatieve föhn. Als je een fervente gebruiker bent van een haardroger, investeer dan in een goede die lief is voor je lokken. Zachte en glanzende lokken na het föhnen met een haardroger is nu voor iedereen mogelijk! 
Welke föhn moet ik kopen?
Er zijn tegenwoordig zoveel soorten en maten wat betreft föhns en haardrogers, dat het niet heel raar is dat je niet meer weet welke je moet halen. Weet dat er een ideale föhn is voor jouw haartype en jouw wensen. Met de volgende vragen weet je zo welke föhn het beste bij jou past!
Wat is je plan met de Haardroger?
Wil je de Föhn alleen gebruiken om je lokken te drogen na het douchen in de vroege ochtend of wil je meer met de föhn kunnen? Als je de föhn alleen gebruikt voor het drogen van je lokken dan is een haardroger met 2 warmtestanden en één blaasstand eigenlijk al perfect. Snel in de ochtend aan de slag en je bent binnen no time klaar! De lagere temperatuur is voor fijn, beschadigd, droog en/of chemisch behandelde lokken. Dit type haar kan minder hebben en heeft ook niet zoveel kracht nodig om droog te worden. Een heat protectant is in dit gevallen dan ook écht aan te raden zoals de CHI 44 Iron Guard. Heb je normale lokken of dik/weerbarstige lokken dan is de hogere temperatuur beter, ze kunnen namelijk iets meer hebben. Zoals je merkt is zijn je lokken ook niet zo snel droog, dus wat extra horse power kan je wel gebruiken.
Wil je meer dan alleen je lokken droog föhnen met je haardroger, en wil je er ook echt mee stijlen dan zijn er föhns die uitgebreidere functies hebben. Wil je een prachtige slag creëren, je lokken een flinke volume boost geven of iets anders briljants creëren, dan kan allemaal met de juiste haardroger. De föhn bevat meerdere warmtestanden, blaasstanden en zelfs opzetstukken. Kijk in dit geval dus goed naar de functies van de desbetreffende föhn. Je kan dan helemaal los en je lokken zo stylen zodat jij er intens blij van wordt.
Welke Föhns en Haardrogers zijn van goede kwaliteit?
Creëer je masterpiece met je maatje - de föhn. Vind hier de ideale föhn die er altijd voor je zal zijn. Of het nu de Moser Edition Pro 2100, de CHI Life Carbon Föhn of de Max PRO Xperience - voor iedere haartype zit er wat tussen. Met de technologie van tegenwoordig krijg je gegarandeerd gezond haar en lokken die je tegemoet stralen als zonnestraaltjes. In de zomer is het natuurlijk ideaal om je haar natuurlijk te laten drogen, maar tijdens de kou of de avondjes dat je speciaal je haar wil omtoveren tot een extra jaloersmakende bos dan willen wij graag voorbereid zijn. Hier op haarspullen.nl is de keuze dan ook reuze! 
Even een kleine tip - om statisch haar te voorkomen kun je het beste een föhn kiezen met ionentechnologie. Ook is het belangrijk dat je naar je haartype kijkt bij het kiezen van een nieuwe vriendje. Als je van plan bent om een föhn voor eigen gebruik te kopen, dan hoef je eigenlijk alleen maar je eigen haartype te weten. Als je van plan bent om de föhn voor je werk als kapper of haarstylist te gebruiken, dan moet je simpelweg alle haartypen kunnen föhnen. Hieronder ontdek je wel föhn of haardroger het beste bij jou past!
Welke föhn past bij mijn haartype?
Er zijn 3 factoren die bepalen voor welk haartype de föhn geschikt is. Wattage, Ionische technologie en keramische technologie. 
Het Wattage bepaalt hoe hard én hoe warm de haardroger kan blazen. Hoe hoger het wattage is, des te harder de föhn kan blazen en des te hoger de temperatuur waarmee de haardroger kan blazen. Dunne lokken drogen natuurlijk sneller dan dikke lokken. Een föhn met een lagere wattage is dan zeer geschikt voor dunne lokken, en een föhn met hoge wattage is ideaal voor dikke lokken.
Tegenwoordig hebben veel föhns Ionische Technologie. Dit is ideaal om pluizig- en statische lokken te voorkomen. Tijdens het föhnen worden negatieve ionen verspreidt. Deze transformeren waterdruppels in microscopisch kleine watermoleculen, die vervolgens door je lokken worden opgenomen. Hierdoor sluiten ook je haarschubben en worden je lokken prachtig glad. Als je haarschubben sluiten blijft het vochtgehalte in balans, en gehydrateerd lokken is precies wat je wilt. Prachtige lokken blakend van gezondheid stralen je tegemoet.
De Keramische Technologie heeft twee voordelen, enerzijds heeft keramiek bij de aanraking met je lokken een anti-pluis werking. Anderzijds helpt het de warmte egaal te verspreiden, zodat de warmte in balans verspreid wordt over je lokken. Hierdoor kan je ook stijlen zonder je lokken te beschadigen. Nu is het zo dat tijdens het föhnen je lokken niet in aanraking komt met keramiek zoals bij een stijltang, maar het keramiek helpt wél om de warmte egaal te verspreiden. Dat betekent de warmte die uit de föhn komt wel overal dezelfde temperatuur is. Dit is natuurlijk super fijn als je lokken beschadigd zijn of chemisch behandeld. Ook is dit ideaal als je prachtige, fijne lokken bezit.
Welk wattage föhn of welke technologie je nodig hebt voor je haartype zie je hieronder: 
Voor dunne lokken heb je voldoende aan een föhn van 1200W - 1500W.
Voor lokken met normale dikte heb je voldoende aan een föhn van 1300W - 1800W zoals de CHI Lite Carbon Föhn
Voor dikke lokken heb je een föhn nodig van 1600W - 2200W zoals de GHD Air Föhn
Voor droog en pluizige lokken kun je het beste een föhn met Ionische Technologie kiezen zoals de

Balmain Infrarood Föhn

.
Voor beschadigde en chemisch behandelde lokken kun je het beste een föhn met Keramische Technologie gebruiken.
Moet ik een heat protectant gebruiken bij het gebruik van een föhn?
Bij het gebruik van een föhn is het belangrijk dat je een bescherming tegen hitte gebruikt voor je lokken. Je wilt natuurlijk niet dat je over een paar weken onder de categorie beschadigde lokken valt. Onderaan de pagina hittebescherming vindt je meer uitleg over de verschillende heat protectants. De hardlopers die voor iedereen geschikt zijn, zijn de CHI 44 Iron Guard Spray, de 100% vegan Maria Nila Cream Heat Spray en de Biosilk Silk Therapy Thermal Shield. 
Service van Haarspullen.nl
Bij haarspullen.nl kun je in onze online shop Haardrogers online kopen. Wij zorgen ervoor dat je order, die je plaatst vóór 23.00 uur, dezelfde werkdag aan jou wordt verzonden. Bij een bestelling vanaf € 35,- profiteer je van gratis verzending. Daarnaast bieden wij jou de service van achteraf betalen.  
Heb je een vraag over één van onze producten of onze service? Je kan van ons verwachten dat wij supersnel antwoord geven op al jou vragen via mail. Vaak ook buiten kantooruren. Daarnaast kun je ons ook telefonisch bereiken. Wil je meer informatie? Bekijk dan eens onze veelgestelde vragen. Wij wensen je veel plezier met het shoppen van een Föhn bij haarspullen.nl.