Zon Haarproducten
lets begin?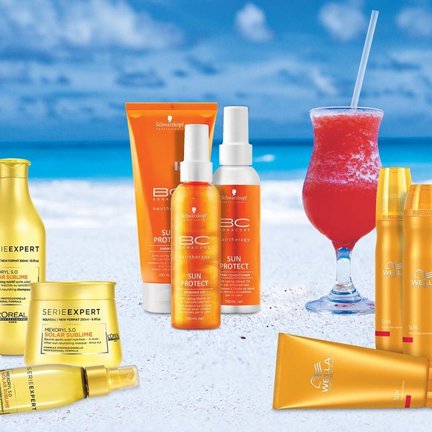 Je haren tegen de zon beschermen, we zijn er ieder jaar maar weer druk mee. Zon is heel goed en gezond voor je huid en haren, echter teveel zon is nooit goed. Het beschadigd je haren, en daarnaast als je lokken een mooi kleurtje hebben … dat vervaagd heul snel door de zon! Dus ga je op vakantie binnenkort, of ga je lekker naar het strand of de hele dag in het zonnetje zitten op het terras? Met onderstaande tips & tricks kan dit geheel zorgeloos! 
Waarom bescherm je je haren tegen de zon?
Je haren bescherm je tegen de zon, niet zomaar. Je beschermt je haren namelijk tegen overmatige blootstelling aan zon. Zon opzich is enorm goed voor onze gezondheid. Dankzij zonnelicht wordt vitamine D aangemaakt, deze vitamine kan het lichaam namelijk niet zelf aanmaken. Echter teveel zonnestralen beschadigden je haren, helemaal als je veel in de zee zit of in chloorwater. Om geen droog bosje stro op je hoofd te krijgen is het daarom slim om je haren te beschermen tegen overmatige blootstelling aan de zon. En dat kan tegenwoordig al heel simpel met een aantal tips & goede haarverzorging.
Waarom is de zon slecht voor mijn haar?
Een beetje zonnestralen zijn juist hartstikke goed voor je haren, overmatige blootstelling aan zon daarentegen is een heel ander verhaal. En met je haren is dat snel gebeurd. Waarom precies? Bij overmatige blootstelling aan zon zorgt ervoor dat je haren droog worden met gespleten haarpunten als gevolg. Daarnaast zorgen de zonnestralen voor een doffe kleur èn pluizig haar. Alles wat je eigenlijk gewoonweg niet wilt.
Wat kan ik doen om mijn haren te beschermen tegen de zon?
Je kan enorm veel doen om je haren te beschermen tegen overmatige blootstelling aan de prachtige zonnestralen. Hieronder vindt je 8 tips om je prachtige lokken te beschermen tegen de zon!
Bescherm je haren tegen de zon en doe je haren in een knotje. Op deze manier is de blootstelling geminimaliseerd. Dit is helemaal een aanrader als je haren geverfd zijn. Een vlecht of een staart kan natuurlijk ook :-)
Bescherm je haren tegen de zon door het dragen van een (strand)hoed. Het staat niet alleen prachtig, het is ook gewoon heel praktisch.
Bescherm je haren tegen de zon en gebruik haarproducten tegen de zon. 
Bescherm je haren tegen de zon en hydraten je haren extra veel in de zomertijd! Zo voorkom je droge haren en gespleten punten.
Bescherm je haren tegen de zon en verzorg je lokken met olie.
Vermijd het verven van je haren in de zomer.
Verzorg je haren extra in de zomer van binnenuit. Slik extra vitamines en mineralen.
Bescherm je haren tegen overmatige zonnestralen en gebruik een spray of crème met UV-filter. 
Welke producten zijn het beste om mijn haren tegen de zon te beschermen?
Dit hangt geheel af van je wensen en je haarbehoeftes. De één is content met extra hydratatie tijdens de vakantie en de ander wil zijn of haar haren altijd beschermen tegen de UV-straling i.v.m met kleurverlies.
Hieronder vindt je de top 5 zonproducten die populair zijn bij onze klanten:
Waarom moet ik haarverzorging gebruiken speciaal ontwikkeld tegen de zon?
Waarom is je gewone shampoo, conditioner en treatment niet genoeg tijdens de zomer? Dat is eigenlijk heel simpel uit te leggen. Haarverzorging speciaal gericht op de zomer is niet een bijzondere hype, er zit ook echt een gedachte achter. Oftewel, het is er niet voor niets. 
Haarverzorging speciaal gericht op het beschermen van je haren tegen de zon bevat altijd één van de volgende punten:
Haarverzorging speciaal gericht op de zon bevatten vaak UV-filters. UV-filters beschermen je haren tegen de UV-straling die in zonnestralen zit. Overmatige blootstelling aan de zon en dus UV-straling verbleekt je haarkleur. Of het nu geverfd is of van jezelf. Ook al kunnen wij ons voorstellen dat het wat blonder worden van je natuurlijke haarkleur als gewenst kan zien.
Haarverzorging die je haren tegen de zon beschermen bevatten vaak oliën. Oliën voeden je lokken intensief èn ze geven een prachtige glans!
Haarverzorging die je lokken tegen de zonnestralen beschermen bevatten vaak anti-oxidanten. Deze anti-oxidanten zitten er niet zomaar in, ze zorgen ervoor dat de cellen van je haren herstellen en beschermen.
Haarverzorging die je lokken tegen de zon beschermen hydrateren vaak enorm! Logisch, overmatige blootstelling aan zonnestralen zorgt voor droog haar. Daarom bevatten de haarproducten vaak stoffen (zoals glycerine) die het bijzondere eigenschap hebben om vocht uit de omgeving aan zich te binden. Dit zorgt er namelijk voor dat je haren gehydrateerd worden, en dat wil je in de zomer!
Haarverzorging die je haren beschermen tegen de zon bevatten vaak siliconen. Siliconen zijn waterafstotend en zorgt er dus voor dat zout en chloor afstoten. Hier raden we aan om voorzichtig mee te zijn, vooral als je krullen hebt. Siliconen op oliebasis droogt namelijk je haren uiteindelijk uit en het zorgt voor een build-up. Siliconen op waterbasis is dan een aanrader, maar let dan op dat als je haren nat zijn geweest de silioconen uit je haren zijn! 
Heeft mijn haar extra bescherming nodig tegen de zon?
De één doet het wel en de ander niet. Het ligt er helemaal aan wat je zelf het prettigst vindt. De één vindt het heerlijk dat zijn of haar natuurlijke haren blonder worden. Dan zit je eigenlijk goed met extra hydratatie in de vorm van een haarmasker of een olie die intens voedt. Als je haren geverfd zijn is het een heel ander verhaal, dan wil je natuurlijk voorkomen dat je prachtig geverfde haren vervagen. Dat is natuurlijk enorm zonde! Dan wil je er eigenlijk alles aan doen om je prachtige lokken te beschermen tegen de zon. 
Ga je op vakantie en lig je hele dagen aan het strand? Dan is het zeker aan te raden om je haren extra te verzorgen en te hydrateren, het zogenaamde 'stro-haar' is vaak aanwezig tijdens de zomer. Dit wil je natuurlijk voorkomen :-)
Zo kan je zien dat iedere situatie anders is, en de wensen ook ergens anders liggen. Heb je vragen en weet je niet precies wat je nou het beste kan doen in jouw situatie? Neem dan geheel vrijblijvend contact op met ons team via [email protected] of bel ons tijdens kantooruren.
Groeit mijn haar sneller door de zon?
Het is je misschien weleens opgevallen maar je haren en je nagels groeien soms tot wel 2 keer zo  hard in de zomer. En dat allemaal dankzij de zon! Jazeker dat de zon niet alleen maar slecht is, integendeel zelfs. De zon bevat twee enorm belangrijke vitamines, namelijk vitamine A en vitamine D3. Deze belangrijke vitamines zorgen ervoor dat het 'haargroei' hormoon wordt aangemaakt, en er zijn natuurlijk meer zonnestralen in de zomer dan in de winter.