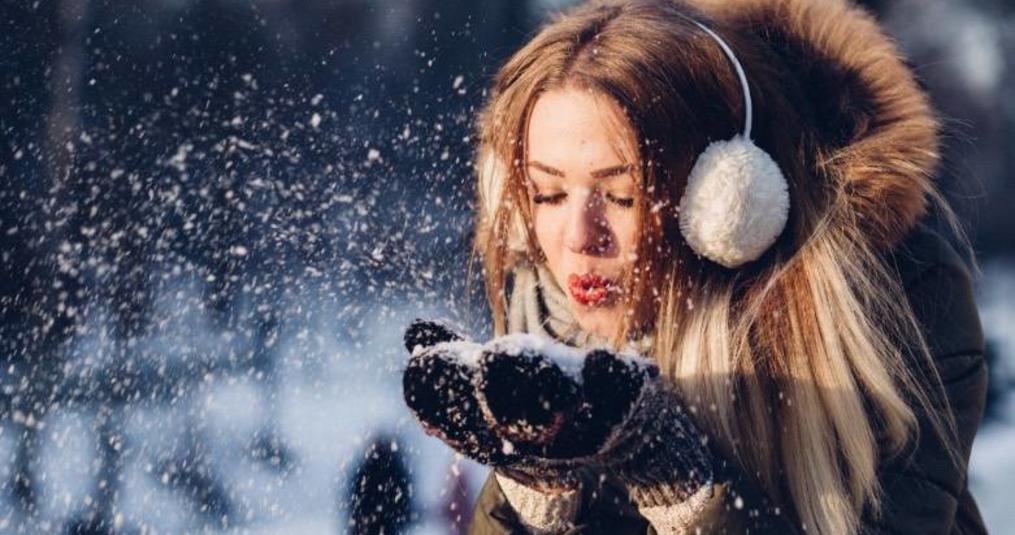 Winter: dit betekent korte dagen, koud, regen, wind en als het even tegen zit sneeuw. Voor je haar betekent dat: droog, statisch, futloos, pluizig en onhandelbaar. Het gaat alle kanten op en je haar plakt aan je gezicht. Je krullen zakken uit en het pluis gehalte neemt toe. Winterhaar. Gelukkig heeft ons team daar een aantal perfecte tips en tricks om jou wat op weg te helpen in deze donkere wintertijden. Met deze tips en tricks is jou haar snel weer de oude! 
Deze blog gaat jou helpen om jou haar winterproof te maken en te behouden. Ook al zijn de dagen donker: be your own sunshine! Help je kostbare lokken een eindje op weg. 
Hier vijf handige tips die jou de winter doorgaan helpen! 
1. Kan ik met nat haar naar buiten tijdens de winter?

 
Ja, je leest het goed. Waarom zou je niet gewoon met nat haar naar buiten gaan? Kan toch prima? Nee, dit moet je absoluut niet doen. Doordat het buiten vriest en het koud is, bevriezen ook je natte lokken.Dit resulteert in beschadigd haar wat kan afbreken door de kou. Niemand wilt kale plekken of beschadigd futloos haar. Föhn je haar dus of maak het goed droog. Gebruik een verzorgende olie die het haar soepel houdt en beschermt tegen invloeden van buitenaf. Hiervoor hebben wij een aantal geschikte producten op een rijtje gezet : 
En door naar de volgende tip! 
2. Hoe vaak moet ik mijn haren wassen in de winter? 
Als je je haar te veel wast met dit droge koude weer, dan heeft dit negatieve gevolgen voor zowel je haar als je hoofdhuid. Je haar en hoofdhuid drogen namelijk uit, dat wat betekent dat het nog meer verzorging nodig heeft. 
Was je haar maar 2 tot 3 keer per week, zodat het uitdroging voorkomt. Wil je toch je haar vaker wassen? Gebruik dan een droogshampoo. Dit geeft je haar een frisse boost! 
Hier een aantal haarproducten die perfect zijn voor dit soort issues: 
Ben je geen fan van droogshampoo en wil je toch je haar wassen zoals je gewend bent? Kies dan voor een shampoo dat perfect aansluit bij jou haartype. Vergeet dan geen conditioner te gebruiken om de haarschubben te sluiten en nog extra te verzorgen. 
Wat wij adviseren is om een shampoo en conditioner te gebruiken die het haar goed  hydrateert, beschermt en verzorgd. De vochtbalans in het haar zorgt ervoor of het haar in goede conditie blijft of juist heel droog en futloos wordt. Kies daarom voor een shampoo dat zich vooral focust op het herstellen van de vochtbalans in het haar. 
We hebben de beste shampoos daarvoor even op een rijtje gezet: 
Bij elke shampoo is er ook een passende conditioner. Dan ga je voor de optimale verzorging! 
3. Wordt mijn haar futloos door het winterse weer?
Futloosheid. Statisch. Plat. Vet. Dit zijn zo ongeveer de kernwoorden wat betreft haar in de winter. Je verlangt met de minuut meer naar de mooie zomer en naar weer een stralende bos glanzende lokken. Niet getreurd, ook dit resultaat kan behaald worden in de winter. Het is gewoon een kwestie van extra verzorging en  wat meer de tijd en moeite ervoor nemen. Wat erg goed helpt tegen futloos haar, het wondermiddel, namelijk een goede treatment. Denk hierbij aan een haarmasker of een goed verzorgende leave- in day cream. Het beste is om voor een volledige behandeling te gaan. Zeker voor de dames met lang haar. Je krijgt vaak last van uitgedroogd, futloos en statisch haar. Ook de haarpunten gaan sneller splijten. Op dat laatste zit niemand te wachten.  
Onze top-10 favorite hair treatments ! 
4. Hoe bescherm ik mijn haren in de winter?
Ja, je leest het goed. Letterlijk je haar beschermen. Het beste is, als je de kou moet trotseren, dat je je haar afschermt. En we weten wat je nu denkt: ' Ja, dan doe ik mijn muts af en is mijn haar statisch en plat'. Ook daar zijn een aantal oplossingen voor. Voor beiden problemen hebben wij de voornaamste oplossing voor jou: 
Muts op? Nee, dan krijg ik van dat volume loze haar.. Om dit te voorkomen, gebruik dan een volume shampoo en conditioner, toupeer je haar licht en dan ben je klaar om te gaan! Je hebt dan een warm hoofd EN haar met volume. 
Muts op? Nee, dan wordt m'n haar zo statisch.. Ja, ja, nu weten we het wel. Ook hiervoor is een oplossing. Deze is simpeler dan je zou denken. De oplossing gaat namelijk als volgt: pak een borstel en je favoriete haarlak, bijvoorbeeld de Fudge Skyscraper Extra, en spray dan wat haarlak op je borstel. Kam je haar lekker door. Doe dit wel voorzichtig, want niemand houdt van een zere hoofdhuid. Haarlak zorgt namelijk ervoor dat je haar neutraliseert. De statische lading gaat ervan af. 
Ben je nog op zoek naar een goede stevige haarlak, die jou haar in model houdt in deze koude tijden en je helpt met je haar niet- statisch maken? Wij hebben voor jou een top 7 gemaakt. Check deze producten! 
5. Heeft warmte en koud extra effect op mijn haren? 
Het is in de winter niet goed voor je haar om extreme temperatuursveranderingen te ondervinden. Je haar krijgt dan keer op keer een klap van de of extreem warme temperatuur of van de koude droge buitenlucht. Daarom is het belangrijk je haar goed te beschermmen tijdens/na het föhnen, stijlen of krullen. Voordat je hiermee begint, smeer dan een haarserum in je haar. Als finishing touch kan je kiezen voor een finishing serum of een haarolie. Er zijn ook speciaal ontwikkelde sprays, die zijn al helemaal geschikt , om het haar vooraf mee in te sprayen. Wij hebben even een kleine collectie samengepakt die jou haar kunnen helpen de temperatuursverschillen te tackelen. 
Hittebeschermende sprays: 
Deze sprays zijn de stylingproducten die jou haar de gezonde glans en volume laat behouden ondanks het gebruik van een föhn, stijl - of krultang. 
Om het hele proces af te werken, de nazorg, de bescherming en het behoudt van je prachtige lokken hebben wij een aantal haarproducten die jou daarbij kunnen helpen. 
Mocht je na het lezen van bovenstaande er toch niet helemaal uitkomen, dan kan je natuurlijk altijd vrijblijvend contact opnemen met ons team via [email protected] Wij helpen je graag verder! Bel je liever, dat kan! Ons team is bereikbaar op werkdagen van 9.00-17.00 :-)