-53% Sale

19,95 9,35

-50% Sale

13,95 6,95

-40% Sale

17,95 10,75

-43% Sale

18,95 10,75

-37% Sale

16,95 10,75

-42% Sale

18,95 10,95

-45% Sale

22,60 12,50

-41% Sale

16,95 9,95

-37% Sale

17,50 10,95

-37% Sale

18,95 11,95

-40% Sale

19,95 11,95

-27% Sale

21,95 15,95

Gratis

verzending vanaf €35!
Advies nodig? Bel

038-4582584

Voor

23:30

besteld morgen in huis!

-47% Sale

16,95 8,95

-41% Sale

16,95 9,95

-41% Sale

19,50 11,50

-32% Sale

21,95 14,95

-38% Sale

16,95 10,50

-36% Sale

25,- 15,95

-41% Sale

16,95 9,95

-32% Sale

18,95 12,95

-41% Sale

16,95 9,95

-40% Sale

16,50 9,95

-41% Sale

16,95 9,95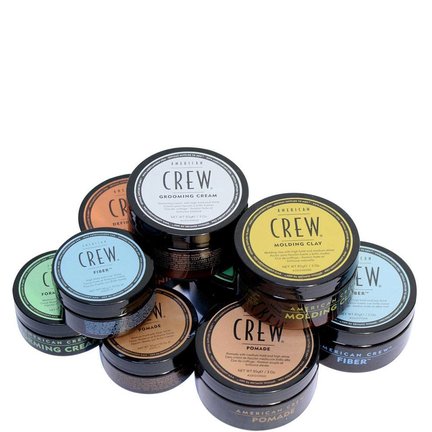 De American Crew Styling heeft verschillende stylingproducten, er zit dus altijd iets bij voor elke haartypes. Het merk heeft maar één doel. Producten maken die geschikt zijn voor iedere man! American crew - Official Supplier to Men hebben ze niet voor niets onder hun naam staan.  De producten hebben een krachtige werking voor een goed textuur van iedere kapsel. Ook zit er in bepaalde producten bescherming tegen de invloeden van buitenaf. Verzorging en styling in één, ze denken overal aan! Of je nu een matte look wilt of een a la Elvis Presley glanzende look!


De producten van de American Crew Styling
De American Crew Forming Cream is geschikt voor ieder haartype en geeft het haar natuurlijke look en medium fixatie. De American Crew Ultra Matte is ideaal voor mensen die niet van glanzende lokken houden. De American Crew Boost Powder geeft meer volume aan het haar en zorgt voor een prachtige, matte afwerking. De American Crew Molding Clay geeft meer va-va-voom volume en is uiterst geschikt voor krullende lokken. De American crew Defining Paste geeft medium fixatie en laat matte glans achter in het haar. De American Crew Grooming Cream verzorgt golvend of krullende lokken en zorgt voor een schitterende glans. De American Crew Heavy Hold Pomade is ook geschikt voor golvend of krullend haar maar met een medium hold en toch weer die schitterende glans. De American Crew Fiber Styling Cream verbetert de elasticiteit van het haar en geeft een stevige hold. De American Crew Firm Hold Styling Gel geeft echter de ultieme hold en voorkomt daarbij een droge hoofdhuid. De American Crew Firm Hold Styling Cream geeft een flinke dot stevigheid en body met extra glans. American Crew Styling heeft genoeg keuze voor iedere man die een goede stylingproduct nodig heeft.
Is American Crew Styling geschikt voor jou?
Is de American Crew Styling niet geschikt voor jouw lokken, of weet je het niet zeker. Dan verwijzen wij je graag door naar de hoofdpagina van American Crew, hier vindt je alle producten van American Crew. Hier staat tevens aangegeven voor wie en welk soort haar de producten geschikt is. Heb je alsnog vragen? Neem dan gerust contact op met ons team via [email protected]
Service van Haarspullen.nl
Bij haarspullen.nl kun je in onze online shop American Crew Styling online kopen. Wij zorgen ervoor dat je order, die je plaatst vóór 23.00 uur, dezelfde werkdag aan jou wordt verzonden. Bij een bestelling vanaf €35,- profiteer je van gratis verzending. Daarnaast bieden wij jou de service van achteraf betalen. 
Heb je een vraag over één van onze producten of onze service? Je kan van ons verwachten dat wij supersnel antwoord geven op al jou vragen via mail. Vaak ook buiten kantooruren. Daarnaast kun je ons ook telefonisch bereiken. Wil je meer informatie? Bekijk dan eens onze veelgestelde vragen. Wij wensen je veel plezier met het shoppen van American Crew Styling bij haarspullen.nl.