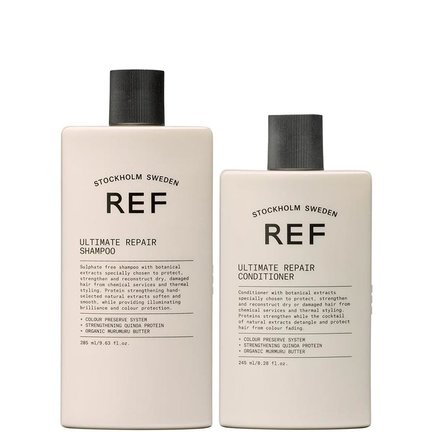 REF Stockholm is een fantastisch merk uit Zweden. REF staat voor Reference of Sweden. REF Stockholm is 100% vegan en cruelty free en dat maakt ze briljant. Zoals we gewend zijn van de mensen uit Zweden is REF Stockholm een kwalitatief merk. Ze hebben een compleet assortiment van haarverzorging én haarstyling. REF Stockholm wil via hun branding natural beauty uitstralen en dat doen ze. Natural Beauty is hét rode draad in alles wat ze doen. Eenvoud, duurzaam en kwaliteit. "Natural beauty, embracing all the world's diverse people, culture and ethnical background". Een prachtige, clean & fresh look die elke badkamer een prachtige, luxe feeling geeft. 


Wat doet REF Ultimate Repair voor jouw haar?
REF maakt voor elke lijn een aantal producten. De meeste lijnen bestaan uit een shampoo en een conditioner, maar soms is er ook een haarmasker extra bij ontwikkeld. Zo is dat ook bij REF Repair, speciaal om je droge en beschadigde haar nog een extra boost te geven na je normale verzorging. De lijn bestaat uit een shampoo, conditioner en een masker. REF repair geeft weer leven aan droog en beschadigd haar. Bij de producten wordt gebruik gemaakt van ingrediënten als bosbessen, walnoten, tamanu en arganolie om het haar te herstellen en het er weer gezond en verzorgd uit te laten zien. Verder is deze lijn, net als alle andere producten van REF 100% VEGAN en cruelty free. Hiermee wordt bedoelt dat de producten niet getest zijn op dieren en er ook geen dierlijke producten gebruikt worden in de formule. Naast dat het merk vrij is van dierlijke producten, is het ook vrij van SLS, parabenen, parfum en siliconen. 


Is REF Stockholm vrij van sulfaten, parabenen, SLS en dierlijke producten?
Alle REF Stockholm zijn milieu én diervriendelijk. Ze staan voor natuurlijke haarverzorging en haarstyling. Ze vinden het belangrijk dat dieren en mensen samen kunnen leven, zonder dat dieren worden uitgebuit. REF Stockholm gebruiken natuurlijke én organische ingrediënten en combineren dit met chemie. Oftewel de beste producten, wat ook het beste is voor de natuur gecombineerd met de laatste technologie, die is ook echt het doel van REF Stockholm. Op deze manier bieden ze een hoog kwalitatief product, die ze zodanig produceren dat ze ook een steentje bijdragen aan de wereld. Alle producten van REF Stockholm Sweden zijn vrij van sulfaten, parabenen én siliconen. De producten van REF Stockholm bevatten allemaal natuurlijke ingrediënten die ook écht hun werk doen. Met producten die 100% vegan zijn en vrij zijn van sulfaten, parabenen en SLS denkt REF echt daadwerkelijk overal over na, en dat vindt ons team in elk geval super tof!