-20% Sale

14,40 11,52

-60% Sale

19,95 7,95

-57% Sale

29,95 12,95

-50% Sale

29,95 14,95

-20% Sale

9,05 7,24

-20% Sale

11,95 9,56

-43% Sale

20,95 11,95

-56% Sale

17,95 7,95

-51% Sale

60,- 29,50

-56% Sale

17,95 7,95

-39% Sale

44,95 27,50

-20% Sale

11,95 9,56

Gratis

verzending vanaf €35!
Advies nodig? Bel

038-4582584

Voor

23:30

besteld morgen in huis!

-20% Sale

17,90 14,32

-40% Sale

16,95 10,15

-20% Sale

17,90 14,32

-50% Sale

19,95 9,95

-3% Sale

19,90 19,30

-20% Sale

11,95 9,56

-20% Sale

35,50 28,40

-41% Sale

29,50 17,50

-47% Sale

14,95 7,95

2,50

-20% Sale

17,90 14,32

-47% Sale

14,95 7,95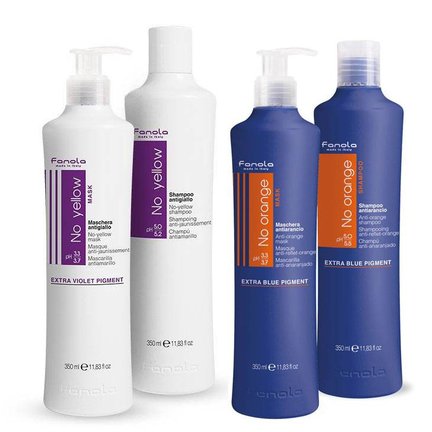 Fanola is een exclusief kappersmerk uit Italië. Wereldwijd is de Fanola No Yellow bekend geworden om de ongekende resultaten. Online zijn overal filmpjes te vinden over de resultaten van de Fanola No Yellow shampoo, waardoor dit merk ineens op de kaart is komen te staan. Ook de andere producten van Fanola zijn kwalitatief erg goed en bovenal zeer betaalbaar. Kortom een nieuwe professionele lijn, die nu al het verschil maakt in de markt. Alle producten van Fanola zijn voordelig verkrijgbaar op haarspullen.nl.


Welke lijnen heeft Fanola allemaal in het assortiment?
Ben je ook benieuwd of er een Fanola lijn aansluit bij jouw prachtige haren? Kijk snel verder, wij hebben alles op een rijtje gezet:
Hoe zit het nu precies met de Fanola No Yellow Power?
Fanola heeft haar bekendheid te danken aan de de Fanola No Yellow. De paarse pigmenten in  Fanola zilvershampoo zijn zó krachtig, dat ze zonder al teveel moeite je warme blonde haar omtoveren in koele, asblonde lokken! Je lokken wordt letterlijk getoned, zonder gebruik van demi- of semi- permanente kleuring. En dat is natuurlijk ongekend! En dat alleen met een zilvershampoo. Je begrijpt dus dat Fanola snel de Nederlandse markt veroverde. Dit laat zien dat Fanola een kwalitatief merk is.
Heeft Fanola ook blondeerpoeder in het assortiment?
Fanola staat voor kwaliteit, ze zijn goed in wat ze doen. Ze zijn niet voor niets zo populair geworden met de Fanola No Yellow. Fanola heeft ook een ijzersterke blenderpoeder op de markt gebracht. Uiteraard zijn de blondeerpoeders van Fanola in verschillende varianten verkrijgbaar. 
Daarnaast heeft Fanola ook de Fanola No Yellow Ultra Lighter 9 op de markt gebracht. Deze blondeerpoeder licht tot wel 9 tinten op! Dat is natuurlijk ongekend! 
Heeft Fanola ook een Fanola No Yellow Toner?
De Fanola No Yellow shampoo is gewoonweg de beste shampoo op de markt met de sterkste violet pigment. Het is bijna net zo sterk als een toner, beter gezegd die heb je in de meeste gevallen niet nodig. Het is ideaal voor thuis om je prachtige asblonde lokken of grijze lokken vrij te houden van warme tinten. Fanola zou Fanola niet zijn als het team ook met een echte Toner op de markt zou komen, namelijk de Fanola No Yellow Color Toner. Deze toner is enorm sterk en een aanwinst voor de markt.

Wat is de geschiedenis van Fanola?
Fanola is een ontzettend populair kappersmerk uit het prachtige Italië. Het is opgericht in 2004 door een groep ondernemers. Zij zagen diverse behoeften in de branche en wilde hier de oplossingen voor bieden. En dat lukte! In slechts een kort tijdsbestek werd Fanola een de grootste en veelgevraagde kappersmerken in Italië. Momenteel zijn ze hard aan het bouwen om populariteit te creëren in andere landen, en dat doen ze goed. Dit succes is mede te danken aan de Fanola No-Yellow Shampoo.
Waar kan ik mijn vraag stellen over Fanola?
Heb je interesse in het merk Fanola, maar ben je er niet helemaal uit welke geschikt is voor jouw haren, en aansluit bij je wensen? Wij krijgen ontzettend veel vragen van onze lieve klanten over wanneer ze nou de Fanola No Yellow nodig hebben of toch beter kunnen kiezen voor de Fanola No Orange. In het artikel "Wat is Fanola No Yellow Shampoo precies?"  staat uitgelegd wat het verschil is tussen beide. hHb je echter nog steeds vragen, mail ons team gerust via [email protected] Snel antwoord? Dan raden wij aan om ons team tijdens kantooruren te bellen.