CHI Argan Oil
CHI Argan Oil is speciaal ontworpen voor droog en beschadigd haar.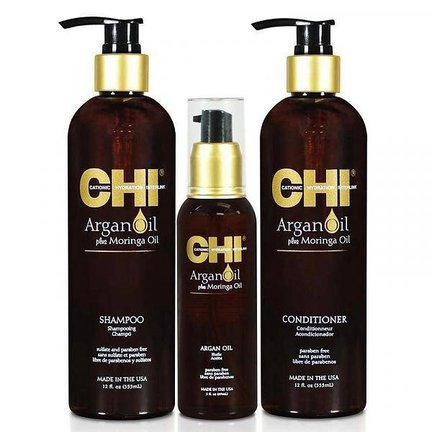 CHI Argan Oil is speciaal ontworpen voor droog en beschadigd haar. De CHI Argan Olie lijn is gebaseerd op Arganolie en Moringaolie. Arganolie is afkomstig uit de vruchten van de arganboom. Het is rijk aan vitamine E en bevat omega vetzuren die voeding aan je lokken geven. Arganolie verzwaart het haar niet, trekt snel in, hydrateert en voedt droog en beschadigde lokken.  Moringaolie bevat vele antioxidanten en is een van de meest gewenste oliën die gebruikt wordt in cosmeticaproducten. De olie dringt diep door in je lokken, levert vitale voedingsstoffen en helpt het vocht in je lokken vast te houden. Moringaolie is een populaire natuurlijke aanvulling voor de gezondheid en sterkte van het haar, maar biedt daarnaast ook optimale verzorging aan de hoofdhuid. Deze lijn bevat de CHI keramische samenstelling. Deze verbinding maakt gebruik van keramische ingrediënten en proteïnen om het haar uitstekende bescherming te bieden. De keramische verbindingen laten anionen op de schubbenlaag vrijkomen, deze helpen om proteïnen met elkaar te verbinden en het haar zo meer glans, kracht en een levendige uitstraling te geven.
Welke Argan Olie haarverzorging heeft CHI allemaal?
De CHI Argan olie lijn bestaat uit een vierdelig systeem met de volgende producten: 
CHI Argan Oil Shampoo  heeft een sterke voedende formule verrijkt met vitaminen, eiwitten en antioxidanten. De eerste stap van het 4-delige Argan Oil systeem beschermt en revitaliseert je beschadigde lokken, en toveren ze om in gezond en glanzende lokken. De CHI Argan Oil Conditioner  is voedende conditioner die de stevigheid en elasticiteit je lokken verbeteren en het beschermt tegen schade als gevolg van thermische styling en UV-straling. CHI Argan Oil Mask is een krachtige tijger met olie- en zijderijke formule. Het hydrateert en revitaliseert je lokken. Daarnaast zorgt het ervoor dat de textuur, elasticiteit, glans en beheersbaarheid van je haar transformeert! Deze krachtige tijger is uitermate geschikt bij dik, grof en chemisch behandelde lokken. CHI Argan Oil  is de laat stap in het 4-delige Argan Oil systeem. Deze Argan olie van CHI wordt snel geabsorbeerd door je lokken en is ontwikkeld om veroudering van je lokken tegen te gaan. Daarnaast hydrateert het je lokken en het transformeert lokken van dof en beschadigd naar prachtig gezond, glanzend haar.  CHI Revival Argan Oil is ook als set verkrijgbaar, dit is exclusief het masker.
Is CHI Argan Oil geschikt voor mijn haren?
Is de CHI Argan oil lijn niet geschikt voor jouw lokken, of weet je het niet zeker. Dan verwijzen wij je graag door naar de hoofdpagina van CHI, hier vindt je alle productlijnen van CHI. Hier staat tevens aangegeven voor wie en welk soort haar de producten geschikt is. Heb je alsnog vragen? Neem dan gerust contact op met ons team via [email protected]
Wat zijn de belangrijkste ingrediënten van de Argan Olie lijn?
Het is uiteraard voor de hand liggend dat de haarverzorging uit deze CHI lijn argan olie bevat, maar wat zijn nog meer belangrijkste ingrediënten en wat doen ze nou precies voor je haren? Dat lees je hier! 
Naast Argan Olie bevatten de haarproducten van CHI ook Sunflower Seed Oil en Moringa Oleifera Seed Oil.
Argan Olie is één van de bekendste oliën voor o.a. ons haar. Het hydrateert je haren immens, en dankzij de enorme hoeveelheid aan Vitamine E en natuurlijke onverzadigde vetten worden je haren flink beschermd tegen schadelijke invloeden van buitenaf.
Sunflower Seed Oil is echt fantastisch! Het stimuleert haargroei, verbeterd de conditie van je hoofdhuid, het houdt vocht vast in je haren en het gaat pluizig haar tegen! Eigenlijk alles waarvan wij en onze haren blij van worden :) Het is ook echt een topingrediënt voor droog haar, voornamelijk vanwege het feit dat het water als het ware locked in je haren. 
Moringa Olefera Seed Oil is een olie van plant zonder geur. Het bevat diverse antioxidanten zoals zeatin en qeurcetin, ook bevat het vitamine A, C en E. Ook zorgt de olie ervoor dat er een barrière wordt gecreëerd zodat het verlies van moisture wordt tegengegaan. Ook heeft het een kalmerende werking op de hoofdhuid
Is de Argan Olie Haarverzorging geschikt voor mijn haren?
Klinkt deze lijn van CHI als muziek in de oren, maar weet je niet of het ook geschikt is voor jouw haren? Lees dan snel verder en ontdek het snel! De Argan Olie is uitermate geschikt voor droog en beschadigd haar. Dankzij de Argan Olie en Moringa Olie en vitamines worden je haren intens gevoed en gehydrateerd zonder dat het je haren verzwaard. Heb je kroezend, pluizend en/of beschadigd haar? Dan is dit absoluut een dikke aanrader!
Je haren zullen weer zijdezacht aanvoelen en een prachtige glans krijgen. Ook worden gespeten haarpunten in de toekomst voorkomen en huidige dooie puntjes behandeld. 
Kun je mij wat meer vertellen over de achtergrond van CHI?
CHI, afkorting van Cationic Hydration Interlink, onderdeel van Farouk Systems USA is een van de snelst groeiende merken in de professionele kapsalons. CHI is doordat alle haarproducten niet getest zijn op dieren, een diervriendelijk merk. CHI heeft een ruim assortiment haarproducten waarbij u kunt denken aan shampoos, conditioners, treatments en nog veel meer haarproducten. Daarnaast heeft CHI ook een divers assortiment haartools, zoals de CHI stijltang, CHI föhn en CHI krultang. Bovendien is topmodel en tv-presentatrice Daphne Deckers ambassadrice voor het merk. 
Waar kan ik mijn vraag stellen haarverzorging van CHI met Argan Olie als ingrediënt?
Ben je opzoek naar goede haarverzorging voor je prachtige haren omdat ze daar om schreeuwen? Of schreeuwen je haren om iets, maar weet je niet precies wat dat dan precies moet zijn? Schakel dan de hulp in van ons team. Wij helpen je graag verder zodat jij ontdekt of de CHI lijn met Argan Olie geschikt is voor je haren of dat je beter voor iets anders kan gaan :) Uiteraard is dit geheel vrijblijvend. Stuur je vraag naar [email protected] of bel onze teamleden tijdens kantooruren. Wil je graag persoonlijk advies dan raden we aan om naar ons hoofdkantoor te komen in Zwolle waar tevens ook het afhaalpunt is. Zo kunnen we je nog gerichter advies geven :)