CHI Tea Tree Oil
CHI Tea Tree Oil is het antwoord voor de gevoelige hoofdhuid!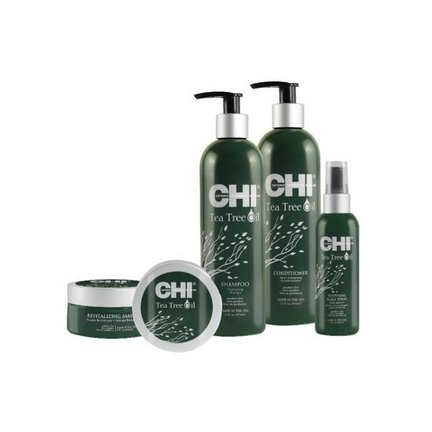 CHI Tea Tree Oil is speciaal ontwikkeld voor de gevoelige hoofdhuid. De Tea Tree Oil lijn is gebaseerd op Tea Tree Olie en Pepermuntolie. Deze essentiële ingrediënten zorgen ervoor dat vocht gereguleerd wordt en het zorgt voor een goede balans van de hoofdhuid en activeert de hoofdhuid. Deze productlijn van CHI prikkelt echt de zintuigen en zorgt voor een fris gevoel op de hoofdhuid zonder te irriteren of te jeuken. 

CHI Tea Tree Oil haarproducten
De CHI Tea Tree Oil Shampoo is een milde shampoo die je lokken en je hoofdhuid reinigt, onzuiverheden verwijdert en de zuurgraad van je hoofdhuid in balans houdt. Het ontstopt de poriën op je hoofdhuid. De CHI Tea Tree Oil Conditioner bevat belangrijke ingrediënten, Tea Tree Oil, een natuurlijke antioxidant die poriën ontstopt, verwijderd en er voor zorgt dat de hoofdhuid beter aanvoelt. Daarnaast bevat de Tea Tree Conditioner van CHI, Peppermint Oil, die zorgt voor evenwicht, verfrissing en verlichting van de hoofdhuid. Ook bevat de Tea Tree Oil conditioner Zijde, wat zorgt voor een prachtige glans. Er is overal aan gedacht want er zit ook Kamille in. De Kamille in de conditioner zorgt ervoor dat de kracht en veerkracht van je lokken worden beschermt. De CHI Tea Tree Oil Soothing Scalp Spray helpt direct bij jeuk en irritatie op de hoofdhuid. Door het voormaat van de Tea Tree Oil Spray is het ideaal om mee onderweg te nemen! Zo heb je het altijd bij je, zodat je direct kan sprayen als je last hebt van je hoofdhuid. Na verloop van tijd, als je de CHI Tea Tree Oil producten gebruikt zul je gaan ervaren dat dit steeds minder en minder wordt. Last but not least is de CHI Tea Tree Oil Revitalizing Masque. Dit masker geeft je lokken intense hydratatie en herstelt de vitaliteit van je prachtige lokken. 
Is CHI Tea Tree Oil geschikt voor jou?
Is de CHI Tea Tree oil lijn niet geschikt voor jouw lokken, of weet je het niet zeker. Dan verwijzen wij je graag door naar de hoofdpagina van CHI, hier vindt je alle productlijnen van CHI. Hier staat tevens aangegeven voor wie en welk soort haar de producten geschikt is. Heb je alsnog vragen? Neem dan gerust contact op met ons team via [email protected]
Achtergrond informatie over CHI
CHI, afkorting van Cationic Hydration Interlink, onderdeel van Farouk Systems USA is een van de snelst groeiende merken in de professionele kapsalons. CHI is doordat alle haarproducten niet getest zijn op dieren, een diervriendelijk merk. CHI heeft een ruim assortiment haarproducten waarbij u kunt denken aan shampoos, conditioners, treatments en nog veel meer haarproducten. Daarnaast heeft CHI ook een divers assortiment haartools, zoals de CHI stijltang, CHI föhn en CHI krultang. Bovendien is topmodel en tv-presentatrice Daphne Deckers ambassadrice voor het merk. 
Service van Haarspullen.nl
Bij haarspullen.nl kun je in onze online shop CHI Tea Tree Oil online kopen. Wij zorgen ervoor dat je order, die je plaatst vóór 23.00 uur, dezelfde werkdag aan jou wordt verzonden. Bij een bestelling vanaf € 35,- profiteer je van gratis verzending. Daarnaast bieden wij jou de service van achteraf betalen. 
Heb je een vraag over één van onze producten of onze service? Je kan van ons verwachten dat wij supersnel antwoord geven op al jou vragen via mail. Vaak ook buiten kantooruren. Daarnaast kun je ons ook telefonisch bereiken. Wil je meer informatie? Bekijk dan eens onze veelgestelde vragen. Wij wensen je veel plezier met het shoppen van CHI Tea Tee Oil bij haarspullen.nl.