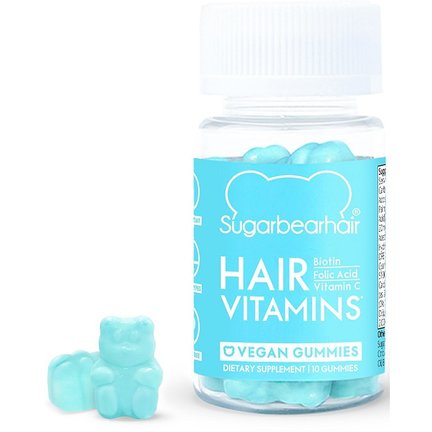 Sugar Bear Hair is geformuleerd met essentiële haarvriendelijke vitamines zoals biotine, foliumzuur en vitamine D. Kauw gewoon 2 gummibeertjes per dag en slik ze door om alle voedingsstoffen binnen te krijgen die nodig zijn om jouw haardoelen te bereiken! In tegenstelling tot de conventionele grote, grove vitamines, zijn onze gummies gemakkelijk in te nemen en zacht voor uw maag. Van deze heerlijke gummies krijg je gezonder en glanzender haar en ze kunnen ook positieve effecten hebben op nagels en de huid. De gummies hebben een lekkere, zoete smaak van bessen. 94% van de gebruikers ziet al resultaat na 3 maanden. Geniet weer van mooi, glanzend en sterk haar ♡
Wat zijn belangrijke kenmerken van de SugarBearHair Haarvitamines?
SugarBearHair is alles wat je nodig hebt om het gezondste en langste haar te laten groeien. We hebben een aantal unieke kenmerken op een rijtje gezet, zodat je dit product nog beter leert kennen:
Bestverkopende haarvitamine online sinds 2016
Essentiële haarvriendelijke vitamines
Vitamines als biotine, foliumzuur en vitamine D
Ondersteunt de conditie van je haren
13 vitamines en natuurlijke ingrediënten
Vegetarisch
Cruelty free
Zoete smaak
Zonder hormonen
Geen invloed op gezichts- of lichaamshaar
Bevat geen gelatine, zuivel, gluten, soja's of pinda's
Voor mannen en vrouwen
Hoe gebruik ik de SugarBearHair?
Het gebruik van deze vitamines simpel én lekker. Neem 2 gummies op een dag. Het maakt niet uit wanneer, of je het apart neemt of samen, of met of zonder eten. Aan jou de keuze! 
Wat is het resultaat van de SugarBearHair?
Wees niet getreurd als je niet meteen resultaat ziet. Jouw haren en haarzakjes hebben even de tijd nodig om te herstellen en te wennen aan al die geweldige voedingsstoffen. We raden je dan ook aan om de SugarBearHair Vitamines minimaal 3 maanden in te nemen. 94% van de gebruikers ziet resultaat na 3 maanden. Na 6 maanden zul je merkbaar verschil voelen en zien. De vitamines van SugarBearHair helpen de haarzakjes te stimuleren met als gevolg voller en sterker haar. Maar ook haar dat sneller terug groeit. We hebben een handig overzicht gemaakt wat je van dit product kunt verwachten:
Laat je haren langer en sterker groeien
Het voedt je haren van binnenuit
Verbetert de gezondheid van je haren
Verbetert de haarelasticiteit
Verhoogt de haarsterkte
Stopt haarbreuk
Is de SugarBearHair haarvitamine geschikt voor mij?
Kijk jij weer uit naar een gezonde bos met haren? SugarBearHair is in principe geschikt voor iedereen: voor zowel mannen als vrouwen en voor ieder haartype. We raden je wel aan om de gummies te gebruiken vanaf 13 jaar. Resultaten per persoon zijn allemaal anders, dit hangt af van de conditie van de hoofdhuid. 
Heb je extreem last van haaruitval? Dan verwijzen we je graag door naar de producten van Neofollics.
Zijn de haarvitamines van SugarBearHair cruelty free?
Tegenwoordig vragen we ons steeds meer af waar producten vandaan komen en hoe deze geproduceerd zijn, ook wel een stukje bewustwording. Gelukkig zijn de lekkere gummies van SugarBearHair helemaal cruelty free. Je kiest dus superbewust met dit product.
Hebben de SugarBearHair Hair Vitamines ook bijwerkingen?
Een veelgestelde vraag is: gaat er nou over mijn hele lichaam meer haar groeien? Hier hoef je dus niet bang voor te zijn. SugarBearHair Vitamines zijn hormoonvrij en zullen daardoor de haren op je gezicht of lichaam niet lager of dikker laten groeien. Er zit ook Biotine in de gummies, namelijk 5000 mcg. Als je gevoelig bent voor biotine, raden we je aan om even jouw huisarts te raadplegen of je dit product kunt gebruiken. Verder is SugarBearHair helemaal vrij van bijwerkingen, hoe mooi is dat? Bekijk voor de zekerheid even de ingrediënten voor allergieën.
Hoelang kan ik doen met een potje Hair Vitamines van SugarBearHair?
In één potje zitten 60 gummies. Aangezien je 2x per dag een gummie inneemt, kun je hier dus een maand mee doen. Eén potje staat dus voor één maand heerlijke gummies!
Waar kan ik mijn vraag stellen over SugarBearHair Hair Vitamines?
Heb je nog een vraag over de SugarBearHair Haarvitamines? Weet je niet zeker of de producten bij jouw haarbehoefte passen? Je kunt voor al je vragen bij ons terecht. Mail je vraag naar [email protected] en we proberen zo snel mogelijk te reageren, soms zelfs buiten kantooruren! Je kunt ook een kijkje nemen bij ons pick-up point, dan kunnen we jou de gummies eens van dichtbij laten zien. Voor dringende vragen kun je ons telefonisch bereiken tijdens kantooruren.