Maria Nila Colour Refresh
Gratis

verzending vanaf €35!
Advies nodig? Bel

038-4582584

Voor

23:30

besteld morgen in huis!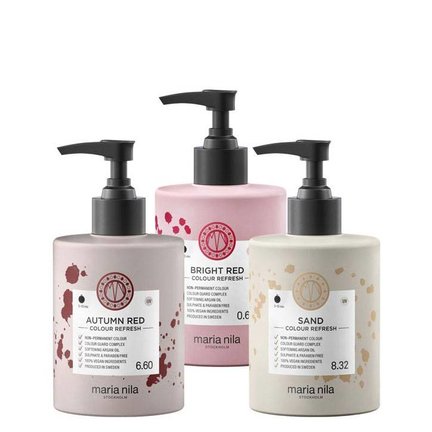 Maria Nila Colour Refresh is een verzorgend masker die daarnaast ook de haarkleur een opkikker geeft. Hoe langer je het masker laat zitten, hoe intensiever de kleur wordt. De kleurpigmenten zijn al ontwikkeld, hiervoor hoef je dus niets extra's voor toe te voegen. Het masker bevat Colour Guard Complex waardoor het haar wordt verzorgd en beschermd. Maria Nila Colour Refresh is verkrijgbaar in 14 kleuropfrissers, waardoor het geschikt is voor verschillende haarkleuren. Het masker is 100% plantaardig en is vrij van sulfaten en parabenen.
De Maria Nila Colour Refresh bestaat uit de volgende kleuren - Pearl Silver, Bright Red, Vivid Violet, Pink Pop, Black, Cacao, Cacao Intense, Cacao Red, Autumn Red, Bright Copper, White mix, Sand, Vanilla, Cherry Red, Lavender, Peach en Azure.
Hoelang blijft de veganistische kleuropfrisser in mijn haren zitten?
Een haarmasker wordt gemiddeld één keer per week gebruikt, echter is dit een haarmasker die je haren ook een kleurboost geven of gewoon een keer een andere kleur. Dan is het uiteraard handig om te weten hoelang de kleur blijft zitten voordat het vervaagt. Aan de hand daarvan kan je bepalen hoevaak jij het beste de Color Refresh kan gebruiken zodat je haren goed verzorgt blijven met een sprankelende kleur ♡
Het haarmasker wat je tevens als treatment kan gebruiken (langer laten zitten) blijft 4 tot 10 wasbeurten zitten afhankelijk van de staat van je haren. Het fijne is dat ze niet zeggen hoeveel dagen het blijft zitten, omdat de één zijn of haar haren iedere dag wast en de ander weer 2 keer per week. Houd hier dus rekening mee. zodat je voor jezelf goed kan bepalen hoevaak je het wilt gebruiken. 
Kan ik het gepigmenteerde haarmasker van Maria Nila ook als treatment gebruiken?
Absoluut dat dat kan. Als je de Colour Refresh als haarmasker gebruikt is de inwerktijd 3-10 minuten. Als je het als treatment wilt gebruiken kan je het veel langer zitten. LET OP: als je het als treatment gebruikt realiseer dan dat de kleur ook intenser wordt! Als je een beetje een rose gloed in je haren wilt moet je de Colour Refresh dus NIET als treatment gebruiken. Voordeel is wel dat je het er uiteindelijk wel weer uitwast, maar je zit dan dus wel even met knal roze haren! Wees hier absoluut bewust van :)
Verzorgt de Colour Refresh mijn haren ook intens?
Het fijne van de gehele Colour Refresh lijn is is dat het een haarmasker is. Je kleur dus een flinke oppepper geven terwijl het je haren voed! Ingrediënten als Arganolie Zonnebloemzaad extract zorgen voeding terwijl glycerine je haren hydrateren. Ook bevat het de fantastische en goede soorten vettige alcohol Cetearyl Alcohol en Cetyl Alcohol. Dit wordt gewonnen uit kokosnoot- en palmpittenolie. Dit laatste is geweldig voor als je droge haren hebt en een droge hoofdhuid!
Versterkt het Color Refresh haarmasker mijn haren ook?
Dankzij Hydrolysed Wheat Protein die het gekleurde haarmasker bevat worden je haren ook aangesterkt. Zoals je wellicht weet of misschien ook niet bestaat ons gezonde haar voor 95% uit keratine, wat een ander woord is voor eiwit of proteïne. Door onder andere het verven van haren, gebruik van tools etc. wordt het percentage keratine lager door de beschadigingen. Daarom is het super als een haarverzorginsproduct proteïne bevat, dit sterkt je haar namelijk weer aan! 
Is de Colour Refresh ook cruelty free?
Maria Nila staat bekend als kwalitatief veganistisch Zweeds merk, wat automatisch inhoudt dat het ook cruelty free is. De colour refesh is dan ook cruelty free, er wordt absoluut niet getest op dieren. Maria Nila is officieel PETA certified. Let op dat het andersom niet altijd geld. Cruelty Free betekend niet standaard 100% vegan, alleen dat er met dat product niet getest is op dieren. Dan kan het echter nog wel dierlijke ingrediënten bevatten. 
Is er ook een gekleurd haarmasker die gele tinten neutraliseert?
De prachtige koele blonde look, iedereen kent het wel. Er wordt flink in de weer gegaan met zilvershampoos en silverconditioner, maar een kleuropfrisser die verzorgt én gele tinten neutraliseert? Absoluut, dan kom je uit op de Colour Refresh Pearl Silver.
Zijn de gepigmenteerde haarmaskers ook vrij van sulfaten en parabenen?
Opzoek naar een haarverzorging die vrij is van sulfaten en parabenen? Dan zit je goed met de Colour Refresh. Wij krijgen deze vraag ontzettend vaak, daarom verwijzen we je graag naar het artikel Sulfaten en Parabenen. In het heel kort, sulfaten komen in principe alleen voor in shampoos omdat dit reinigende eigenschappen heeft. 
Waar kan ik mijn vraag stellen over de veganistische kleuropfrissers?
Zit je, na het lezen van dit artikel, nog steeds met een dringende vraag over Maria Nila neem dan geheel vrijblijvend contact op met ons team. Dit kan via [email protected], telefonisch contact tijdens kantooruren en je kan natuurlijk altijd langs ons afhaalpunt komen aan de Ossenkamp 2N te Zwolle.