-10% Sale

24,95 22,50

-10% Sale

15,95 14,35

-10% Sale

15,95 14,35

-10% Sale

15,95 14,35

-10% Sale

18,95 17,05

-10% Sale

18,95 17,05

-10% Sale

15,95 14,35

-10% Sale

15,95 14,35

-10% Sale

15,95 14,35

-10% Sale

15,95 14,35

Gratis

verzending vanaf €35!
Advies nodig? Bel

038-4582584

Voor

23:30

besteld morgen in huis!

-10% Sale

15,95 14,35

-10% Sale

18,95 17,05

-10% Sale

18,95 17,05

-10% Sale

16,25 14,60

-10% Sale

18,95 17,05

-10% Sale

15,95 14,35

-10% Sale

16,95 15,25

-10% Sale

18,95 17,05

-10% Sale

15,95 14,35

-10% Sale

15,95 14,35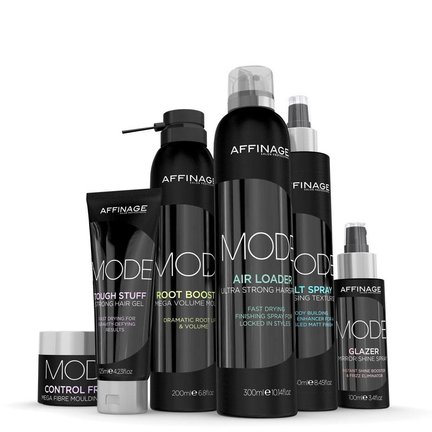 Affinage (voorheen Parucci), van origine Nederlands, is een jong en dynamische snel groeiend hair care bedrijf met aandacht voor technologie, innovatie en creativiteit. Ze zijn absoluut vooruitstrevend en helemaal van deze tijd, oftewel hip en happening. Voeg daar een exclusieve en stijlvolle look aan toe en je hebt een prachtig product die je badkamer ook nog eens doet opfleuren.
Welke productlijnen heeft Affinage?
Affinage, voorheen Parucci, heeft verschillende producten in het assortiment. Hieronder vindt je een onderverdeling van de producten. 
Affinage Styling - styling producten voor je lokken
Affinage Colour Care - haarverzorging voor gekleurde haren
Affinage Cool Blonde - haarverzorging speciaal voor blonde haren
Affinage Vitaplex - haarverzorging voor beschadigde en chemische behandelde haren
Was Affinage vroeger Parruci?
In 2012 werd Parucci overgenomen door het Engelse merk Affinage. Affinage veranderde de naam van Parucci al snel in Affinage/Parucci en uiteindelijk in Affinage. De populaire producten van Parucci zoals de Funky Styler en de Dry mud worden nog steeds onder hun oorspronkelijke productnaam en samenstelling verkocht, echter alleen de merknaam is veranderd in Affinage.
Parucci is van oorsprong een Nederlands merk en alle Parucci producten werden in Nederland geproduceerd. De overname van Parucci door Affinage heeft voor de Parucci producten alle deuren geopend op de internationale markt. 


Wat zijn de populairste producten van Affinage?
Affinage richt zich voornamelijk op kracht & volume, als een echte leeuw. Een ruige en moderne look? Dan is Affinage absoluut je best vriend. De bekende Funky Styler, Glam Rock, Tasty Paste en natuurlijk de Control Freak zijn echte musthaves! Naast de styling heeft Affinage ook andere tijgers die je absoluut in je badkamer moet hebben staan. De Affinage Revive Me Dry Shampoo voor een quick fix als je spaarzaam moet zijn met je minuten.
De Affinage Salt Spray voor een zomerse beach look, zonder naar het strand te gaan of wat dacht je van de Heat Shield die je rechterhand is als je bezig bent met stylen van je prachtige lokken. Ook heeft Affinage zilvershampoo, de Cool Blonde Shampoo en de Cool Blonde Conditioner.
Is Affinage vrij van sulfaten, parabenen en siliconen?
Affinage heeft producten die vrij zijn van sulfaten, parabenen en/of siliconen, maar ook producten met sulfaten, parabenen en/of siliconen. De Affinage Colour Care Shampoo en de Affinage Cool Blonde Shampoo zijn allebei sulfaatvrije shampoos.
Waar kan ik ervaringen vinden met Affinage?
Wij snappen dat je opzoek bent naar inspiratie en/of ervaringen met Affinage. Wij hebben wat inspirerende video's voor je! Heb je altijd al gehouden van een prachtige Beach look en wil je dit creëren zonder naar het strand te gaan, of gewoon doorzetten in de winter? Dat kan heel eenvoudig met de juiste producten van Affinage. Een prachtige Textured Beach Wave is zo gecreëerd. Wil je een prachtige, volle invlecht die er heel nonchalant uitziet én de hele dag blijft zitten? Kijk dan even naar Soft Pulled Through Braid van Affinage. Wil je Soft Tousled Waves, oftewel nonchalante waves? Ook dat is heel eenvoudig te creëren. Ben je van de knotjes, maar wil je eens wat anders én heb je lange haren? Dan raden wij je aan de Low Knotted Stitch Up eens te proberen!