Dear Barber voor mannen
Dear Barber is een innovatief merk dat zich richt op alle wensen van de man.
-15% Sale

16,95 14,40

-16% Sale

15,95 13,40

-16% Sale

15,95 13,40

-15% Sale

16,95 14,40

-36% Sale

31,90 20,50

-16% Sale

15,95 13,45

-15% Sale

16,95 14,40

-15% Sale

16,95 14,40

-16% Sale

15,95 13,45

-15% Sale

16,95 14,40

-25% Sale

15,95 11,95

-21% Sale

16,95 13,40

Gratis

verzending vanaf €35!
Advies nodig? Bel

038-4582584

Voor

23:30

besteld morgen in huis!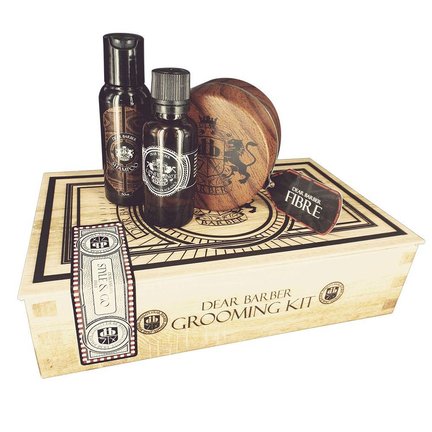 Dear Barber is een baanbrekende beweging in traditionele mannelijke verzorging. Traditie verandert nooit; het evolueert. Alle producten worden gemaakt in samenwerking met professionals uit de industrie om een ​​productgamma te ontwerpen en te produceren dat de trends van de moderne mode heeft gedefinieerd, evenals het behoud van het unieke achtergrond van luxe verzorging.
Dear Barber staat synoniem voor klasse en prestige. De unieke styling- en verzorgingslijn voldoet aan de behoeften van professionele stylisten en laat mannen thuis elke dag genieten van luxe verzorging. We zijn er trots op om samen te werken met de beste kappers, salons en winkels over de hele wereld. Ze geven de voorkeur aan onze producten, niet alleen voor hun onberispelijke kwaliteit, maar ook voor hun typisch Britse vintage Look. Het team werkt oneindig door aan het ontwikkelen van nieuwe premium haar- en verzorgingsproducten voor mannen, die ontstaan uit de behoefte van de man waarbij kwaliteit centraal staat.
Dear Barber is er trots op dat al haar producten zijn gemaakt in de UK en dat geen van hun producten op dieren is getest.
Dear Barber en zijn Styling Collectie 
De Dear Barber Styling Collectie en een Grooming Collectie. De styling collectie bestaat uit Dear Barber Fiber Shaper, de shaper met de sterkste hold. Dit monster zorgt ervoor zorgt dat je lokken de hele dag goed in model blijft zitten, oftewel geen omkijken meer naar! De Dear Barber Mattifier is een matte styling die een medium hold heeft en je haar flink wat volume geeft. Een natuurlijke, volle bos die menig vrouwen om zullen doen kijken. De Dear Barber Pommade geeft je lokken met de a la Elvis Presley glans, oftewel ontzettend veel glans doordat het de pommade op oliebasis is. De pommade heeft een medium hold. De Dear Barber Shaping Cream heeft een lichte hold en een natuurlijk glans, de cream is ideaal voor de wat langere lokken. Een natuurlijke look, die je gedurende dag ga restylen. 
Dit alles is makkelijk uit je haar te wassen met de Dear Barber Shampoo en daarna te verzorgen met de Dear Barber Conditioner. 
De Grooming Collectie van Dear Barber
De Dear Barber Grooming Collectie bestaat uit een Dear Barber Moustache Wax, deze stevige wax die toch soepel en hanteer blijft zorgt ervoor dat je snor altijd in model blijft. De Dear Barber Beard Oil is er om je baard en je huid goed te verzorgen dankzij argan, amandelen en kokosolie. Mocht je een keer iets anders willen, en een jong lammetjes gezicht willen of dat bezig je al dan is de Dear Barber Shave Biscuit een absolute must have! De Shave Biscuit is een verzorgende scheer crème die je huid glad en zacht achterlaat. Als extra verzorging kan je daarna de Dear Barber Shave Oil gebruiken om je fris geschoren huidje diep te verzorgen en het zorgt er ook voor dat je geen irritaties krijgt.
Service van Haarspullen.nl
Bij haarspullen.nl kun je in onze online shop Dear Barber online kopen. Wij zorgen ervoor dat je order, die je plaatst vóór 23.00 uur, dezelfde werkdag aan jou wordt verzonden. Bij een bestelling vanaf € 35,- profiteer je van gratis verzending. Daarnaast bieden wij jou de service van achteraf betalen. 
Heb je een vraag over één van onze producten of onze service? Je kan van ons verwachten dat wij supersnel antwoord geven op al jou vragen via mail. Vaak ook buiten kantooruren. Daarnaast kun je ons ook telefonisch bereiken. Wil je meer informatie? Bekijk dan eens onze veelgestelde vragen. Wij wensen je veel plezier met het shoppen van Dear Barber bij haarspullen.nl.