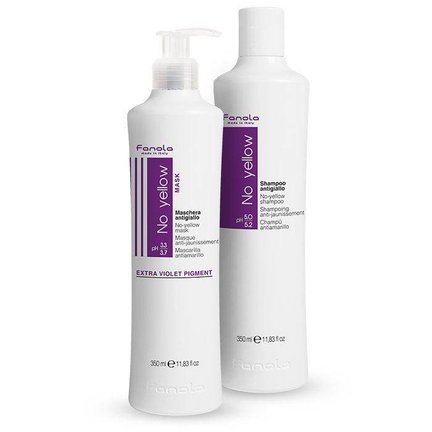 Fanola is een exclusief kappersmerk uit Italië. Wereldwijd is de Fanola No Yellow bekend geworden om de ongekende resultaten. Online zijn overal filmpjes te vinden over de resultaten van de Fanola No Yellow shampoo, waardoor dit merk ineens op de kaart is komen te staan. Ook de andere producten van Fanola zijn kwalitatief erg goed en bovenal zeer betaalbaar. Kortom een nieuwe professionele lijn, die nu al het verschil maakt in de markt.
Fanola No Yellow Power
Fanola heeft haar bekendheid te danken aan de de Fanola No Yellow. De paarse pigmenten in  Fanola zilvershampoo zijn zó krachtig, dat ze zonder al teveel moeite je warme blonde haar omtoveren in koele, asblonde lokken! Je lokken wordt letterlijk getoned, zonder gebruik van demi- of semi- permanente kleuring. En dat is natuurlijk ongekend! En dat alleen met een zilvershampoo. Je begrijpt dus dat Fanola snel de Nederlandse markt veroverde. Dit laat zien dat Fanola een kwalitatief merk is.
Verschil No Yellow en No Orange
De Fanola No Yellow zorgt ervoor dat dat de gele tinten uit grijs en blond haar geneutraliseerd wordt. De Fanola No Orange zorgt ervoor dat de rood en koper tinten uit donker haar geneutraliseerd worden
No Yellow dé zilvershampoo
De No Yellow shampoo, ook wel bekend als zilvershampoo, zilvershampoo of Fanola Paarse shampoo doet absoluut wat hij moet doen. Hij tovert warme blonde lokken om in askleurige lokken. De paarse pigmenten zorgen ervoor dat je een prachtige koele tint krijgt. Hoe langer je de No Yellow laat zitten, hoe effectiever het werkt. Echter is de zilvershampoo bijna niet verzorgend. Daarom is het aan te raden om niet elke dag de No Yellow te gebruiken. Wij bieden hier op haarspullen.nl een No Yellow Set aan voor als je het wel écht dagelijks wilt gebruiken. De Nutri Care conditioner zorgt dan voor de voeding van je lokken. 
Fanola staat bekend om de uitstekende Zilvershampoo en nu ook het Zilverconditioner, die gebruikt wordt in blond(geblondeerd), Highlights, Coupe soleil, Balayage of grijs haar en is bedoeld om die mooie koele kleuren (grijs, as en grijs tonen) langer te behouden. Door verschillende oorzaken, kan er soms een gele gloed in je gekleurde lokken komen. Verkleuring kan ontstaan door de omgeving of doordat je het hebt geblondeerd. Als jouw lokken rood pigment bevat (door het verven of van jezelf) en je wilt je lokken blond verven, kan het voorkomen dat je oranje, geel of blonde lokken krijg met een té warme gele gloed. Het is een veel voorkomend probleem. Je wilt een mooie koele blonde tint maar het wordt warmer of geler dan je zelf wilt.
Het Fanola No Yellow Masker uitgelegd
Fanola No Yellow Masker bevatten uiteraard ook de paarse pigmenten, waardoor de gele tint uit je lokken verdwijnen. Echter is het zo dat de No Yellow Masker meer voedt dan de shampoo. Eigenlijk is dit masker de conditioner van de set. Hier zitten namelijk meer voedende ingrediënten in. Om voor een optimale combinatie te zorgen tussen het creëren van een koele tint én je lokken te voeden is daarom aan te raden om de Fanola No Yellow set te combineren met de Fanola No Yellow Masker.  
Fanola 'No Yellow Masker' en 'No Yellow Shampoo' bevatten extra paarse pigmenten waardoor je haar die koele, zilverachtige blonde tint krijgt en langer behoudt en je haar veel natuurlijker aanvoelt. Heb je genoeg aan de No Yellow Shampoo dan raden wij onze set aan, met de Nutri Cure Conditioner. Wil je echt maximaal resultaat behalen dan raden we de No Yellow masker aan. Een combinatie van alle 3 is ideaal. Zo kun je eens of twee maal per week het masker in je lokken smeren, zodat je haar écht geen gele gloed meer heeft. Toch heb je dan dagelijkse verzorging vanwege de Nutri Care. 
Alles op een rij van de No Yellow shampoo en het masker:
Shampoo & Masker die de warme (gele) tonen onderdrukt
Werkzaam Masker voedt meer dan de shampoo
Grootste vriend van geblondeerd haar, Highlights, Coupe soleil, Balayage of grijs haar
Geschikt voor gekleurd haar
Unieke formule met speciale Violet pigmenten die ongewenste warme of gele gloed neutraliseert
Een fenomeen!
Over Fanola
Fanola is een ontzettend populair kappersmerk uit het prachtige Italië. Het is opgericht in 2004 door een groep ondernemers. Zij zagen diverse behoeften in de branche en wilde hier de oplossingen voor bieden. En dat lukte! In slechts een kort tijdsbestek werd Fanola een de grootste en veelgevraagde kappersmerken in Italië. Momenteel zijn ze hard aan het bouwen om populariteit te creëren in andere landen, en dat doen ze goed. Dit succes is mede te danken aan de Fanola No-Yellow Shampoo.
Service van Haarspullen.nl
Bij haarspullen.nl kun je in onze online shop Fanola No Yellow online kopen. Wij zorgen ervoor dat je order, die je plaatst vóór 23.00 uur, dezelfde werkdag aan jou wordt verzonden. Bij een bestelling vanaf € 35,- profiteer je van gratis verzending. Daarnaast bieden wij jou de service van achteraf betalen. 
Heb je een vraag over één van onze producten of onze service? Je kan van ons verwachten dat wij supersnel antwoord geven op al jou vragen via mail. Vaak ook buiten kantooruren. Daarnaast kun je ons ook telefonisch bereiken. Wil je meer informatie? Bekijk dan eens onze veelgestelde vragen. Wij wensen je veel plezier met het shoppen van Fanola No Yellow bij haarspullen.nl.