Maria Nila Palett Sheer Silver
Sheer Silver is voor koele blonde lokken.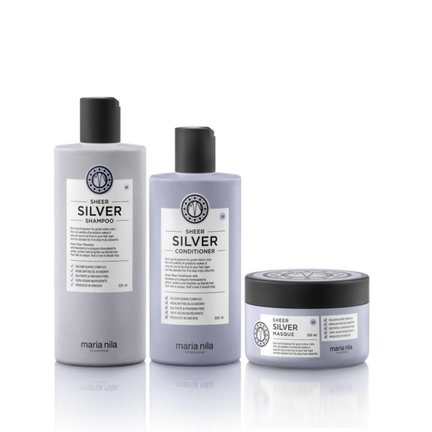 Maria Nila Palett Sheer Silver is voor blonde, grijze en zilvergrijze lokken. De kans is groot dat het haar  meer broos en gevoelig is dan bij andere haarkleuren. Daarnaast is natuurlijk blond haar vaak wat fijner en dunner dan donkerdere haartinten.  Geblondeerd haar heeft dit minder, maar het is wel zo dat je haar door chemisch behandeling flink beschadigd is! Door schadelijke invloeden van buitenaf kan een prachtige blonde kleur snel veranderen tot een doffe of geelachtige look. Dit is natuurlijk niet de bedoeling!
Wat bevat Maria Nila Sheer Silver
Maria Nila Sheer Silver bevat paarse kleurpigmenten en bramen extract die de geelheid in het haar neutraliseren en de haarkleur herstellen. Daarnaast zorgt de unieke Colour Guard Complex ervoor dat het haar wordt beschermd tegen schadelijke UV-straling. Het haar krijgt weer een schitterende glans en een natuurlijke uitstraling! Alle producten van Maria Nila zijn 100% vegan en vrij van parabenen, SLS en sulfaten.
Maria Nila Palett Sheer Silver bestaat uit een zilver shampoo, zilver conditioner en een masque. Uiteraard is de Sheer Silver lijn ook verkrijgbaar in de vorm van een giftbox. 
Service van Haarspullen.nl
Bij ons shop je Maria Nila Sheer Silver online. Je order, die je plaatst vóór 23.00 uur, wordt dezelfde werkdag verzonden. Is je bestelling € 35,- of komt het totale bedrag daarboven dan wordt je pakketje gratis verzonden.
Mail ons team als je een vraag hebt. Kan je niet wachten, omdat je een dringende vraag hebt bel ons dan op werkdagen tussen 9.00-17.00. Veel shop plezier met het shoppen van Maria Nila Sheer Silver.