BESTSELLER

20,95 12,95

-50% Sale

21,95 10,95

CG-Proof

18,95 10,95

-40% Sale

19,95 11,95

-41% Sale

22,- 12,95

-30% Sale

17,95 12,50

-32% Sale

20,50 13,95

-38% Sale

20,95 12,95

-32% Sale

18,95 12,95

-24% Sale

20,95 15,95

-21% Sale

18,95 14,95

-20% Sale

19,95 15,95

Gratis

verzending vanaf €35!
Advies nodig? Bel

038-4582584

Voor

23:30

besteld morgen in huis!

-35% Sale

19,95 12,95

-41% Sale

21,95 12,95

-32% Sale

18,95 12,95

-40% Sale

18,30 10,95

-21% Sale

18,95 14,95

-37% Sale

18,95 11,95

-20% Sale

18,80 14,95

-32% Sale

17,50 11,95

-30% Sale

19,95 13,95

-37% Sale

18,95 11,95

-39% Sale

18,95 11,50

-32% Sale

18,95 12,95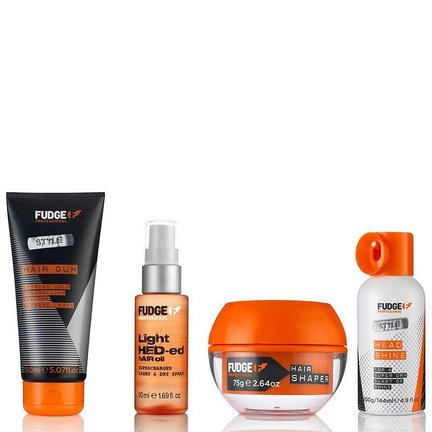 Fudge Style - bijzonder creatief en vooruitstrevend. Dit zie je absoluut terug in al het werk dat ze doen, en met wie ze samenwerken. De producten werken voor de volle 100% en dat maakt dat ze zo ontzettend sterk in de markt staan. Voor iedere hairdo is er wel een product die naadloos aansluit. Met Fudge Style zit je altijd goed. Of het nu gaat om je haar eenvoudig te stylen, een wilde look wilt creëren of dat je een super strak 50's kapsel wilt. Ze hebben alles!
Fudge Style producten
Onder Fudge Style valt o.a. de alom bekende Fudge Shaper, maar ook de Fudge Membrane Gas, Fudge Skyscraper en de Fudge Think Big Texture Spray. Fudge Style Tri-Blo Spray is een primer föhnspray met 3-voudige werking. Fudge Big Hair Raise The Roots is een crème die het haar ontzettend veel volume geeft. De Fudge Structure Wax zorgt voor een stevige hold en gaat pluis tegen. De Fudge Style Xpander Foam is een niet-plakkerige en onzichtbaar schuim die het echt gigantische veel volume geeft. Het va va voom effect wordt een realiteit. 
De Fudge Hair Cement is uitermate geschikt voor onhandelbaar haar. Deze sneldrogende spray geeft het haar een extreme fixatie. Er kan van alles gebeuren met het haar, harde wind, regen, storm! Het maakt allemaal niks uit. Het haar zal in model blijven, zoals het hoort. Net als cement. De Fudge Matte is een pasta die de textuur van het haar versterkt. De styling met deze pasta zorgt voor meer volume en structuur. Dan is er ook nog de Fudge Matte Extra, deze pasta zorgt ervoor dat de textuur van het haar versterkt. Matte Hed Extra geeft het haar een rauwe natuurlijke textuur. In vergelijking met de originele Matte Hed geeft deze extra sterke hold en ook een langere houdbaarheid aan je hairdo. En met een extra matte, droge finish is dit natuurlijk helemaal top spul!
Fudge Curve Maker is er voor jou als je stijl haar hebt en verlangt naar een bos krullen. Het creëert namelijk getextureerde lagen voor krullen of golvende manen. Een absolute must als je eens een avondje wat anders wilt! Fudge Head Shine geeft het haar een prachtige glans door het licht te reflecteren. Deze spray daarnaast ook gaat statisch en pluizig haar tegen.
Ben je een fervente gebruiker van de stijltang om je haar te stylen? Of ben je beste maatjes met je föhn of krultang? Dan is de Fudge Liquid Erekt een absolute must have. De Liquid Erekt beschermd het haar namelijk tegen warmte, én het houdt je lokken in uitstekende conditie! 
De Fudge Elevating Styling Poeder zorgt ervoor dat je haar direct vanaf de wortel flink volume geeft en uiteraard een prachtige, natuurlijke glans. Dit is ideaal voor zelfs het dunste en fijnste haar. Dan is er nog de Fudge Skyscraper Extra, deze geeft nog meer stevigheid dan de originele Skyscraper. Fudge Push It Ip Blow Dry Spray zorgt voor maximale volume én het gaat kroes en statisch haar tegen. Daarnaast beschermt het je lokken ook tegen de hitte van stylingtools. 
Fudge Blow Dry Putty geeft je lokken volume, textuur, body en beweeglijkheid. Je prachtige lokken zullen heerlijk zacht en soepel aanvoelen. De Fudge Hair Gum is een vezelrijke gel met extreme versteviging. Deze gel is ideaal om te gebruiken bij spiky looks. Ook geeft het lang lokken extra ondersteuning. Je lokken krijgen heel veel volume en het zal er veel voller uitzien.
De Fudge Fullhed Xpander Jelly is een heerlijk ruikende crème speciaal ontwikkeld voor fijn of dun haar. Je lokken zullen voller én dikker lijken met deze Xpander. De Fudge Matte Hed Gas geeft je haar een ruige, matte textuur met een natuurlijke look. En we kunnen natuurlijk de Fudge Curve Recovery niet vergeten.Een combi-styling balm die de haarschubben sluit, geeft ze vocht en maakt je lokken pluis vrij. Het accentueert en definieert natuurlijke krullen. Voor zachte krullen met een langdurige veerkracht.
Service van Haarspullen.nl
Bij haarspullen.nl kun je in onze online shop Fudge Style online kopen. Wij zorgen ervoor dat je order, die je plaatst vóór 23.00 uur, dezelfde werkdag aan jou wordt verzonden. Bij een bestelling vanaf € 35,- profiteer je van gratis verzending. Daarnaast bieden wij jou de service van achteraf betalen. 
Heb je een vraag over één van onze producten of onze service? Je kan van ons verwachten dat wij supersnel antwoord geven op al jou vragen via mail. Vaak ook buiten kantooruren. Daarnaast kun je ons ook telefonisch bereiken. Wil je meer informatie? Bekijk dan eens onze veelgestelde vragen. Wij wensen je veel plezier met het shoppen van Fudge Style bij haarspullen.nl.