Schwarzkopf Professional Bonacure
-49% Sale

15,50 7,95

-56% Sale

16,50 7,20

-52% Sale

15,50 7,50

-51% Sale

17,95 8,75

-49% Sale

19,50 9,95

-53% Sale

15,95 7,50

-49% Sale

17,50 8,95

-51% Sale

15,95 7,75

-52% Sale

15,50 7,40

-45% Sale

15,50 8,50

-52% Sale

15,50 7,40

-50% Sale

17,95 8,95

Gratis

verzending vanaf €35!
Advies nodig? Bel

038-4582584

Voor

23:30

besteld morgen in huis!

-45% Sale

19,95 10,95

-49% Sale

19,50 9,95

-52% Sale

18,50 8,95

-49% Sale

15,50 7,95

-56% Sale

17,95 7,95

-52% Sale

33,- 15,95

-50% Sale

21,95 10,90

-49% Sale

17,50 8,95

-53% Sale

25,50 11,95

-46% Sale

35,- 18,95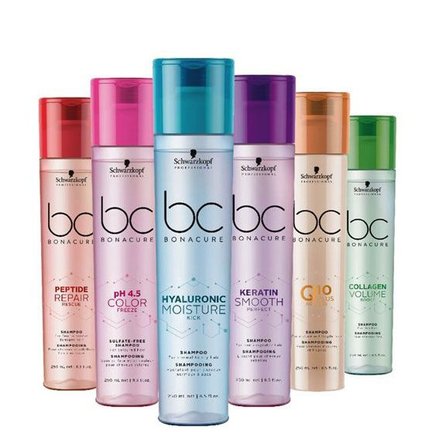 Schwarzkopf Professional Bonacure heeft voor alle haartypes een haarverzorgingslijn uitgebracht. Van futloos haar tot weerbarstig haar, van chemische behandelde lokken tot natuurlijke lokken er is altijd wel een lijn die een perfecte match zijn met je haren. 
Welke haarverzorging heeft Schwarzkopf Bonacure?
Bonacure Peptide Repair Rescue - voor beschadigd en gestresste lokken
Bonacure pH 4.5 Color Freeze - voor gekleurd en opgelichte lokken
Bonacure Hyaluronic Moisture Kick - voor normaal tot droge lokken
Bonacure Collagen Volume Boost - voor fijn tot normale lokken
Bonacure Keratin Smooth Perfect - voor dik, weerbarstig en oncontroleerbare lokken
Bonacure Q10+ Time Restore - voor natuurlijke lokken
Bonacure  BC Fibre Force - voor extreem beschadigde lokken
Bonacure BC Scalp Genesis - voor onevenwichtige hoofdhuid & dunner wordende lokken 
Bonacure BC Miracle Oil - gebaseerd op oliën en geeft je lokken prachtige glans (voor alle haartypes)
Bonacure BC Sun Protect - voor door de zon beschadigde lokken
Bonacure BC Excellium - voor zilver en witte lokken
Bron - Schwarzkopf-Professional.nl
Wat is de Bonacure BC Miracle Oil Argan Oil precies?
De Bonacure BC Miracale Oil gebaseerd op Argan Olie is ontwikkeld voor normaal tot dikke lokken. Arganolie is afkomstig uit de vruchten van de arganboom. Het is rijk aan vitamine E en bevat omega vetzuren die voeding aan je lokken geven. Arganolie verzwaart het haar niet, trekt snel in, hydrateert en voedt droog en beschadigde lokken. Met deze geweldige lijn van Bonacure krijgen weer lokken die sterk zijn, vol glans en zijdezacht aanvoelen. De Bonacure BC Miracle Oil Argan Oil is een absolute verwennerij, en de verpakkingen zijn een verrijkking voor je badkamer.
 Bron - Schwarzkopf-Professional.nl
Wat is de Bonacure BC Fibre Force?
De Bonacure BC Fibre Force is de absolute redder in nood als je haren extreem beschadigd zijn. Verander je bos touw, weer in een prachtige, glanzende bos die zijdezacht aanvoelt. De BC Fibre Force lijn gebruik je in vier stappen: rebonding, fixing, sealen en verlengen van de haarbruggen. Hierdoor heb je minder haarbreuk en weer stralende haren!
Is Schwarzkopf Bonacure geschikt voor mij?
Zit er niet tussen wat je zoekt of weet je het niet zeker. Dan verwijzen wij je graag door naar de hoofdpagina van Schwarzkopf Proffesional, hier vindt je alle productlijnen van Schwarzkopf. Hier staat tevens aangegeven voor wie en welk soort haar de producten geschikt is. Heb je alsnog vragen? Neem dan gerust contact op met ons team via [email protected] Wij helpen je graag verder.
Over Schwarzkopf Professional
Het Duitse Schwarzkopf Professional is een zeer bekend merk in Nederland die al meer dan een eeuw geleden is ontstaan. Sindsdien delen de knappe koppen van Schwarzkopf Professional hun kennis op het gebied van haarstyling en haarverzorging graag met de rest van de wereld. Logisch ook, en dat merk je ook aan de kwaliteit van de producten. De kwaliteit is hoog, ze doen wat ze moeten doen. Dit exclusieve kappersmerk erkent jouw behoeften om de meest prachtige creaties te maken, of het nou gaat om verzorging, styling of haarkleuring, Schwarzkopf is hét merk dat jouw lokken weer doet stralen!
Service van Haarspullen.nl
Schwarzkopf Professional Bonacure shop je bij ons online. Je order gaat vandaag op de post, als je de bestelling vóór 23.00 hebt besteld. Is het bedrag 35,- euro of hoger dan wordt je pakketje gratis naar je opgestuurd. Heb je écht iets nodig, maar krijg je pas morgen je loon binnen of later deze week, geeft niet want je kan bij ons ook achteraf betalen.   
Heb je dringende vraag dan kan je een mailtje sturen naar ons team op [email protected] Wil je direct antwoord, dan raden we je aan om ons een belletje te doen tijdens kantooruren. Ons team wenst je veel plezier met het shoppen van Schwarzkopf Bonacure bij ons!