-44% Sale

169,- 94,50

-26% Sale

18,95 13,95

-20% Sale

39,95 32,-

NEW

139,- 98,-

-12% Sale

24,50 21,50

-48% Sale

249,95 129,-

-21% Sale

21,35 16,95

-39% Sale

22,- 13,50

-19% Sale

20,95 16,95

-47% Sale

169,- 90,-

NEW

159,- 149,-

-31% Sale

22,95 15,95

Gratis

verzending vanaf €35!
Advies nodig? Bel

038-4582584

Voor

23:59

besteld, morgen in huis!

-26% Sale

23,70 17,50

-44% Sale

169,- 95,-

-31% Sale

28,80 19,95

-27% Sale

12,25 8,95

-20% Sale

19,95 15,95

-24% Sale

22,95 17,50

-13% Sale

159,- 139,-

-21% Sale

22,65 17,95

-20% Sale

19,95 15,95

-7% Sale

139,- 129,-

-17% Sale

23,95 19,95

-15% Sale

199,- 169,-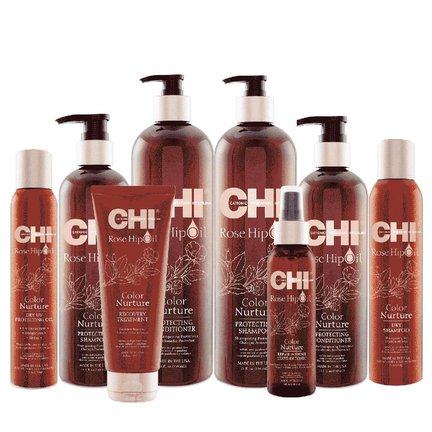 CHI, afkorting van Cationic Hydration Interlink, onderdeel van Farouk Systems USA is een van de snelst groeiende merken in de professionele kapsalons. CHI is doordat alle haarproducten niet getest zijn op dieren, een diervriendelijk merk. CHI heeft een ruim assortiment haarproducten waarbij u kunt denken aan shampoos, conditioners, treatments,  ,Silk nog veel meer haarproducten. Daarnaast heeft CHI ook een divers assortiment haartools, zoals de CHI stijltang, CHI föhn en CHI krultang. Uiteraard hebben wij ook diverse voordeelsets. 
Welke productlijnen heeft CHI?
CHI bestaat uit verschillende productlijnen:
CHI Infra - voor dagelijks gebruik
CHI Argan Oil - voor droog, kroezend, futloos en beschadigd haar
CHI Rose Hip Oil - voor gekleurd haar
CHI Keratin - voor beschadigd haar
CHI Tea Tree Oil - voor de gevoelige hoofdhuid
CHI Miss Universe - stylingsproducten voor een glamorous look
CHI 44 Iron Guard - voor haar dat veel in contact is met stylingtools
CHI Enviro - voor pluizig en kroezend haar
CHI Royal Treatment - luxe lijn voor alle haartypes
CHI Magnified Volume - voor slap en futloos haar
CHI Onyx - stylingtools verrijkt met Onyx keramiek 
CHI Krultang - lichtgewicht krultangen voor de perfecte krul
CHI Stijltang - voor perfect stijl haar
CHI Föhns - kwaliteit föhns voor ieder haartype
CHI Borstels - diverse stylingborstels
CHI Styling - stylingsproducten voor de finishing touch
Hoe zit het precies met CHI Haircare?
CHI heeft een zeer ruim assortiment van producten. Er is zeer goed over de collecties en categorie nagedacht, echter als je het voor het eerst ziet begrijpen wij van Team Haarspullen.nl dat het een beetje verwarrend kan zijn. Want hoe weet je nu welk het beste past bij je haar? 
Wat is CHI Maintain. Repair. Protect?
Hieronder vallen de volgende lijnen: CHI 44 Iron Guard, CHI Keratin, CHI Silk Infusion, CHI Magnified Volume en CHI Infra. Het is heel duidelijk en simpel, deze lijnen zijn bedoeld om je lokken goed gezond te houden, te verbeteren en te beschermen tegen stylingstools. Dus als je een fervente gebruiker bent van een stijltang, föhn of een stijltang dan raden we één van deze lijnen aan.

Wat zijn de CHI Essential Oils?
Hieronder vallende de volgende lijnen: CHI Black Seed Oil, CHI Rose Hip Oil, CHI Tea Tree en de CHI Argan Oil. Deze lijnen zijn gebaseerd op een olie die het haar voed en verzorgt. Van een gevoelige hoofdhuid tot aan gekleurd haar, dan raden wij één van deze productlijnen aan.
Farouk The Royal Treatment by CHI
The Royal Treatment is een zeer exclusieve lijn die gebaseerd is op witte truffel en parels. Met deze lijn creëer je een complete verzorging voor je lichaam en je haar. 
Is CHI geschikt voor mijn haren?
CHI is bekend geworden doordat zij het eerste merk op de wereld waren die styling tools produceerden waarbij het haar van binnenuit wordt gedroogd. Dit komt door de negatieve ionen, waardoor het vocht in het haar blijft behouden. Bovendien hebben de styling tools van CHI slijtvaste platen wat op lange termijn ervoor zorgt dat uw haar niet wordt beschadigd. De elementen zijn volledig keramisch, waardoor het haar wordt beschermd en elastisch blijft. Of u nu verzorgingsproducten voor het haar wilt, of styling producten, alle producten van CHI zijn van hoge kwaliteit en verkrijgbaar op Haarspullen.nl. 
Is CHI vrij van sulfaten, parabenen en siliconen?
CHI heeft haarproducten in het assortiment die vrij zijn van sulfaten, parabenen en siliconen. Wij raden aan om het per product te zien. Het staat namelijk bij elk product aangeven als ze vrij zijn van sulfaten, parabenen of siliconen. 
Zo is bijvoorbeeld 
Service van Haarspullen.nl
Bij haarspullen.nl kun je in onze online shop CHI online kopen. Wij zorgen ervoor dat je order, die je plaatst vóór 23.00 uur, dezelfde werkdag aan jou wordt verzonden. Bij een bestelling vanaf € 35,- profiteer je van gratis verzending. Daarnaast bieden wij jou de service van achteraf betalen. 
Heb je een vraag over één van onze producten of onze service? Je kan van ons verwachten dat wij supersnel antwoord geven op al jou vragen via mail. Vaak ook buiten kantooruren. Daarnaast kun je ons ook telefonisch bereiken. Wil je meer informatie? Bekijk dan eens onze veelgestelde vragen. Wij wensen je veel plezier met het shoppen van CHI bij haarspullen.nl.