-37% Sale

11,95 7,50

-42% Sale

11,95 6,95

-22% Sale

10,95 8,50

-27% Sale

10,95 7,95

-28% Sale

17,95 12,95

-32% Sale

10,95 7,50

-47% Sale

14,95 7,95

-42% Sale

11,95 6,95

-29% Sale

19,95 14,25

-22% Sale

19,95 15,50

-36% Sale

14,95 9,50

-44% Sale

16,95 9,50

Gratis

verzending vanaf €35!
Advies nodig? Bel

038-4582584

Voor

23:30

besteld morgen in huis!

-47% Sale

14,95 7,95

-30% Sale

19,95 13,95

-45% Sale

17,95 9,90

-25% Sale

19,95 14,95

-18% Sale

14,50 11,95

-30% Sale

8,50 5,95

-17% Sale

17,95 14,90

-33% Sale

14,95 9,95

-25% Sale

19,95 14,95

-34% Sale

14,95 9,90

-22% Sale

10,95 8,50

-15% Sale

9,95 8,50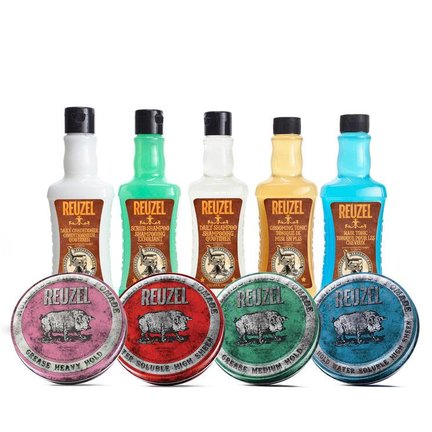 Reuzel is het merk van Leen en Bertus. De oprichters van Schorem Barbiers in Rotterdam. Met meer dan vijftig jaar ervaring hebben Leen en Bertus nu zelf een pomade geformuleerd die voldoet aan hun strenge normen. Als 'old school barbers' groeven ze diep in de geschiedenis van de pomade om zo een pomade te kunnen formuleren waarvan zij vinden dat dit 's werelds beste pomade is. Ook internationaal wordt het merk veel geprezen! Niet voor niets wordt de pommade van Reuzel   genoemd!
Wat is Reuzel pomade precies?

Reuzel is een Nederlands woord en is gekozen met een knipoog naar het verleden toen pomade werd gemaakt van dierlijke vetten en geparfumeerd met appels. Het woord pomade komt eigenlijk van het Franse woord Pomme, met de betekenis "apple". Reuzel is hét haarmerk om kapsels glad en shiny te maken. Ben je opzoek naar een kwalitatief product die je lokken niet uitdroogt en niet knetterhard maken? Dan is Reuzel echt jouw merk! Dat de pommades ook nog eens grandioos reuken is natuurlijk helemaal mooi meegenomen.
Welke Reuzel Pomade wordt jouw beste vriend?
Reuzel heeft niet één pomade, ze hebben maar liefst zes varianten. Welke is dan een match met jouw lokken? De Reuzel High Sheen Pomade heeft high shine en een medium hold. Tevens is dit ook de meest verkochte pomade ter wereld, een aardige allemansvriend dus. De Reuzel rood is op waterbasis. De Reuzel Grease Medium Hold Pomade is de variant die gebaseerd is op olie. De Reuzel Strong Hold High Sheen Pomade is je vriend als opzoek ben naar een pomade die een sterkere hold heeft. Uiteraard met veel glans, én omdat deze op waterbasis is zijn je lokken ook zo weer schoon. Wil je echt een sterke tijger? Dan eindig je bij Reuzel Grease Heavy Hold Pomade. Deze tijger geeft ook nog eens ontzettend veel glans. Hij is op oliebasis, dus bent wel ietsje langer bezig met uitwassen. Dat heb je er voorover toch?
Is dit allemaal iets té heftig voor de look die je wilt creëren, maar wil je wel Reuzel omdat het gewoon staat voor zijn kwaliteit? Ook daar hebben ze rekening mee gehouden. De Reuzel Fiber Pomade is een redelijk licht stylingsproduct met een flexibele hold. De Fiber Pomade definieert de haren en geeft het iets volume en textuur. Wel heb je de prachtige glans. De Reuzel Clay Matte Pomade zorgt daarentegen voor een matte finish. Oftewel voor ieder wat wils!
Heb je look waarbij je een föhn nodig hebt? Of wil je een goede basis leggen voordat je aan de slag gaat met één van bovenstaande pomades? Dan is de Reuzel Grooming Tonic een absolute must have! De Reuzel Hair Tonic is goed spul om je pomade mee te 'heractiveren'. 
Reuzel Pomade verwijderen uit je lokken
Uiteraard hebben de mannen van Reuzel ook gedacht aan het feit dat de pomades ook weer uit je lokken gewassen moeten worden. Met de Reuzel Daily Set zit je goed voor shampoo én conditioner. Dit is uniek, aangezien wij de enige webshop zijn die dit als set aanbiedt! 
Reuzel Pomade voor je baard, maar dan anders!
Leen en Bertus vonden het ook een briljant idee om iets te ontwikkelen voor de baard. Daar zijn wij het natuurlijk ontzettend mee eens! De Reuzel Beard Balm zorgt ervoor dat je baard én de huid eronder verzorgt wordt. Het bevordert ook nog eens dikkere haargroei, top spul dus! De Reuzel Beard Foam is een leave-in conditioner voor je baard die ervoor zorgt dat het mooi gehydrateerd blijft, terwijl jij je ding kan doen gedurende de dag. Mocht jij je baard echt zat zijn, want ja dat kán voorkomen.. Echt. Dan hebben de heren van Reuzel de Reuzel Shave Cream voor je ontworpen.
Service van Haarspullen.nl
Bij haarspullen.nl kun je in onze online shop Reuzel online kopen. Wij zorgen ervoor dat je order, die je plaatst vóór 23.00 uur, dezelfde werkdag aan jou wordt verzonden. Bij een bestelling vanaf € 35,- profiteer je van gratis verzending. Daarnaast bieden wij jou de service van achteraf betalen. 
Heb je een vraag over één van onze producten of onze service? Je kan van ons verwachten dat wij supersnel antwoord geven op al jou vragen via mail. Vaak ook buiten kantooruren. Daarnaast kun je ons ook telefonisch bereiken. Wil je meer informatie? Bekijk dan eens onze veelgestelde vragen. Wij wensen je veel plezier met het shoppen van Reuzel bij haarspullen.nl.