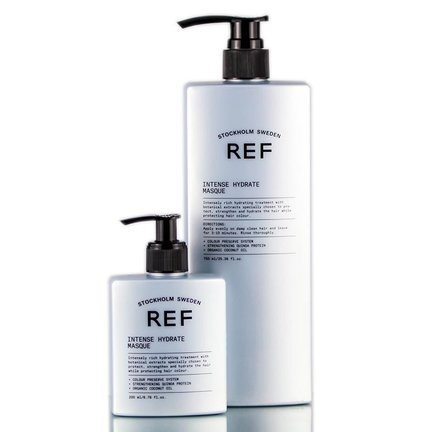 REF Stockholm is een fantastisch merk uit Zweden. REF staat voor Reference of Sweden. REF Stockholm is 100% vegan en crualty free en dat maakt ze briljant. Zoals we gewend zijn van de mensen uit Zweden is REF Stockholm een kwalitatief merk. Ze hebben een compleet assortiment van haarverzorging én haarstyling. REF Stockholm wil via hun branding natural beauty uitstralen en dat doen ze. Natural Beauty is hét rode draad in alles wat ze doen. Eenvoud, duurzaam en kwaliteit. "Natural Beauty, embracing all the words' diverse people, culture and ethnical background." Een prachtige, clean & fresh look die elke badkamer een prachtige, luxe feeling geeft. 


Welke REF Intense Hydrate producten zijn er allemaal?
Ref Intense Hydrate is een lijn met producten die beschadigd en droog haar voeden. De producten bavattem natuurlijke producten, zoals kokosolie die je haar zacht en glanzend maakt. De natuurlijke producten zorgen ervoor dat het haar tot diep in het haar word gehydrateerd. De Red Instense Hydrate lijn bevat
De REF Intense Hydrate Shampoo, deze shampoo voedt beschadigd en droog haar. De shampoo bevat natuurlijk ingrediënten zoals zijdeproteïnen, deze dringen tot diep in het haar door en zorgen ervoor dat het haar gehydrateerd wordt en zacht aanvoelt. De Organic Kokos olie hersteld gespleten haarpunten.
REF Intense Hydrate Conditioner, deze conditioner is een geschikte keuze voor mensen die last hebben van hun droge en breekbare haar. Door de toegevoegde tamanu olie en zijdeproteïnen wordt je haar gehydrateerd en zacht. De conditioner verzorgt de droge haarpunten, waardoor je haar er gelijk weer levendiger uitziet
REF Intense Hydrate Masque, door de voedende werking van dit masker wordt de vochtbalans van het haar hersteld en ziet jouw haar er weer levendiger uit. Het masker hersteld het haar dat beschadigd is geraakt door styling. Na gebruik is het haar zachter, beter handelbaar en glanst het, mede dankzij door ingrediënten als kokosnoot, berkenblad, rode bessen en olie van macademia zaden.


Is REF Intense Hydrate cruelty free?
Alle REF Stockholm zijn milieu én diervriendelijk. Ze staan voor natuurlijke haarverzorging en haarstyling. Ze vinden het belangrijk dat dieren en mensen samen kunnen leven, zonder dat dieren worden uitgebaat. REF Stockholm gebruiken natuurlijke én organische ingrediënten en combineren dit met chemie. Oftewel de beste producten, wat ook het beste is voor de natuur gecombineerd met de laatste technologie, die is ook echt het doel van REF Stockholm. Op deze manier bieden ze een hoog kwalitatief product, die ze zodanig produceren dat ze ook een steentje bijdragen aan de wereld. 


Is REF Intense Hydrate vrij van sulfaten, parabenen en siliconen?                                                    
Alle producten van REF Stockholm zijn vrij van sulfaten, parabenen én siliconen. De producten van REF Stockholm bevatten allemaal natuurlijke ingrediënten die ook écht hun werk doen. Ze denken echt daadwerkelijk overal over na, en dat vindt ons team in elk geval super tof! 


Is REF Intense Hydrate 100% Vegan?
REF Stockholm is 100% Vegan en maakt alleen gebruik van plantaardig ingrediënten. De proteïnes die gebruikt worden in de REF Stockholm zijn dan ook niet afkomstig van dieren maar van Quinoa. Proteïnes zijn natuurlijk ontzettend belangrijk bij het sterker maken van haren, en door het gebruik van Quinoa Proteïne hebben ze de 'Keratine uit de natuur' toegevoegd in al hun producten. 


Is REF Stockholm geschikt voor mij?
Ben je opzoek naar goede haarverzorging die werkt met natuurlijke producten, en die schadelijke ingrediënten achterwege laat? Dan ben je helemaal aan het goede adres! REF Stockholm heeft voor ieder wat wils, dus er zit zeker haarverzorging tussen die naadloos aansluit bij jouw wensen en je behoeftes. De Intense Hydrate lijn werkt het best voor mensen met beschadigd of droog haar.
Heb je vragen, omdat je niet helemaal weet wat nu heb beste bij je wensen past? Neem dan geheel vrijblijvend contact op via [email protected] of bel ons tijdens kantooruren.