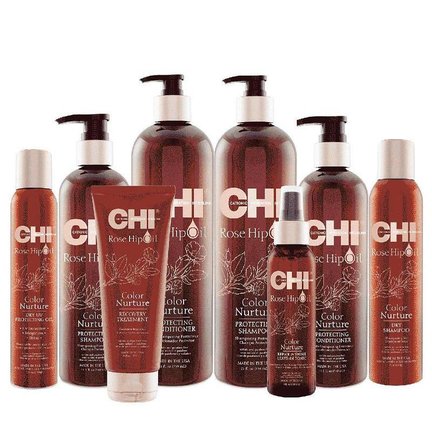 CHI Rose Hip Oil haarproducten zijn dé beste vrienden van je gekleurde haar. Deze productlijn van CHI is gebaseerd op Rose Hip Oil, oftewel rozenbottelolie. De Rose Hip Oil hydrateren je lokken, houdt de schubben van je haren gesloten, zorgt ervoor dat je haarkleur niet vervaagd en is van nature rijk aan antioxidanten en vitamine C. De kleur van je lokken worden weerlevendigheid van de kleur en geeft glans voor langdurig kleuronderhoud. Ook wordt het haar beschermd tegen agressieve UV-straling die de haarkleur vervaagt en dof maakt.
CHI Rose Hip Oil Color Nurture producten
De CHI Rose Hip Oil Color Nurture bestaat uit 6 producten. 
CHI Rose Hip Oil Shampoo is een milde, luxe reiniging voor je lokken. Het behoudt de kleur én intensiteit van je lokken. Krijg weer levendige lokken die je tegemoet stralen. De CHI Rose Hip Oil Conditioner is en sterk hydraterende conditioner. Net zoals de gehele Rose Hip Oil lijn bevat deze conditioner Rozenbottelolie en en Vitamine C, daarnaast is de PH waarde laag. De CHI Rose Hip Oil Recovery Treatment zorgt is een voedende en intensieve behandeling voor je lokken. Het herstelt je beschadigde lokken door o.a. het verven en reguleert vocht. Ook zorgt  de Rose Hip Oil Treatment ervoor dat je haren weer zo sterk als een beer worden. Deze krachtige tijger is een absolute musthave voor je gekleurde en beschadigde lokken. De CHI Rose Hip Oil Repair & Shine Tonic is een licht conditionerende haartonic. De tonic bevat vitamines die gekleurd haar verrijkt voorgaand aan het stylen. De Shine tonic gaat pluis en kroes van je lokken tegen. De finishing spray CHI Rose Hip Oil Dry UV Protecting Oil is de ultieme, en multifunctionele finishing spray voor je lokken. De haarspray geeft je lokken een prachtige glans, het beschermt tegen UV straling, beschermt tegen schadelijke invloeden én zorgt ervoor dat je kleur niet vervaagd. Een alleskunner dus!
Is CHI Rose Hip Oil Color Nurture geschikt voor jou?
Is de CHI Rose Hip Oil Color Nurture lijn niet geschikt voor jouw lokken, of weet je het niet zeker. Dan verwijzen wij je graag door naar de hoofdpagina van CHI, hier vindt je alle productlijnen van CHI. Hier staat tevens aangegeven voor wie en welk soort haar de producten geschikt is. Heb je alsnog vragen? Neem dan gerust contact op met ons team via [email protected]
Achtergrond informatie over CHI
CHI, afkorting van Cationic Hydration Interlink, onderdeel van Farouk Systems USA is een van de snelst groeiende merken in de professionele kapsalons. CHI is doordat alle haarproducten niet getest zijn op dieren, een diervriendelijk merk. CHI heeft een ruim assortiment haarproducten waarbij u kunt denken aan shampoos, conditioners, treatments en nog veel meer haarproducten. Daarnaast heeft CHI ook een divers assortiment haartools, zoals de CHI stijltang, CHI föhn en CHI krultang. Bovendien is topmodel en tv-presentatrice Daphne Deckers ambassadrice voor het merk. 
Service van Haarspullen.nl
Bij haarspullen.nl kun je in onze online shop CHI Rose Hip Oil Color Nurture online kopen. Wij zorgen ervoor dat je order, die je plaatst vóór 23.00 uur, dezelfde werkdag aan jou wordt verzonden. Bij een bestelling vanaf € 35,- profiteer je van gratis verzending. Daarnaast bieden wij jou de service van achteraf betalen. 
Heb je een vraag over één van onze producten of onze service? Je kan van ons verwachten dat wij supersnel antwoord geven op al jou vragen via mail. Vaak ook buiten kantooruren. Daarnaast kun je ons ook telefonisch bereiken. Wil je meer informatie? Bekijk dan eens onze veelgestelde vragen. Wij wensen je veel plezier met het shoppen van CHI Rose Hip Oil Color Nurture bij haarspullen.nl.