Neofollics Hair Technology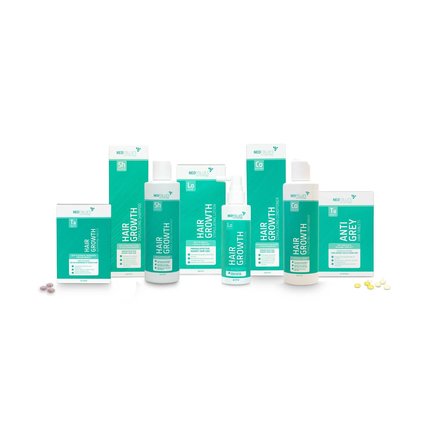 Neofollics Hair Technology is de oplossing voor mensen die last hebben van haaruitval, dunner- of grijs wordend haar. De producten van Neofollics werken effectief om haaruitval tegen te gaan en haargroei te stimuleren. We kunnen er allemaal mee te geconfronteerd worden en dit kan een onaangename ervaring zijn. De producten van Neofollics werken effectief om haaruitval tegen te gaan, haargroei te stimuleren of je pigmentatie zo lang mogelijk behouden. Op deze manier krijg jij de controle weer terug over de situatie en hoef je je geen zorgen meer te maken!
Welke producten heeft Neofollics?
Neofollics Hair Technology heeft in totaal vijf producten. Deze producten vullen elkaar aan en werken optimaal samen om haaruitval en dunner wordend haar tegen te gaan. Je kunt de producten natuurlijk ook los gebruiken. Last van grijs wordende haren? De Anti-Grey Tablets kun je gebruiken in combinatie met alle producten van Neofollics!
Neofollics Hair Growth Shampoo - De shampoo voedt je hoofdhuid en je haren. De shampoo is vrij van SLS, sulfaten, parabenen en siliconen. Het is klinisch bewezen dat deze shampoo de haargroei stimuleert en haaruitval voorkomt. Je hoofdhuid krijgt een betere conditie.
Neofollics Hair Growth Conditioner - De conditioner maakt je haren gezonder, sterker, gladder en glanzender. Het voedt je haren goed en stimuleert de haargroei. De conditioner is vrij van kleurstoffen, parfum, sulfaten en parabenen.
Neofollics Hair Growth Lotion - Deze lotion breng je plaatselijk aan op de hoofdhuid, stimuleert haargroei en voorkomt haarverlies. De lotion zorgt voor een hogere dichtheid van het haar en is mild voor de hoofdhuid. De lotion bestaat uit krachtige ingrediënten, ontstekingsremmende middelen en is dermatologisch getest.
Neofollics Hair Growth Tablets - Rijk supplement met veel natuurlijke ingrediënten die de haargroei stimuleren van 'binnenuit'. Het is klinisch bewezen dat de tabletten bijdragen aan het behoud van gezonde haren.
Neofollics Anti-Grey Tablets - De tabletten zorgen ervoor dat je haren zo lang mogelijk hun eigen pigmentkleur behouden door de aanmaak van Melanine (pigment) te stimuleren. Het zorgt ook voor langer, dikker en gezondere haren. 
Hoe gebruik ik de producten van Neofollics?
We leggen je stapsgewijs uit hoe je de producten van Neofollics het beste kunt gebruiken:
Neofollics Hair Growth Shampoo - Was eerst je haren kort en met een kleine hoeveelheid shampoo om het alvast goed van vetten, built-ups en onzuiverheden te verwijderen. Als je dit hebt gedaan kun je een royale hoeveelheid aanbrengen en dit goed in de hoofdhuid masseren en verdelen over je haren. Laat de shampoo even 3 minuten intrekken en spoel het daarna goed uit. We raden je aan om de behandeling te vervolgen met de Hair Growth Conditioner. Gebruik de shampoo minimaal 3x per week voor een optimaal resultaat.
Neofollics Hair Growth Conditioner - Was je haren eerst met de Neofollics Shampoo. Breng daarna een royale hoeveelheid conditioner aan op je haren en masseer het goed in. Laat het 3 minuten intrekken en spoel het vervolgens goed uit. De dosering in gebruik is minimaal 3x in de week voor een optimaal resultaat.
Neofollics Hair Growth Lotion - Je kunt de lotion gebruiken op de gewenste plekken. Je brengt het namelijk plaatselijk aan. Hierbij kun je de volgende aantal 'sprays' hanteren (met de spuitmond kun je gemakkelijk sprayen): Spray op de kroon 3 keer en op de inhammen en scheiding 2 keer. Masseer de lotion goed in de hoofdhuid en spoel het niet uit. Minimaal 3 uur na het aanbrengen mag je je haren weer wassen. Gebruik de lotion 2x op een dag: 's ochtends en 's avonds.
Neofollics Hair Growth Tablets - Neem per dag 1-3 tabletten, het meest effectief is 3 tabletten op een dag. Neem de tabletten verspreid over de dag na een maaltijd. Bijvoorbeeld na je ontbijt, lunch en diner. Neem de tabletten in met genoeg water. 
Neofollics Anti-Grey Tablets - Deze tabletten bestaan uit twee soorten: een sliktablet (stap 1) en een zuigtablet (2). Neem eerst het sliktablet tijdens of na een maaltijd met voldoende water en slik het in zijn geheel door. Leg vervolgens het zuigtablet onder je tong en wacht tot het helemaal opgelost is. Neem per dag 1x deze dosering.
Wat maakt de producten van Neofollics zo effectief?
De producten van Neofollics vullen elkaar ontzettend goed aan en hebben samen een optimale werkingsmechanisme. Maar ook los van elkaar zijn de producten ontzettend effectief. De producten van Neofollics hebben de volgende werking:
Stimuleert de haargroei
Vermindert de DHT-hormoon in de hoofdhuid
Verbetert de hoofdhuid en haarzakjes
Verbetert de haargroei door stimulerende ingrediënten
Vermindert ontstekingen, roos, jeuk en schilfering
Verbetert de absorptie van actieve ingrediënten
We gaan nog iets dieper de materie in, door je uit te leggen hoe deze producten met elkaar samenwerken. We starten bij de tabletten, de Hair Growth tabletten stimuleren je hoofdhuid namelijk van 'binnenuit'. Deze tabletten voeden de haarzakjes van binnenuit met vitaminen en mineralen om haargroei te stimuleren. Bovendien gaan ze het DHT-hormoon tegen. De Anti-Grey tabletten dragen bij aan de pigmentatie van je haren om de natuurlijke haarkleur zo lang mogelijk te behouden. Dit doen deze tabletjes door je haarzakjes van binnenuit aan te vullen met Katalase.
Nu we de 'inwendige' verzorging hebben gehad, gaan we door naar de 'uitwendige' verzorging. De Hair Growth Shampoo kan goed worden opgenomen in de hoofdhuid en zorgt ervoor dat je haarzakjes sterk blijven. Hierdoor wordt je haargroei gestimuleerd. Na de shampoo kun je de Hair Growth Conditioner gebruiken, deze voedt je hoofdhuid met voedende en haargroei-stimulerende ingrediënten. De conditioner houdt je hoofdhuid soepel en gezond. Tot slot de Hair Growth Lotion, dit is een krachtige lotion met actieve ingrediënten die diep in de haarzakjes doordringen en zijn werk daardoor goed kan doen.  
Is Neofollics geschikt voor mijn haren?
Neofollics is geschikt voor iedereen die last heeft van dunner wordend haar, haarvlies, grijs wordend haar of beschadigd haar. Ook als je last hebt van Alpopecia Androgenetica, dit is erfelijk haarverlies, zijn de producten van Neofollics geschikt voor jou. Neofollics Hair Technology bestaat uit krachtige, natuurlijke ingrediënten die je hoofdhuid vooral goed verzorgen en optimaliseren. 
Is Neofollics dierproefvrij?
Tegenwoordig worden we steeds meer bewust waarmee en hoe onze producten gemaakt zijn. Wij zijn heel blij met deze ontwikkeling, want we willen natuurlijk het beste voor jouw haren! Daarnaast worden wij heel gelukkig van producten die niet getest zijn op dieren. Hoe fijn is het dan ook, dat alle producten van Neofollics dierproefvrij zijn? Gelukkig maar! 
Waar kan ik ervaringen vinden over Neofollics?
Hoe handig zijn filmpjes over producten waar je benieuwd naar bent? Zo heeft Neofollics ook een ideaal filmpje gemaakt waarbij je op een gemakkelijke manier en in een korte tijd veel te weten komt over deze producten en hoe ze werken. Handiger kan bijna niet! Je kunt het filmpje hier vinden.
Gebruik jij al een of meerdere producten van Neofollics? Dan zijn we ontzettend benieuwd naar jouw ervaring! Ga naar de productpagina van een Neofollics-product en schrijf rechts (zie de knop ''Schrijf je eigen review'') jouw ervaring. 
Welke ingrediënten zitten in de producten van Neofollics?
Zoals je wellicht ondertussen wel door hebt, bevatten de producten van Neofollics veel krachtige, actieve ingrediënten. Deze ingrediënten hebben allemaal de meest effectieve concentratie voor optimaal resultaat en de verhoudingen zijn perfect op elkaar afgesteld. Deze ingrediënten kunnen opgedeeld worden in vier soorten met elk een ander doel:
DHT-remmers
DHT is een hormoon die haarzakjes beschadigd. De producten van Neofollics bevatten veel natuurlijke ingrediënten die de vorming van DHT tegen gaan: Saw Palmetto, Beta Sitosterol, Ecklonia Cava, Egcg, Isoflavones, Red Clover, Nettle Leaf en Panax Ginseng. DHT ontstaat voor de omzetting van testosteron in di-hydro-testosteron (DHT). DHT zorgt ervoor dat er minder en dunnere haren worden geproduceerd.
Haargroei stimulators
In de producten van Neofollics zitten (biotechnologische) moleculen en plantenextracten die de groeifactoren beïnvloeden. Voor een betere haargroei is het ook heel belangrijk om de conditie van de hoofdhuid gezond te houden, dit kan met ontstekingsremmende, antibacteriële en schimmelwerende ingrediënten. Ingrediënten voor deze haargroei stimulators zijn: Copper Tri-peptide, Piroctone Olamine, Raspberry Ketone, Caffeïne, Adenosine, Aminexil, Vividine, Carthamus Tinctorius, Sanguisorba Officinalis, Arginine, Proanthocyanidine B2 en Fenugreek.
Voedingsstoffen
Om haargroei te stimuleren, hebben haarwortels voedingsstoffen nodig zoals vitamines, mineralen en aminozuren. Deze ingrediënten zijn: Biotine, Folic Acid, Selenium, Zinc, L-Carnitine, L-Cysteine, Taurine, Riboflavin, Niacinamide, Pantothenic Acid en Cyanoco Balamin.
Voedingsmiddelen
Oliën en eiwitten zijn ingrediënten die je haren voeden, gezond houden en sterker maken. Deze oliën conditioneren het haar en de hoofdhuid. Eiwitten versterken het haar, repareren beschadigd haar en maken je haar minder kwetsbaar. Deze ingrediënten zijn: Aloe Vera, Argan Oil, Jojoba Oil, Macademia Oil, Pepermint Oil, Rosemary Oil, Sage Oil, Wild Mint Oil, Keratin, Rice Protein, Silk Protein, Wheat Protein, Hyaluronic Acid en Liposomes. 
Zijn er nog meer manieren om haaruitval en grijs wordend haar te voorkomen?
Alle kleine beetjes helpen! Zo hebben wij een aantal tips voor je wat jij kunt doen om haaruitval en grijs wordend haar te voorkomen. Om het makkelijk te maken hebben we het stapsgewijs voor je opgesomd:
Neem voldoende vitaminen (B12) en mineralen
Gebruik zo min mogelijk hittetools
Douche niet op te hoge temperaturen, deze kunnen je natuurlijke haaroliën verwijderen
Ga voor een borstel met zwijnenhaar
Vermijd strakke haarstijlen zoals een paardenstaart, knotje of vlecht
Drink genoeg water
Stop met roken
Neem genoeg dierlijke producten zoals melk, vlees, vis en eieren
Zorg goed voor jezelf: een gezonde levensstijl met voldoende beweging en ontspanning
Waar kan ik meer informatie vinden over Neofollics? 
Is er nog een vraag onbeantwoord gebleven? Misschien leggen we jouw vraag uit in onze blog: 20 vragen beantwoord over Neofollics. 
Waar kan ik mijn vraag stellen over Neofollics?
Heb je nog een vraag voor ons over Neofollics, dan horen wij dat maar al te graag! Bel ons hierover of stuur je vraag naar [email protected] Als je je order plaatst vóór 23:30 's avonds, verzenden wij dezelfde dag nog je bestelling! Je verzendkosten zijn boven de 35 euro ook geheel gratis! Wist je dat je ons ook kunt bezoeken? Dan kun je de producten van Neofollics eens van dichtbij bekijken, dan krijg je er misschien wat meer feeling mee. Bovendien kun je ook meteen afnemen bij ons op locatie, hoe handig is dat. Wij wensen je veel plezier met het shoppen van Neofollics.