Gratis

verzending vanaf €35!
Advies nodig? Bel

038-4582584

Voor

23:59

besteld, morgen in huis!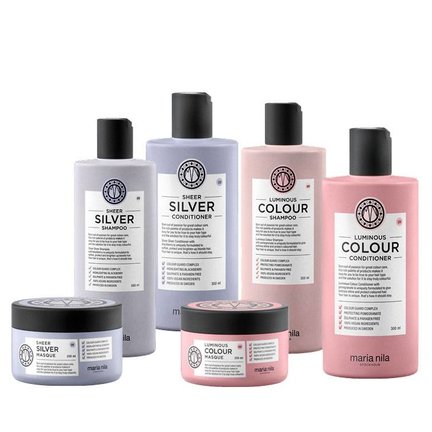 Maria Nila is een prachtig Zweeds merk dat luxe naar de mensen wil brengen. Dit doen ze op een verantwoordelijke manier. Alle Maria Nila producten zijn namelijk 100% veganistisch, zorgvuldig ontwikkeld en geproduceerd in de Maria Nila fabriek in Zweden. De ontwikkelaars van dit high end merk streven naar de allerbeste haarproducten zonder schade aan je haar te brengen of aan het milieu.
Is Maria Nila geschikt voor mijn haren?
Wil je weten welke producten het best bij je passen, gebruik dan de productenfilter hieronder.
Ik heb vragen over Maria Nila, waar kan ik de antwoorden vinden?
Wij hebben maar liefst 37 vragen beantwoord over Maria Nila, hier vindt je dus alles wat je maar wilt weten over dit fantastische merk! Mocht je alsnog een vraag hebben over Maria Nila, dan helpt ons team je graag verder. Stuur een mailtje naar [email protected] Wij zijn ook telefonisch te bereiken tijdens kantooruren.
Beschermd Maria Nila áltijd je (natuurlijke) haarkleur?
Maria Nila doet het anders dan andere merken. De meeste merken bieden een haarverzorginglijn aan voor gekleurd haar, maar daar houdt het dan ook mee op. Bij Maria Nila  kijken ze naar de kleur én het haartype. De Palett haarverzorginglijn van Maria Nila is verdeeld in vijf groepen voor verschillende haartypes.
Alle vijf de groepen bevatten de Colour Guard Complex die het vervagen van haarkleur voorkomt en het haar beschermt tegen UV-straling. Je eigen haartype én je haarkleur wordt dus grondig verzorgd en beschermt! Elke groep bestaat uit een shampoo, verzorgende conditioner en een luxe masker.
De vijf groepen zijn Structure Repair, Luminous Colour, True Soft, Pure Volume en Sheer Silver. Je haar verzorgen wordt omgetoverd tot een luxe ritueel met de producten van Maria Nila. 

Deze Palett lijn is ook volledig vrij van parabenen en sulfaten, waardoor het nóg beter is voor het haar en het milieu. Uiteraard is het niet alleen voor gekleurd haar, de Maria Nila producten helpen ook de natuurlijke haarkleur bij het behouden van een prachtige, natuurlijke glans.
Wat houdt het Colour Refresh van Maria Nila in?
Je haar kan soms wel een extra colour boost gebruiken. De Maria Nila Colour Refresh  lijn is dan je absolute maatje. Naast het feit dat je prachtige lokken een flinke kleur opfrisser krijgen, wordt je haar ook tot diep in de punten verzorgt. Ga de straat weer op met je prachtige heldere kleur, die jaloerse blikken achterlaten. De Maria Nila Colour Refresh is een allemansvriend, dus je kan het ook gebruiken op niet gekleurd haar! Dit haarmasker is een absolute must in je badkamer, ook vanwege het prachtige uiterlijk. De Maria Nila Colour Refresh is verkrijgbaar in maar liefst 14 kleuren.
Wij hebben natuurlijk ook wat inspiratie voor je met de Colour Refreshes van Maria Nila. 
Silver Grey Hair Maria Nila Colour Refresh
Bright Copper Hair Maria Nila Colour Refresh 
Sand & Pearl Silver Maria Nila Colour Refresh
Wat houdt het Maria Nila Colour Guard Complex in?
Alle producten in het Maria Nila assortiment bevatten een Colour Guard Complex, een mix van ingrediënten die samenwerken om de haarkleur maximale bescherming te bieden tegen kleurverlies. Ook wordt met Colour Guard Complex het haar beschermd tegen hitte en UV-stralen.
Is Maria Nila vrij van sulfaten en parabenen?
Alle haarproducten van Maria Nila zijn vrij van sulfaten én parabenen. Dit is niet alleen goed voor het milieu maar ook voor je haren en hoofdhuid. Geen agressieve bestanddelen die je hoofdhuid irriteren of uitdrogen. Het kan anders en dat laat Maria Nila heel goed zien, en dat vindt ons team super tof!
Is Maria Nila ook Cruelty free?
Maria Nila is absoluut cruelty free. Maria Nila is ontstaan uit liefde voor dieren. Het is zelfs zo dat Maria Nila is gecertificeerd door maar liefst 3 organisaties. PETA, Leaping Bunny en de The Vega Sociaty. Daarnaast geven ze ook écht om het milieu, en doen ze actief mee aan duurzaamheid. Climate Compensate vinden ze ontzettend belangrijk, daarom wordt er bij elk verkocht product geïnvesteerd in het planten van nieuwe bomen in Zuid-Amerika. Dit is het Taking Root Project van Plan Vivo en Zeromission. 

Heeft Maria Nila ook zilvershampoo in hun assortiment?
Zilvershampoos zijn tegenwoordig niet meer weg te denken. Prachtige blonde lokken met een koele tint die je thuis ook écht koel kan behouden tot de volgende bezoekje aan je favoriete vriendje, de kapper! Hoe fantastisch zou het zijn als er een 100% vegan, sulfaat - en parabenen vrije zilvershampoo zou bestaan. Het is een realiteit! Beter nog, Maria Nila heeft niet alleen zilvershampoo, ze hebben en hele lijn gebaseerd op 'zilvershampoo'. De Maria Nila Sheer Silver Collectie is de ideale match met jouw prachtige, blonde lokken. De zilvershampoo van Maria Nila bevat naast violet pigmenten ook flink wat voedende ingrediënten  die je lokken goed verzorgen. Droge touw haren na het wassen met de Sheer Silver Shampoo van Maria Nila zit er dus niet in! Wèl prachtig verzorgde koel blonde lokken die de dag toe stralen.
Service van het team van Haarspullen.nl
Shop de 100% vegan Maria Nila producten voor een hele scherpe prijs bij ons online. Ons team zorgt er met alle liefde voor dat je order, die je plaatst vóór 23.00 uur, dezelfde werkdag aan jou wordt verzonden. Is je bestelling € 35,- of zit je boven dit bedrag, dan wordt je pakket met Maria Nila producten gratis bij je thuisbezorgt. Bij ons is het mogelijk om achteraf te betalen, gemak dient namelijk de mens :)
Heb je een vraag dan kan je ons altijd mailen naar [email protected] Heb je een dringende vraag, bel ons team dan op werkdagen tussen 9.00-17.00.