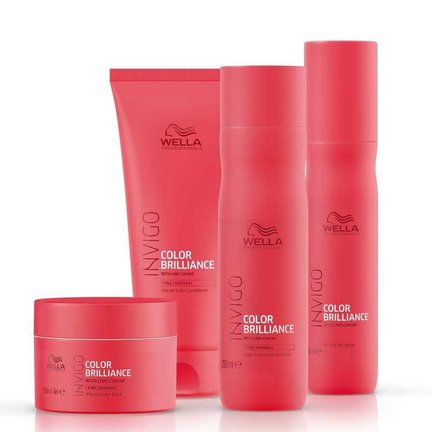 Wella Color Brilliance Invigo is een lijn speciaal ontwikkeld voor gekleurde haren. Of je nu fijne haren hebt, normale haren of weerbarstige haren er is aan iedereen gedacht. 
Zoals altijd staat bij Wella Professional innovatie van haarproducten voorop. Dit product overtreft alle verwachtingen. Met de speciale formule de Wella Triple Blend Technologie, dat wat diamant - en champagnepoeder bevat, maakt de kleur van je haar nog levendiger. de diamantpoeder zorgt ervoor dat het haar wordt versterkt en een glanzend effect krijgt.De campagne poeder zorgt ervoor dat je haar de warme kleur behoudt en dat het haar soepel blijft aanvoelen. Deze haarproducten zijn speciaal ontwikkeld voor gekleurd haar. Dit heeft een verzorgende functie met als uitkomst dat het haar verzorgd en soepel aanvoelt. Het beschermd het haar tegen uitdroging, warmt en kleurvervaging. Elk haarproduct in deze specifieke lijn heeft haar totaal eigen unieke ingrediënten. Je hebt producten voor zowel fijn/ normaal haar tot dik/weerbarstig haar. Voor elke haartype is er dus een geschikte productvolgorde dat het haar optimaal verzorgd en voedt. Vooral op het gebied van gekleurd haar. 


Wil je het beste halen uit de Brilliance Color lijn?
Om extra resultaat te behalen adviseren wij je haar regelmatig even in een haarmasker te zetten. Binnen deze lijn Wella Invigo Color Brilliance Masker - weerbarstig/dik haar en nog de Wella Invigo Color Brillance Masker - fijn/normaal haar. De omschrijving vertelt al dat er dus een masker is voor dik haar en een masker voor dun tot normaal haar. Bij gebruik van deze maskers wordt het effect van de shampoo en conditioner versterkt. Wil je het helemaal tot in de puntjes verzorgd hebben? Gebruik dan ook nog de    Wella Invigo Color Brilliance Booster. Deze biedt extra verzorging, bescherming en zachtheid aan gekleurd haar. 
Juist door het toevoegen van een haarmasker die aangepast is op je haartje en de Brilliance Booster, haal je het maximale uit deze veel verkochte lijn van Wella. 

Waar kan ik mijn vraag stellen over de Ivigo Brilliance lijn? 
Mocht je na het lezen van bovenstaande er toch niet helemaal uitkomen, dan kan je natuurlijk altijd vrijblijvend contact opnemen met ons team via [email protected] Wij helpen je graag verder! Bel ons team tijdens kantooruren of kom gezellig langs bij ons pand in Zwolle aan de Ossenkamp 2N.