NEW

16,95 6,50

NEW

16,95 6,95

NEW

14,95 5,95

NEW

16,95 5,95

NEW

12,95 6,95

NEW

12,95 6,95

NEW

15,30 8,95

NEW

14,95 8,95

NEW

15,30 8,95

NEW

14,95 8,95

NEW

12,95 7,95

NEW

12,95 7,95

Gratis

verzending vanaf €35!
Advies nodig? Bel

038-4582584

Voor

23:30

besteld morgen in huis!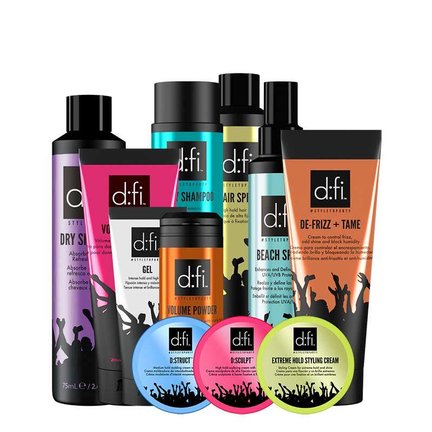 D:FI is een merk dat gecreëerd is met het ultieme partygevoel in een potje te stoppen. De mensen van D:FI zijn enorm geïnspireerd geraakt door de club cultuur en het bijzonder gezellige nachtleven, en dat is duidelijk te zien als je er alleen al naar kijkt. Vrolijke kleuren en mensen die het naar hun zin hebben. D:FI is een vrolijke noot tussen alle andere haarverzorgingsmerken.
Wat voor haarverzorging en haarstyling heeft D:FI allemaal in het assortiment?
D:FI is een zeer overzichtelijk merk, ze hebben namelijk hun haarproducten in drie categorieën verdeelt. Welke drie dat zijn? 
D:FI Haircare
D:FI Styling
D:FI Cream
D:FI Haircare is de bijzonder verzorgende lijn voor je haren. Voor dagelijks gebruik hebben ze een Daily Lijn ontwikkeld, namelijk een Daily Shampoo en een Daily Conditioner.
D:FI Styling bevat haarlak en creams voor de ideale look voor als je naar een feestje gaat en natuurlijk als je naar kantoor gaat. De stylingsproducten zijn dan ook enorm populair!
D:FI Cream zegt het eigenlijk al, hier vallen alle enorm populaire creams onder. Van extra structuur aan je haren tot aan dat kleine beetje extra stevigheid zodat je de nacht goed doorkomt. 
Wat zijn populaire haarproducten uit de D:FI reeks?
Dat de creams razend populair zijn van D:FI is overduidelijk. De D:FI Molding Cream is bij uitstek razend populair! Dat is niet voor niets, de Molding Cream zorgt er namelijk voor dat alle haarlengtes en haartypes uit de voeten kunnen met deze Cream. Dat is natuurlijk ongekend, een echte alleskunner!
Heeft D:FI ook een Volume Cream in het assortiment voor mijn dunne haren?
Als je fijne haren hebt of dunne/futloze haren ben je eigenlijk altijd opzoek naar een stylingsproduct of haarverzorging die ervoor zorgt dat je weer volume krijgt in je haren. De vraag of D:FI een Cream heeft voor enorme volume is dan ook logisch! Uiteraard hebben ze hier iets voor ontwikkeld, namelijk de Volume Cream!
Waar kan ik mijn vraag stellen over de haarverzorging van D:FI?
Heb je een dringende vraag, kom je er niet helemaal uit of heb je nog steeds geen idee wat voor haarverzorging je nodig hebt? Stel je vraag bij één van onze teamleden, wij helpen je namelijk graag verder! Stuur je vraag naar [email protected], bellen kan uiteraard ook(wel tijdens kantooruren) of kom gezellig langs.