-50% Sale

21,95 10,90

-51% Sale

44,50 21,95

-43% Sale

20,95 11,95

-55% Sale

21,95 9,95

-32% Sale

21,95 14,95

-50% Sale

21,95 10,90

-50% Sale

39,95 19,95

-43% Sale

20,95 11,95

NEW

7,50 5,95

-38% Sale

20,95 12,95

-21% Sale

37,95 29,95

-32% Sale

22,- 14,90

Gratis

verzending vanaf €35!
Advies nodig? Bel

038-4582584

Voor

23:59

besteld, morgen in huis!

NEW

21,95 11,50

-29% Sale

34,95 24,95

-30% Sale

17,95 12,50

-24% Sale

20,95 15,95

NEW

34,95 22,95

-21% Sale

18,95 14,95

-21% Sale

18,95 14,95

-29% Sale

18,95 13,50

-58% Sale

18,95 7,95

NEW

34,95 22,95

-32% Sale

19,95 13,50

-30% Sale

19,95 13,95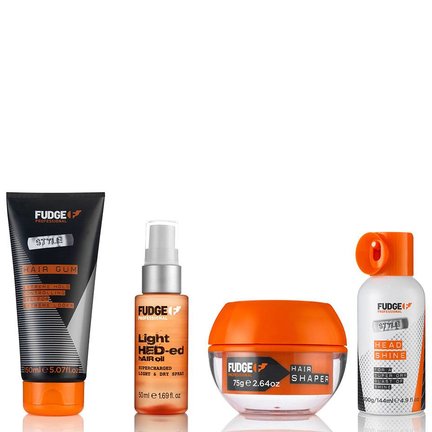 Fudge Professional is een cult haarlabel dat experimenteren en een energieke drive combineert met individualiteit en een nonchalante stijl. Fudge is ontzettend nieuwsgierig van karakter, heeft diepgang en een compromisloze drive. Fudge is creatief tot op het bot, heeft een levendige geest en is een durfal. Dit zie je ook overduidelijk terug in de producten en het werk wat ze doen.
Fudge Professional is verdeeld in 7 categorieën:
Fudge Style- stylingsproducten voor het haar.
Fudge Care - shampoo's, conditioners en treatments voor het haar.
Onder Fudge Style valt o.a. de alom bekende Fudge Hair Shaper, maar ook de Fudge Membrane Gas, Fudge Skyscraper en de Fudge Think Big Texture Spray. Fudge Style Tri-Blo Spray is een primer föhnspray met 3-voudige werking. Fudge Big Hair Raise The Roots is een crème die het haar ontzettend veel volume geeft.
Onder Fudge Care vindt je shampoos, conditioners en treatments. Fudge Clean Violet Blonde Duo Pack is toch wel de bekendste, de zilvershampoo en conditioner. De Fudge Make a Mends is voor droog en beschadigd haar. De Fudge Big Bold OOMF is voor fijn haar die een flinke va-va-voom boost kan gebruiken. De Fudge Colour Lock is voor gekleurd haar en de Fudge Cool Mint Purify is voor een frisse mentholboost die geschikt is voor elk haartype. De Fudge Smooth Shot versterkt haar dat droog en futloos is. Fudge Detox Cleanser is een dieptereiniger die het haar elimineert van product- en olieresten en afvalstoffen. Fudge Dynamite versterkt en herstelt de haarschacht van binnenuit ter voorkoming van afbreken van haar en gespleten punten. 

Alle Fudge Professional producten zijn van zeer hoge kwaliteit en worden niet getest op dieren.


Ontstaan Fudge Professional
Fudge Professional is ontstaan toen de createur van Fudge in de jaren '90 in Australië op een stuk kauwgom stond. Dit inspireerde hem om een haarproduct te maken dat sterk, maar toch flexibel is. En tot op de dag van vandaag heeft Fudge nog steeds deze innovatieve en creatieve manier van denken. 
Fudge heeft o.a. samengewerkt met Sid Sottung, X-presion Creativos, Lisa Farral en Mazella & Palmer. Een ieder is uniek in wat ze doen, echter is één duidelijk: ze hebben duidelijk een eigen identiteit en ze zijn niet bang voor kritiek. Ze zijn allen net zo vooruitstrevend en innoverend als Fudge Professional. 
Fudge voor iedereen
Fudge is ontwikkeld om met je haarlook een indruk achter te laten die niemand zal vergeten. Met de verschillende verzorgende haarproducten en styling producten van Fudge laat jij je beste kant zien. Met de producten van Fudge ontwikkelt iedereen een individuele look. Bij Fudge is men er dan ook van overtuigd dat als iedereen er hetzelfde uit zou zien, we er moe van zou worden als we naar elkaar kijken. Individualiteit en originaliteit zijn dan ook erg belangrijk bij de producten van Fudge. Waarbij de Fudge Hair Shaper uitgegroeid tot het meest bekende, populaire en beste stylingsproduct van Fudge Professional!
Fudge Zilvershampoo is één van de beste zilvershampoos die er bestaat, als het niet de allerbeste is. Het is overduidelijk dat als ze een nieuw product creëren, dat het dan ook écht doet wat ze beloven. Dat maakt Fudge Professional zo betrouwbaar, ze staan voor de volle 100% achter hun producten. Ze weten namelijk dat ze kwaliteit leveren. 

Tegenwoordig is Fudge Professional één van de grootste en bekendste merken wanneer het aankomt op het gebied van styling en verzorging. Het assortiment van Haarspullen.nl bestaat uit verschillende producten die variëren van een conditioner tot een hairspray. De herkenbare frisse geuren zijn bij zowel de verzorgingsproducten als ook de styling producten uniek en eigentijds. Hierdoor krijgen de producten van Fudge Professional net dat kleine beetje meer karakter mee!


Service van Haarspullen.nl
Bij haarspullen.nl kun je in onze online shop Fudge online kopen. Wij zorgen ervoor dat je order, die je plaatst vóór 23.00 uur, dezelfde werkdag aan jou wordt verzonden. Bij een bestelling vanaf € 35,- profiteer je van gratis verzending. Daarnaast bieden wij jou de service van achteraf betalen. 
Heb je een vraag over één van onze producten of onze service? Je kan van ons verwachten dat wij supersnel antwoord geven op al jou vragen via mail. Vaak ook buiten kantooruren. Daarnaast kun je ons ook telefonisch bereiken. Wil je meer informatie? Bekijk dan eens onze veelgestelde vragen. Wij wensen je veel plezier met het shoppen van Fudge bij haarspullen.nl.