-51% Sale

21,95 10,75

-51% Sale

44,50 21,95

-51% Sale

21,95 10,75

-50% Sale

21,95 10,95

-36% Sale

21,95 13,95

-48% Sale

39,95 20,95

-43% Sale

20,95 11,95

-38% Sale

20,95 12,95

BESTSELLER

20,95 13,95

-29% Sale

34,95 24,95

-37% Sale

18,95 11,85

-29% Sale

18,95 13,50

Gratis

verzending vanaf €35!
Advies nodig? Bel

038-4582584

Voor

23:30

besteld morgen in huis!

-24% Sale

20,95 15,95

-30% Sale

17,95 12,50

NEW

21,95 12,95

-32% Sale

19,95 13,50

-32% Sale

22,- 14,90

NEW

7,50 5,95

NEW

50,- 29,50

-30% Sale

19,95 13,95

NEW

20,50 11,95

NEW

34,95 22,95

NEW

34,95 22,95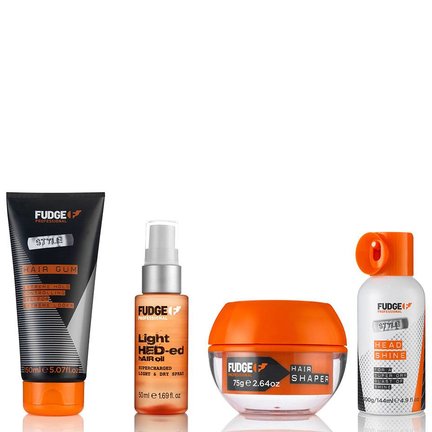 Fudge Professional is een cult haarlabel dat experimenteren en een energieke drive combineert met individualiteit en een nonchalante stijl. Fudge is ontzettend nieuwsgierig van karakter, heeft diepgang en een compromisloze drive. Fudge is creatief tot op het bot, heeft een levendige geest en is een durfal. Dit zie je ook overduidelijk terug in de producten en het werk wat ze doen.
Fudge Professional is verdeeld in een aantal categorieën:
Fugde Style - stylingsproducten voor jouw haren
Fudge Care - shampoo's, conditioners en treatments 
Fudge Shampoo - zilvershampoo, verzorgende shampoo, kleurshampoo... alles!
Fudge Conditioner - alle conditioners op een rijtje
Fudge Clean Blonde - haarverzorging voor blondines
Fudge Shaper - voor een sterke fixatie
Fudge Wax - wax, paste of putty, aan jou de keuze!
Fudge Voordeelsets - handige duo-verpakkingen
Fudge Colour - colour cocktails 
Hoe is Fudge Professional ontstaan?
Fudge Professional is ontstaan toen de createur van Fudge in de jaren '90 in Australië op een stuk kauwgom stond. Dit inspireerde hem om een haarproduct te maken dat sterk, maar toch flexibel is. En tot op de dag van vandaag heeft Fudge nog steeds deze innovatieve en creatieve manier van denken. 
Fudge heeft o.a. samengewerkt met Sid Sottung, X-presion Creativos, Lisa Farral en Mazella & Palmer. Een ieder is uniek in wat ze doen, echter is één duidelijk: ze hebben duidelijk een eigen identiteit en ze zijn niet bang voor kritiek. Ze zijn allen net zo vooruitstrevend en innoverend als Fudge Professional. 
Welke looks kan ik creëren met Fudge?
Fudge is voor iedereen! Fudge is ontwikkeld om met je haarlook een indruk achter te laten die niemand zal vergeten. Met de verschillende verzorgende haarproducten en styling producten van Fudge laat jij je beste kant zien. Met de producten van Fudge ontwikkelt iedereen een individuele look. Bij Fudge is men er dan ook van overtuigd dat als iedereen er hetzelfde uit zou zien, we er moe van zou worden als we naar elkaar kijken. Individualiteit en originaliteit zijn dan ook erg belangrijk bij de producten van Fudge. Waarbij de Fudge Hair Shaper uitgegroeid tot het meest bekende, populaire en beste stylingsproduct van Fudge Professional!
Fudge Zilvershampoo is één van de beste zilvershampoos die er bestaat, als het niet de allerbeste is. Het is overduidelijk dat als ze een nieuw product creëren, dat het dan ook écht doet wat ze beloven. Dat maakt Fudge Professional zo betrouwbaar, ze staan voor de volle 100% achter hun producten. Ze weten namelijk dat ze kwaliteit leveren. 
Tegenwoordig is Fudge Professional één van de grootste en bekendste merken wanneer het aankomt op het gebied van styling en verzorging. Het assortiment van Haarspullen.nl bestaat uit verschillende producten die variëren van een conditioner tot een hairspray. De herkenbare frisse geuren zijn bij zowel de verzorgingsproducten als ook de styling producten uniek en eigentijds. Hierdoor krijgen de producten van Fudge Professional net dat kleine beetje meer karakter mee!
Welke zilvershampoo van Fudge is geschikt voor mijn haren?
Veel mensen denken dat een zilvershampoo alleen voor blondines is, maar niets is minder waar! Brunettes kunnen net zo goed een zilvershampoo gebruiken om een koele look te creëren. Fudge Professional heeft hier perfect op ingespeeld met twee soorten zilvershampoo's: de Clean Blonde en de Cool Brunette. Welke shampoo voor jou geschikt is, ligt vooral aan de kleurtonen die jij wilt neutraliseren. Check hier het verschil:
Fudge Clean Blonde
In de Clean Blonde zitten violet pigmenten die gele en koperkleurige tonen neutraliseert. Deze shampoo wordt vooral gebruikt door blondines die een gele gloed tegen willen gaan. Deze shampoo heeft een sterke dosering aan pigment voor een uitstekend resultaat, maar kan het bij poreus haar violet uitslaan. De zilvershampoo heeft een bijzonder verzorgende samenstelling van ingrediënten die jouw haren gezond en levendig houden. 
Fudge Cool Brunette
In de Cool Brunette shampoo zitten blauwe pigmenten die ongewenste rode en oranje tonen tegen gaan. Brunettes (of blondines) met een warme gloed hebben hier dus ontzettend baat bij! De oranje, warme gloed wordt uit je haren onttrokken met een koel resultaat tot gevolg. Bovendien worden je haren ook ontzettend goed verzorgd door de Hydrating Hair Drink Complex. Win-win!
Zijn de Fudge producten vrij van sulfaten en parabenen?
Wat Fudge doet, doen ze goed. Overal is over nagedacht om de allerbeste producten te creëren, zoals bijvoorbeeld de beste verhoudingen met ingrediënten om het optimaal te stylen maar ook te verzorgen (of andersom). Alles van A tot Z om jouw unieke ik naar boven te halen. Tegenwoordig worden we ook steeds meer bewust welke ingrediënten in een product zitten en hoe deze geproduceerd is. Steeds vaker speuren we de ingrediëntenlijst af om te kijken of het allemaal wel oké is. Bij Fudge hoef je je daar geen zorgen om te maken. 
Alle producten van Fudge zijn helemaal vrij van sulfaten en parabenen, hoe gaaf is dat? ♡
Heeft Fudge Professional ook droogshampoos?
Zekers! Zit jij in tijdnood of even geen zin om je haren te wassen? Droogshampoo is werkelijk je allerbeste vriend. Ga voor de Fudge Style Dry Shampoo, deze maakt je haren in enkele seconden schoon zodat je lokken tussen twee wasbeurten lekker fris blijft. Deze Fudge droogshampoo geeft je haren extra textuur, volume en heeft een heerlijke geur om bij weg te smelten.  
Zijn de producten van Fudge getest op dieren?
We zeiden het al: wat ze doen, doen ze goed. Fudge is helemaal tegen dierenproeven en testen hun producten dan ook niet op dieren. De enige tests die Fudge doet is een panel met vrijwilligers in klinische tests en gebruikerstesten om de veiligheid van de producten te beoordelen. Zij, en wij, kunnen jou dus verzekeren dat alle fabrikanten van Fudge nooit op dieren hebben getest. Hiervoor hebben zij ook een licentie gekregen: de PETA-licentie. Met een PETA-licentie sta je op een lijst met 'bedrijven die niet op dieren testen' en 'tegen dieren testen' zijn. We like ♡
Wat zijn de absolute ''heros'' van Fudge?
Fudge Professional heeft een aantal producten uit hun productassortiment gemarkeerd als absolute heroes. Twijfel je nog? Met deze producten weet je 100% zeker dat je goed zit:
Waar kan ik meer ervaring vinden over Fudge Professional?
Hoe handig zijn haartutorials? Op die manier zie je hoe anderen het product gebruiken waardoor je het product nog beter leert kennen en kunt bekijken hoe jij het product kunt gebruiken. Daarom hebben we het internet afgespeurd naar mega handige filmpjes. We hebben ze voor het gemak op een rijtje gezet:
Waar kan ik mijn ervaring delen over Fudge?
We zeiden het net al: wij zijn dol op haartutorials, filmpjes of how-to's van producten. Maar ook, hoe handig zijn reviews? Altijd handig om te weten hoe anderen het product ervaren. Een voorbeeldje:
Fudge Clean Blonde Violet Xpander Foam (4,85/5):
''Dit product is goed als je een keer niet je haren met zilvershampoo wast. De gele tinten worden goed verwijderd.''
Of
''Helemaal fijn. Heerlijk dat ik ermee kan föhnen. Daarnaast ruikt hij ook nog lekker.''
Handig toch? Wil jij jouw ervaring ook delen over de Fudge product, ga dan naar de productenpagina en klik rechts op ''Schrijf je eigen review''. 
Waar kan ik mijn vraag stellen over Fudge Professional?
Bij haarspullen.nl kun je in onze online shop Fudge online kopen. Wij zorgen ervoor dat je order, die je plaatst vóór 23.00 uur, dezelfde werkdag aan jou wordt verzonden. Bij een bestelling vanaf € 35,- profiteer je van gratis verzending. Daarnaast bieden wij jou de service van achteraf betalen. 
Heb je een vraag over één van onze producten of onze service? Je kan van ons verwachten dat wij supersnel antwoord geven op al jou vragen via mail. Vaak ook buiten kantooruren. Daarnaast kun je ons ook telefonisch bereiken. Wil je meer informatie? Bekijk dan eens onze veelgestelde vragen. Wij wensen je veel plezier met het shoppen van Fudge bij haarspullen.nl.