Schwarzkopf Professional Blond Me
-52% Sale

19,95 9,50

-41% Sale

16,95 9,95

-41% Sale

45,95 26,95

-57% Sale

19,95 8,50

-50% Sale

21,95 10,95

-46% Sale

16,34 8,90

-53% Sale

18,95 8,95

-40% Sale

24,95 14,95

-46% Sale

16,34 8,90

-36% Sale

14,95 9,50

-47% Sale

17,95 9,50

Gratis

verzending vanaf €35!
Advies nodig? Bel

038-4582584

Voor

23:30

besteld morgen in huis!

-44% Sale

24,95 13,95

-48% Sale

17,95 9,40

-55% Sale

42,90 19,50

-52% Sale

19,95 9,50

-52% Sale

60,85 29,50

-50% Sale

19,95 9,95

-50% Sale

18,95 9,50

-47% Sale

17,95 9,50

-40% Sale

45,- 26,95

-52% Sale

19,95 9,50

-50% Sale

17,95 8,90

-51% Sale

59,85 29,50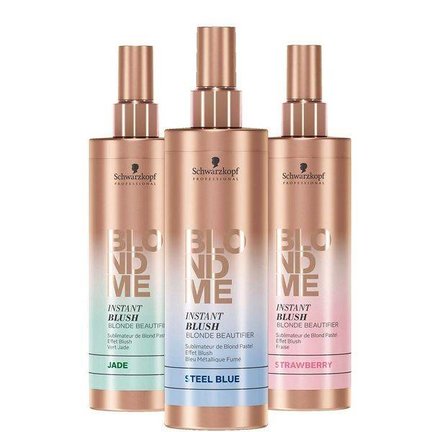 BLONDME staat voor de zelfverzekerde vrouw die krachtig in haar schoenen staat. Deze complete kleur- en verzorgingsmerk dat écht gericht is op prachtige blonde lokken.
Waar staat de Schwarzkopf BLONDME lijn precies voor?
BLONDME staat voor Zelfverzekerd, Kracht, Individueel, Iconisch. Ons team vindt dat je ze alle vier tegelijk kan zijn! GO, blonde tijger. Blondines staan voor hun prachtige lokken en verwachten dan ook een uniek resultaat, oftewel blonde perfectie. De BLONDME is gecreëerd door Schwarzkopf Proffesional omdat het verschil in haarbasis en delicate haarstructuren het er niet altijd makkelijker opmaken om die blonde perfectie te creëren. Als je donkere lokken hebt, dan is het niet zo eenvoudig om een prachtige koele blond kleur te realiseren. Nu hoeft het allemaal niet meer ingewikkeld. Met de BLONDME lijn heb je alles wat je nodig hebt. Het ontkleuren & kleuren was nog nooit zo makkelijk als nu. En het oog wil ook wat, en ook daar is aandacht. Wij zijn helemaal fan van de prachtige (rosé)gouden look!
BLONDME heeft alles om je prachtige, blonde lokken te realiseren, verzorgen én te onderhouden. Maar wat houdt het allemaal precies in? Dat gaan we je nu uitleggen! 
Hoe werkt het Schwarzkopf Professional BLONDME Advanced Bonding System precies?
BLONDME is voorzien van het Advanced Bonding System. Deze technologie bestaat uit drie stappen en zit in de producten voor het ontkleuren én kleuren van prachtige lokken.
Stap 1. Bescherming van de haarbruggen
Geïntegreerde Bonding Technologie in de kleurproducten
Bindt zich met de haarvezels voor een sterke structuur van de haarbruggen
Minimaliseert haarbreuk
Stap 2. Creatie van nieuwe haarbruggen
Geïntegreerde Bonding Technologie in de Shampoo & Treatment voor alle blondines
Creëert nieuwe haarbruggen en stabiliseert de haarstructuur
Voor duurzame kracht en soepelheid
Stap 3. Verzorging thuis
Geïntegreerde Bonding Technologie in het OTC verzorgingsassortiment
Behoudt de haarbruggen thuis tussen de salonbezoeken
Verlengt de kleurresultaten voor duurzame glans
Hoe werkt de kleurtechnologie van Schwarzkopf Professional BLONDME?
Dat blonderen eigenlijk niet goed is voor je lokken weet iedereen. Je haarstructuur wordt beschadigd en hierdoor zie je vaak dat je uiteindelijk een bosje stro overhoudt. Beschadigde lokken is het breken van de inwendige haarbruggen. De stabiliteit van je lokken neemt af en je lokken worden gevoelig voor breuk. De BLONDME Bond Enforcing Technologie is ontwikkeld zodat je lokken van binnenuit worden beschermd. Het bevat zeer effectief succinezuur dat tijdens het oxidatieproces in je haar dringt en een beschermende laag rond de haarbruggen creëert, oftewel versteviging. Door deze beschermende laag blijven de meeste haarbruggen intact, en behoudt je haar kracht en elasticiteit. Dus niet meer dat haar dat net touw is. De unieke Bond Enforcing Technologie met succinezuur is geïntegreerd in de hoogwaardige BLONDME ontkleurings-, oplichtende en wit camouflerende formules.
Hoe werkt de Care Technologie van Schwarzkopf Professional BLONDME?
De innovatieve Bonding Technologie met Magnesium Citraat brengt de pH-waarde in evenwicht en stabiliseert de inwendige haarstructuur van je blonde lokken door het creëren van nieuwe, versterkende haarbruggen in de haarvezels. Deze Bonding Technologie is ook toegevoegd in het verzorgingsassortiment van BLONDME, welke overigens ook sulfaatvrij is. Op deze manier behoudt je je prachtige blonde looks, en worden er nieuwe haarbruggen gecreëerd. Verzorgende ingrediënten vindt je terug zoals Gehydrolyseerde Keratine en Marula Olie. Je lokken voelen sterker aan en ze stralen van gezondheid. 
Is de Schwarzkopf Professional BLONDME Bond Enforcing Premium Lightener 9+ de sterkte blondeerpoeder ooit?
BLONDME Bond Enforcing Premium Lightener 9+ is de krachtigste ontkleuring ooit! Met deze Blondeerpoeder kan je tot 9 tinten je lokken oplichten. Hoe donker je lokken ook zijn, je kan jezelf omtoveren tot een briljante blondine, zonder dat je bang hoeft te zijn voor gele lokken of een andere kleur waar je niet blij van wordt.
Kan ik ook ontkleuren & kleuren met de Schwarzkopf Professional BLONDME producten?
Welke BLONDME haarproducten kan ik gebruiken voor het ontkleuren?
Voor het ontkleuren van lokken heeft BLONDME drie producten ontwikkeld. Voor maximale oplichting is er de BLONDME Premium Lift 9+. De BLONDME Bond Enforcing Paint-On Lightener is een ammoniakvrije crème lightener die ideaal is voor voor nauwkeurige, freehand technieken. Voor het ontkleuren en tonen in één keer is er de BLONDME Bleach & Tone. 
Welke BLONDME haarproducten kan ik gebruiken voor Toning & Neutralisatie?
Geef je prachtige blonde lokken een prachtige pasteltint én neutraliseer ongewenste warme tinten met de BLONDME Toning Créme. Met de BLONDME Instant Blushes creëer je super eenvoudig een prachtige pasteltint in je blonde lokken én het neutraliseert ook de ongewenste warme tinten. En dat allemaal met een simpele spray.
Welke BLONDME haarproducten kan ik gebruiken voor het oplichten en het camoufleren van wit haar?
Met de BLONDME Bond Enforcing Blonde Lifting creëer je de perfecte oplichting en toning en/of neutralisatie op een natuurlijke basis van 6-0! De BLONDME Bond Enforcing White Blending is de perfecte combinatie van oplichten en camoufleren witte lokken. De BLONDME Bond Enforcing Blonde Hi-Lighting is je vriendje voor stralende highlights en een buitengewoon oplichtend vermogen op onbehandelde lokken van 4-0 of lichter!
Welke BLONDME haarproducten kan ik gebruiken als developer?
De BLONDME Premium Developer kleurt het haar tot wel 9 tinten lichter. De Premium Developer is verkrijgbaar in 2%, 6%, 9% en 12%. 
Welke verzorgingsproducten heeft Schwarzkopf Professional BLONDME in het assortiment?
Kies de ideale verzorgingsproducten die perfect matcht met je blonde lokken. De verzorgingsproducten van Schwarzkopf BLONDME is verdeeld in drie categorieën. De verzorgingsproducten van BLONDME bevatten het Advanced Bonding System wat ervoor zorgt voor bescherming van je haarbruggen én het creëert het nieuwe haarbruggen. Blond haar dat net zo sterk is als de krachtige vrouw die je bent!
All Blondes - intense voeding voor alle blondines

Cool Blondes

- voor blondines die warme tinten willen neutraliseren
Warm Blondes - voor blondines met een warme karamel kleurrichting voor opgefriste diepere warme kleur
Verzorgingsproducten voor All Blondes