-55% Sale

21,95 9,95

-45% Sale

18,95 10,50

-30% Sale

9,95 6,95

-50% Sale

13,90 6,95

-44% Sale

13,95 7,75

-25% Sale

9,95 7,50

-47% Sale

15,95 8,50

-53% Sale

16,95 7,95

-53% Sale

16,95 7,95

-47% Sale

14,95 7,95

-43% Sale

39,50 22,50

-53% Sale

18,70 8,75

Gratis

verzending vanaf €35!
Advies nodig? Bel

038-4582584

Voor

23:30

besteld morgen in huis!

-53% Sale

16,95 7,95

-44% Sale

13,90 7,75

-56% Sale

15,95 6,95

-53% Sale

17,95 8,50

-50% Sale

13,95 6,95

-50% Sale

15,95 7,95

-56% Sale

15,95 6,95

-56% Sale

17,95 7,95

-55% Sale

19,95 8,95

-47% Sale

15,95 8,50

-54% Sale

14,95 6,95

-50% Sale

16,95 8,50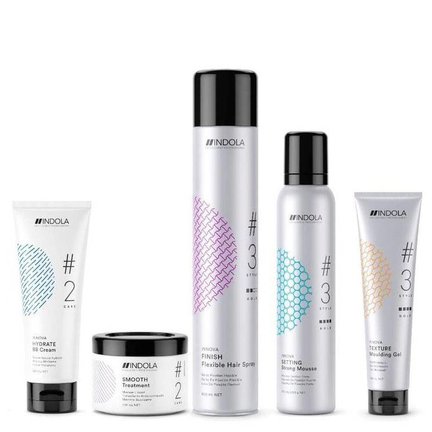 Indola is een internationaal en exclusief kappersmerk. Ze zijn innovatief, en brengen graag inspirerende en individuele haarverzorgings- en stylingproducten op de markt die zelf hebben ontwikkeld. De verschillende lijnen ondersteunen de verschillende processen tijdens het verven, verzorgen en stylen van het haar op een slimme manier. Het prachtige motto van Indola is dan ook: "Think smart, think Indola"!
Indola is ontzettend trots op zijn prachtige producten en ze weten dan ook dat ze iedereen kan laten stralen van zelfvertrouwen!
Wat zijn de bestsellers van Indola?
Indola staat bekend om haar Indola Color Style Mousse. Deze fantastische Color Style Mousse dé ideale leave-in kleurschuim die je gekleurde lokken weer flink verfrist. Alsof je haren net weer een beurt hebben gehad bij de salon! Uiteraard heeft Indola meerdere goedlopende producten, hoe kan het ook anders met zo'n fantastische kwaliteit voor zo'n lage prijs. De Indola Fibre Gum is een en briljant product die ook écht doet wat hij beloofd. 
Is Indola Cruelty Free?
Indola is cruelty free, oftewel de producten van Indola worden niet getest op dieren. Om de veiligheid van de ingrediënten te garanderen wordt er gebruik gemaakt van de gegevens van de grondstofleveranciers of beschikbare literatuurgegevens. Waar het mogelijk is worden er alternatieven voor dieproeven gebruikt om de veiligheid van de ingrediënten te bepalen die gebruikt worden voor Indola.
Uit wie bestaat het team van Indola?
Het Indola team bestaat momenteel uit maar liefst vijf personen. Je hebt de kappers en de Street Style Spotters. We beginnen natuurlijk met de kappers, dat zijn Chanel en Andy. Chanel is de Colourist en Andy is de stylist. Chanel is een bekende gezicht in deze wereld. Van internationale beroemdheden, stijl iconen tot aan Louis Vuitton ze heeft het allemaal gedaan. Andy heeft een compleet team om hem heen gecreëerd. Zijn creaties zijn ongekend en het is dan ook niet voor niets dat hij regelmatig te vinden is in o.a. Voque, en een graag geziene gast op diverse fashion weeks.
De Street Style Spotters zijn drie dames, Jessie, Christian en Anna. Jessie Bush ken je wellicht wel van online fashion and lifestyle destination - We The People. Christian is ook een bekende fotograaf, wellicht dat je de naam The Styleograph bekender klinkt in de oren. En dan hebben we nog de Street Style Blogger Anna.
Is Indola vrij van sulfaten en parabenen?
Indola's haarproducten bevatten sulfaten en/of parabenen. Mocht dit voor een product niet gelden, dan staat dit vermeld bij het individuele product in de omschrijving. 
Is Indola geschikt voor mijn haar?
Om te bepalen of India geschikt is voor je lokken is het belangrijk om na te gaan of je opzoek bent naar een shampoo + conditioner set of dat je Indola ook wilt gebruiken als Style Product. Als je opzoek bent naar een goede shampoo verwijzen wij je graag naar het onderstaande:
Indola Innova Color Shampoo  - voor gekleurde haren
Indola Innova Hydrate Shampoo - voor droge haren
Indola Innova Repair Shampoo  - voor beschadigde haren
Indola Innova Root Activating Shampoo - voor dunner wordend haar
Indola Innova Cleansing Shampoo - voor haren die veel productresten bevatten
Indola Innova Silver Shampoo - voor grijze en blonde haren
Wil je gaan voor een Style Product dan is goed kijken naar wat je wilt, je wensen en je haartype. 
Bij Indola hebben ze Style onderverdeeld in drie categorie. Texture. Finish. Setting. 
Onder Indola Style Texture vindt je de volgende producten:
Indola Innova Texture Salt Spray is ideal als je opzoek bent naar een spray die zorgt voor mooie, zachte golven en een warrige textuur. Alsof je net van het strand afkomt huppelen met je parasolletje in de ene hand en een halve glas wijn in de andere. De Indola Innova Texture Volumizing Powder is ideaal als je wilt dat je lokken mega volume krijgen en een lift bij de aanzet van je haren. De Indola Innova Texture Wax heeft een lichte hold en geeft je lokken een natuurlijke glans. Zoek je een wax cream die een extreem matte glans geeft en je lokken de hele dag in het gareel houdt dan kom je uit bij de Indola Innova Texture Rough Up. Ben je opzoek naar een goede droogshampoo die niet alleen je een opfrisbeurt geeft maar volume én grip geeft aan je lokken? Dan zit je helemaal goed met de Indola Innova Texture Style Reviver. De laatste in de categorie Indola Style Texture is de Indola Innova Texture Moulding Gel. Deze Gel van Indola is een gel met extreme hold die ervoor zorgt dat je look de gehele dag blijft zitten. 
Onder Indola Style Finish vindt je de volgende producten:
In de categorie Indola Style Finish is er ook voor ieder wat wils. Wil je je haren een finishing touch geven met een subtiele glans, dan zit je goed met de Indola Innova Finish Strong Lacquer. De Indola Innova Finish Flexible Hair Spray doet hetzelfde maar de hold is wat lichter. Hierdoor behoudt je de veerkracht van je lokken, en blijft het natuurlijk vallen ondanks dat het tóch in model wordt gehouden. De Indola Innova Finish Gel Spray  is een gel met een sterke hold waardoor je lokken lang in model blijft zitten. Het fijne van deze gel is is dat het een gel spray is, je kan hierdoor beter doseren.
Onder Indola Style Setting vindt je de volgende producten:
De Indola Innova Style Strong Mousse is haarmousse die zorgt voor een stevige, langdurige versteviging. Het fantastische van deze Strong Mousse zijn de vitamines in de Indola Innova Styling Setting Strong Mousse. Deze zijn vochtinbrengend en versterken je haren, dus een win-win situatie. Ben je een fervente gebruiker van de föhn? Dan raadt ons team de Indola Innova Setting Blow Dry Spray aan. De spray beschermt niet alleen je haren tegen de hitte, het zorgt er daarnaast ook voor dat de tijd van het föhnen aanzienlijk korter wordt. Op deze manier worden je haren dus ook beschermd. De Indola Innova Setting Thermal Protector is geschikt als je fervente gebruiker bent van de stijltang, of ook de föhn maar je lokken graag stijl wilt. Deze Thermal Protector hydrateert daarnaast ook je haren, dus geen droge lokken meer. Heb je prachtige krullen dan kom je uit bij de Indola Innova Setting Curl Cream. Zeg hallo tegen prachtige, gehydrateerd bouncy curls.
Waar kan ik mijn vraag stellen over Indola?
Mocht je nog vragen hebben over producten van Indola, of weet je niet zo goede welk product het beste bij je past? Neem dan geheel vrijblijvend contact op met ons team via [email protected] Wij helpen je graag verder.