-25% Sale

39,80 29,95

vegan

21,90

vegan

20,90

vegan

21,90

-25% Sale

39,90 29,92

vegan

20,90

vegan

21,90

vegan

20,90

vegan

24,90

vegan

21,90

vegan

20,90

-25% Sale

39,90 29,92

Gratis

verzending vanaf €35!
Advies nodig? Bel

038-4582584

Voor

23:30

besteld morgen in huis!

vegan

20,90

vegan

21,90

vegan

21,90

vegan

20,90

20,90

vegan

21,90

vegan

20,90

vegan

21,90

vegan

21,90

vegan

21,90

vegan

20,90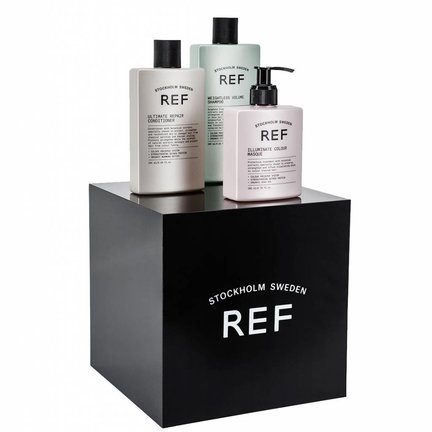 REF Stockholm is een fantastisch merk uit Zweden. REF staat voor Reference of Sweden. REF Stockholm is cruelty free en alle care-producten zijn 1005 vegan, en dat maakt ze briljant. Zoals we gewend zijn van de mensen uit Zweden is REF Stockholm een kwalitatief merk. Ze hebben een compleet assortiment van haarverzorging én haarstyling. REF Stockholm wil via hun branding natural beauty uitstralen en dat doen ze. Natural Beauty is hét rode draad in alles wat ze doen. Eenvoud, duurzaam en kwaliteit. "Natural Beauty, embracing all the words' diverse people, culture and ethnical background." Een prachtige, clean & fresh look die elke badkamer een prachtige, luxe feeling geeft. 


Welke REF Stockholm Sweden producten zijn er allemaal?
REF Stockholm zijn onder te verdelen in de volgende categorieën:
Is REF Stockholm cruelty free?
Alle REF Stockholm zijn milieu én diervriendelijk. Ze staan voor natuurlijke haarverzorging en haarstyling. Ze vinden het belangrijk dat dieren en mensen samen kunnen leven, zonder dat dieren worden uitgebaat. REF Stockholm gebruiken natuurlijke én organische ingrediënten en combineren dit met chemie. Oftewel de beste producten, wat ook het beste is voor de natuur gecombineerd met de laatste technologie, die is ook echt het doel van REF Stockholm. Op deze manier bieden ze een hoog kwalitatief product, die ze zodanig produceren dat ze ook een steentje bijdragen aan de wereld. 
Is REF Stockholm vrij van sulfaten, parabenen en siliconen?
Alle producten van REF Stockholm Sweden zijn vrij van sulfaten, parabenen én siliconen. De producten van REF Stockholm bevatten allemaal natuurlijke ingrediënten die ook écht hun werk doen. Ze denken echt daadwerkelijk overal over na, en dat vindt ons team in elk geval super tof!                                       
Wat betekenen de nummers van REF Stockholm styling?
REF Stockholm werkt met een grandioos nummer systeem voor alle stylingsproducten. Elke stylingsproduct heeft 3 cijfers. Het eerste cijfer staat voor Hold, oftewel de fixatie van het product. Tweede cijfer staat voor Shine, oftewel glans en het laatste cijfer staat voor Volume. 
De REF Stockholm Sweden Ocean Mist heeft bijvoorbeeld 303. Dit houdt in dat de Ocean Mist een gemiddelde hold heeft (3), geen glans (0) en een gemiddelde volume(3).  
Wat houdt het Colour Preserve System van REF Stockholm in?
Bij REF Stockholm weten ze hoe belangrijk het is dat je je (natuurlijke) haarkleur behoudt, en dat het niet binnen no time vervaagd is. Daarom hebben ze in alle producten van de REF Stockholm Styling én REF Stockholm haarverzorging het Colour Preserve System verwerkt. Dit gaat uiteraard om natuurlijke ingrediënten die van  zonnebloemolie afkomstig zijn, die ze hebben gecombineerd met technologie die het vervagen van haarkleur tegengaat. Deze combinatie is een natuurlijke vorm van een UV-filter en zorgt ervoor dat je haarkleur prachtig glanst en reflecteert in de zon. Prachtig, gezonde lokken die dansen!
Welke shampoos heeft REF Stockholm in het assortiment?
REF Stockholm heeft voor iedere haartype een shampoo ontwikkeld. Hieronder zie je precies welk shampoo voor welke haartype geschikt is. 
REF Stockholm Sweden Ultimate Repair Shampoo - voor droog en beschadigde haren
REF Stockholm Sweden Intense Hydrate Shampoo - helpt bij droog en breekbare haren
REF Stockholm Sweden Weighless Volume Shampoo - helpt bij dun en futloze haren
REF Stockholm Sweden Illuminate Colour Shampoo - voor gekleurde haren
REF Stockholm Sweden Cool Silver Shampoo - voor grijze, witte én blonde haren
Is REF Stockholm 100% Vegan?
REF Stockholm Care is 100% Vegan en maakt alleen gebruik van plantaardig ingrediënten. De proteïnes die gebruikt worden in de REF Stockholm zijn dan ook niet afkomstig van dieren maar van Quinoa. Proteïnes zijn natuurlijk ontzettend belangrijk bij het sterker maken van haren, en door het gebruik van Quinoa Proteïne hebben ze de 'Keratine uit de natuur' toegevoegd in al hun producten. Essentiële amino acids dragen bij aan het herstellen van de haren, het biedt bescherming, geeft enorme glans en het bevorderd de algehele conditie van het haar. Oftewel we zeggen welkom natuurlijk schoonheid van het haar.
Is REF Stockholm geschikt voor mijn haren?
Ben je opzoek naar goede haarverzorging die werkt met natuurlijke producten, en die schadelijke ingrediënten achterwege laat? Dan ben je helemaal aan het goede adres! REF Stockholm heeft voor ieder wat wils, dus er zit zeker haarverzorging tussen die  naadloos aansluit bij jouw wensen en de behoeftes van je lokken. 
Wil je graag sparren met één van onze teamleden, omdat je niet helemaal weet wat nu heb beste bij je wensen past? Neem dan geheel vrijblijvend contact op via [email protected] of bel ons tijdens kantooruren.