-56% Sale

17,95 7,95

-40% Sale

16,95 10,15

-47% Sale

14,95 7,95

-54% Sale

29,95 13,75

-25% Sale

19,95 14,95

-52% Sale

17,95 8,70

-34% Sale

46,90 30,75

-50% Sale

19,95 9,95

-52% Sale

32,90 15,95

-63% Sale

52,50 19,50

-27% Sale

19,95 14,50

-27% Sale

21,95 15,95

Gratis

verzending vanaf €35!
Advies nodig? Bel

038-4582584

Voor

23:30

besteld morgen in huis!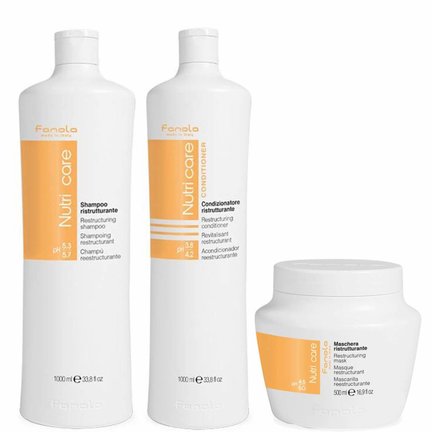 Fanola Nutri Care Restructuring is ontwikkeld voor droge lokken en lokken die pluizen. De Nutri Care bevat voornamelijk melkproteïne, deze zorgt ervoor dat je lokken gehydrateerd worden. Het maakt je droge, zwakke lokken weer zacht en gezond. Krijg weer glanzende lokken die de dag toe glimlachen van blijdschap en gezondheid. 
Melk proteïne is één van de meest verzorgende ingrediënten door de aminozuren. Het hydrateert en geeft elasticiteit aan je lokken, oftewel het geeft je haar weer nieuw leven. Melk proteïne bevat caseïne, hier zit aminozuur glutamine in en dat stimuleert het de groeicyclus van het haarzakje. 
Fanola Nutri Care lijn 
De Fanola Nutri Care lijn heeft een zeer uitgebreid assortiment.
Nutri Care Reconstructing Mask
Nutri Care Leave-in Conditioner
Nutri Care Leave-in Restructuring Spray Mask
Nutri Care Leave-in Re-constructing Lotion
Het Nutri Care Re-constructing Mask bevat melkproteïne en zorgt voor een intense verzorging van je lokken, en het zorgt ervoor dat je borstel er weer door heen glijdt. Het Nutri Care Crystal Serum bevat Alöe Vera en lijnzaadolie om je lokken weer glanzend te maken en het hersteld gespleten punten. De Nutri Care Leave-in Restructuring Spray Mask is een 10 action spray die geschikt is voor iedere haartype. De Spray Maak bevat Argan, linnen en melkproteïne en zorgt ervoor dat je lokken zijdezacht worden en glanzen. De Nutri Care Leave-in Conditioner bevat melkproteïne en lijnzaadolie, het hydrateert je lokken tot diep in de punten en het zorgt voor een intense verzorging én reconstructie van het haar zonder het haar zwaar te maken.
Fanola Nutri Care Crystal Serum hersteld gespleten punten met behulp van Alöe Vera en Lijnzaadolie Het gaat pluis tegen en het maakt je lokken heerlijk zacht. 
Voor wie is de Fanola Nutri Care Lijn geschikt?
De Nutri Care lijn is bedoelt voor droog en pluizig haar. Of het nu om natuurlijk haar gaat of haar dat gekleurd is, dat maakt niet uit. De complete lijn zorgt voor diepe verzorging en het laat je lokken weer stralen als nooit tevoren! Haal het zonnetje in huis uuh in je lokken en maak menig persoon jaloers!
Over Fanola
Fanola is een ontzettend populair kappersmerk uit het prachtige Italië. Het is opgericht in 2004 door een groep ondernemers. Zij zagen diverse behoeften in de branche en wilde hier de oplossingen voor bieden. En dat lukte! In slechts een kort tijdsbestek werd Fanola een de grootste en veelgevraagde kappersmerken in Italië. Momenteel zijn ze hard aan het bouwen om populariteit te creëren in andere landen, en dat doen ze goed. Dit succes is mede te danken aan de Fanola No-Yellow Shampoo.
Service van Haarspullen.nl
Bij haarspullen.nl kun je in onze online shop Fanola Nutri Care online kopen. Wij zorgen ervoor dat je order, die je plaatst vóór 23.00 uur, dezelfde werkdag aan jou wordt verzonden. Bij een bestelling vanaf € 35,- profiteer je van gratis verzending. Daarnaast bieden wij jou de service van achteraf betalen. 
Heb je een vraag over één van onze producten of onze service? Je kan van ons verwachten dat wij supersnel antwoord geven op al jou vragen via mail. Vaak ook buiten kantooruren. Daarnaast kun je ons ook telefonisch bereiken. Wil je meer informatie? Bekijk dan eens onze veelgestelde vragen. Wij wensen je veel plezier met het shoppen van Fanola Nutri Care bij haarspullen.nl.