-43% Sale

26,- 14,90

-46% Sale

53,- 28,50

-43% Sale

26,- 14,95

-42% Sale

25,60 14,95

NEW

19,95 14,95

-41% Sale

27,- 15,95

-46% Sale

53,- 28,50

-30% Sale

27,20 18,95

-42% Sale

30,- 17,50

-46% Sale

53,- 28,50

-40% Sale

26,60 15,95

Gratis

verzending vanaf €35!
Advies nodig? Bel

038-4582584

Voor

23:30

besteld morgen in huis!

NEW

21,95 15,95

-42% Sale

30,- 17,50

-30% Sale

27,20 18,95

-31% Sale

54,40 37,50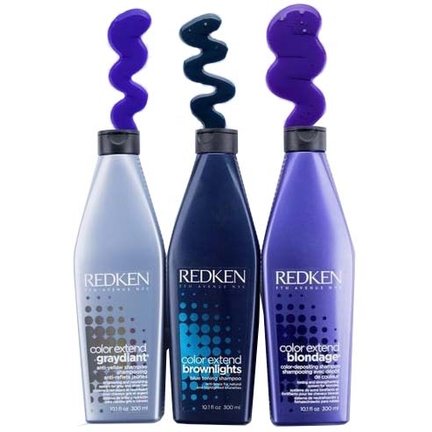 Er zijn veel factoren die je haarkleur kunnen doen vervagen. Van zon, tot zout water en chloor, deze  elementen kunnen het haar zwaar belasten en in veel gevallen de haarkleur doen vervagen. Het is dan ook zeer belangrijk om ervoor te zorgen dat u de beste haarverzorging gebruikt om uw haar gezond te houden en uw haarkleur helder te houden. Redken heeft hier de Color Extend lijn voor ontwikkeld, deze zorgen voor het behoud van een heldere, mooie haarkleur en het bestrijden van het verbleken van de haarkleur.
Redken Color Extend Magnetics
Redken's Color Extend Magnetics is een sulfaatvrij haarverzorgingssysteem dat helpt om glans toe te voegen en de kleur levendigheid te verbeteren. De RCT technologie van Color Extend Magnetics richt zich op de wortel, de kern en de punt van elke haarlok. Met Soy Protein, Arginine en Sepicap krijgt het haar proteïne om structuur toe te voegen, evenals conditionerings- en restauratievoordelen. Dit systeem werkt om het haar te versterken en de kleur vast te zetten.
Redken Color Extend Blonde
Als je onlangs blond bent geworden, weet je dat onder andere de zon en chloor ervoor kunnen zorgen dat de haarkleur van blond haar geschaad wordt, met ongewenste gele en oranje tinten die doorschijnen. Redken's Color Extend Blondage is een kleurafwijkend paars shampoo systeem dat werkt om ongewenste gele tonen uit te bannen terwijl het blonde haarkleur koel en helder blijft.
Redken's Color Extend Blondage systeem tinten, verheldert en versterkt blond haar. De pure violette pigmenten van het systeem gaan gele ondertonen tegen, waardoor het haar helderder wordt, terwijl Redken's Triple Acid Protein Complex het haar versterkt. Zo kunnen zonneschijn en buitenactiviteiten bijdragen aan het verlies van vocht in de proteïnen van het haar, waardoor ongewenste warmte terugkomt. Redken's Color Extend Blondage neutraliseert deze ongewenste tinten om ervoor te zorgen dat de blonde haarkleur helder en sterk blijft.
Redken Color Extend Brownlights
Als u natuurlijk of gehighlight bruin haar heeft, kan het zijn dat u merkt dat uw lokken na verloop van tijd wat warmer zijn geworden. Het gebruik van een blauwe toning shampoo en conditioner kan helpen bij het tegengaan van brassy, oranje tinten die vaak beginnen te verschijnen op bruin haar. Redken's Color Extend Brownlights blue toning haarverzorgingssysteem is een must-have voor het koel en mooi houden van uw brunettetint.
Wanneer bruin haar lichter wordt, zij het met highlights, balayage, of na verloop van tijd door blootstelling aan de zon, worden oranje ondertonen blootgelegd die uiteindelijk kunnen leiden tot dat ongewenste warme rode haar effect. Met Color Extend Brownlights kun je ongewenste oranje en rode tinten in brunettehaar neutraliseren. Voor gekleurde brunettes kan dit kleurdepositieve systeem direct na een haarkleurservice worden gebruikt. Het doet ook wonderen op niet-gekleurd haar en kan helpen om je natuurlijke brunettekleur koel te houden en vrij van enige brassy ondertonen.
Redken Color Extend Gradiant
Als u onlangs een gewaagde grijze of zilveren look had, was het u misschien opgevallen dat uw haarkleur begon te vervagen en geel werd. Wanneer dit gebeurt, is Redken's Color Extend Graydiant Shampoo en Conditioner de beste keuze, omdat het helpt om het zilverkleurige haar te versterken.
Redken's Color extend Graydiant is een kleurversterkend haarverzorgingssysteem wat het de perfecte keuze maakt voor grijze en zilveren haren. Met aangepaste directe kleurstoffen en versterkende voordelen, wordt het haar sterk achtergelaten met een prachtige zilveren tint.