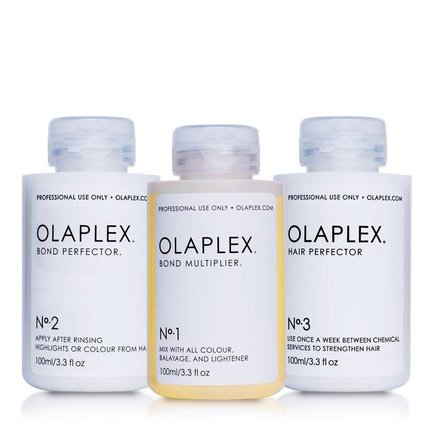 Olaplex is een merk haarproducten die een speciaal actief ingrediënt bevatten die de gebroken haarschubben weer herstelt waardoor je haar sterker wordt. Je kunt het toevoegen aan haarkleuring om niet te veel schade aan te richten aan je haren. Daarnaast kun je het gebruiken als een herstellende treatment, nadat je bijvoorbeeld je haren chemisch hebt behandeld. Dit actieve ingrediënt heet bis-aminopropyl diglycol dimaleate. Olaplex is een gepatenteerd systeem die extreem beschadigd haar herstelt. Het verandert droog, poreus haar in zacht, glanzend en sterk haar. 
Hoe is Olaplex ontstaan?
Olaplex is ontwikkeld door Dr. Eric Pressly en Craig Hawker, twee van 's werelds meest toonaangevende scheikundigen. Dit Dream Team heeft een chemische verbinding uitgevonden bestaande uit maar één ingrediënt, zonder siliconen en olie. Olaplex koppelt gebroken verbindingen in het haar voor, tijdens en na kleurbehandelingen, waardoor je haren lekker sterk blijven!
Hoe werkt Olaplex?
Je haren bestaan vooral uit de proteïne Keratine. Deze proteïne bestaat uit een ketting van aminozuren, die in elk haartje zitten. Als de proteïne goed op peil is en je haar dus niet beschadigd is, zal deze ketting sterk zijn waardoor je sterke haren hebt. Voldoende proteïne zorgt er dus voor dat je haren sterk blijven. Als je haren zijn beschadigd is deze ketting onderbroken. Het gevolg: gaten in de ketting en beschadigde haren. Wist je dat het blonderen deze ketting opbreekt? Olaplex zorgt ervoor dat de aminozuren weer met elkaar gaan binden. Het creëert een link tussen de twee lossen aminozuren waardoor de ketting weer sterk wordt. Als je Olaplex mixt met een blondeerpoeder, zal deze minder schade aanrichten aan je haren. Maar er zijn meer stappen om je haren zo sterk te houden. Elk product van Olaplex bevat namelijk dit bijzondere, actieve ingrediënt.
Uit welke producten bestaat het assortiment van Olaplex?
Olaplex heeft in totaal 7 producten in haar assortiment, die allemaal perfect op elkaar aansluiten. Elk product is verrijkt met de gepatenteerde technologie die je haren sterk maakt en 'de ketting weer heel maakt'. Dit zijn de producten:
Is Olaplex een salon-treatment of een at-home treatment?
Beide! Het is zowel een salon-treatment als een at-home treatment. Je kunt deze treatment dus combineren. We hebben het op een rijtje gezet:
Olaplex No.1 - Salon-treatment
Olaplex No.2 - Salon-treatment
Olaplex No.3 - At-home treatment
Olaplex No.4 - At-home treatment
Olaplex No.5 - At-home treatment
Olaplex No.6 - At-home treatment
Olaplex No. 7 - At-home treatment
Hoe gebruik ik de producten van Olaplex?
Olaplex No.1 en Olaplex No.2 gebruik je in de salon. Dit gebruik je tijdens een professionele chemische behandeling. De rest van de producten kun je thuis gebruiken. Je hoeft deze producten niet per se te gebruiken als je een chemische behandeling hebt gehad. Als jij beschadigde haren hebt die je sterker wilt maken, zijn de producten van Olaplex perfect voor jou!
Olaplex Bond Multiplier No. 1 meng je met de haarverf, laat het zitten volgens de gebruiksaanwijzing van de haarverf. Nadat je de chemische behandeling hebt gedaan en je haren hebt uitgespoeld, breng je de Olaplex Bond Perfector No. 2 aan. Dit laat je 10-20 minuten zitten in handdoekdroog haar. Vervolgens start je aan de treatment die je ook thuis kunt doen. Breng de Olaplex Hair Perfector No. 3 aan op handdoekdroog haar, voordat je je haren gaat wassen. Dit product laat je ook 10-20 minuten intrekken in handdoekdroog haar. Spoel het vervolgens goed uit. 
Nu starten we aan de shampoo en conditioner. Breng eerst de Olaplex Maintenance Shampoo No. 4 aan, laat het even goed intrekken en spoel vervolgens uit. Breng vervolgens de Olaplex Maintenance Conditioner No. 5 aan. Laat ook deze even goed intrekken en spoel vervolgens goed uit. 
Dan blijven Olaplex No.6 en No. 7 over. Olaplex Bond Smoother No. 6 is een leave-in stylingcream. Deze breng je aan op de mid-lengtes en lengtes van handdoekdroog haar. Dit product zorgt ervoor dat jouw haren de hele dag door gehydrateerd blijven en dat je haren niet gaan pluizen. Tot slot gebruik je de Olaplex Bonding Oil No. 7, deze breng je ook aan op handdoekdroog haar en geeft jouw haren een prachtige glans.
Is Olaplex voor mijn haren geschikt?
Jazeker! Want de Hair Perfector is voor alle haartypes geschikt. Dus of je nou krullen hebt, stijl haar, dun haar, beschadigd, dof… use it!
Kan ik Olaplex gebruiken als ik een keratine behandeling heb gehad?
Een keratinebehandeling is een semi-permanente treatment met vloeibare keratine die je haren glad en zacht maakt. Het voedt je haren ontzettend goed. De Hair Perfector is dan een geweldige een extra boost. Je kunt 'm dus gerust gebruiken.
Is Olaplex Curly Girl Methode Proof?
Als echte Curly Girl is een chemische behandeling natuurlijk niet het beste voor je krullen. Met Olaplex kies je heel bewust om beschadigd haar te beperken en je haren weer lekker healthy te maken, maar niet alle producten zijn CG-proof. Wel zijn bijna alle producten vrij van sulfaten, parabenen, fosfaat, phtalaten en gluten. We hebben het voor het gemak op een rijtje gezet:
Waar kan ik meer informatie vinden over beschadigde haren?
Wil je meer te weten komen over beschadigde haren? Bekijk dan eens onze blog: Hét stappenplan om beschadigde haren te herstellen. In deze blog leggen we je alles uit hoe je beschadigde haren kunt herstellen en voorkomen, met een handige stappenplan!
Zijn de producten van Olaplex vegan en cruelty free?
Tegenwoordig speuren we steeds vaker de etiketten af, op zoek naar de ingrediënten en hoe het product geproduceerd is. We noemen het ook wel een stukje bewustwording, waar we superblij mee zijn! We vinden het dan ook ontzettend leuk om te vertellen dat de producten van Olaplex vegan en cruelty free zijn!
Waar kan ik mijn vraag stellen over Olaplex?
Heb je nog een vraag over Olaplex? We helpen je met alle liefde verder, dus neem gerust contact met ons op! Mail je vraag naar [email protected] en we proberen zo snel mogelijk te reageren, soms zelfs buiten kantooruren! Als je in de buurt bent van Zwolle kun je ook een kijkje nemen bij ons pick-up point. Dan laten we jou de producten van dichtbij zien van Olaplex, dan krijg je er misschien wat meer feeling mee. Voor dringende vragen kun je ons telefonisch bereiken tijdens kantooruren. We wensen u veel plezier met het shoppen van Olaplex bij Haarspullen.nl