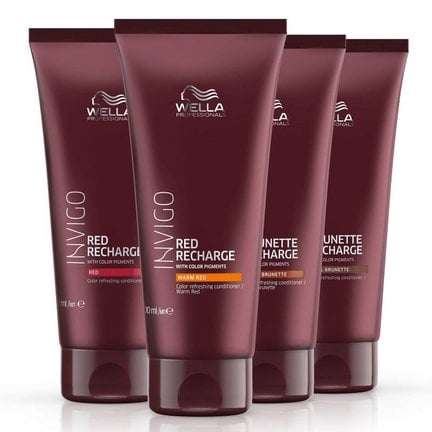 Wella Professionals Color Recharge Invigo
Wella Professionals is altijd bezig met het herontdekken van de diepe warme tinten in het haar. Voor een uitdaging op het gebied van kleur deinst Wella Professional niet terug. Daarom zijn ze altijd druk met het innoveren van nieuwe haarproducten op het gebied van kleurverzorging. Deze haarproductlijn richt zich vooral op bruine en rode tinten. Dit zijn warme tinten. Deze Color Recharge zit vol met kleurpigmenten en zorgt ervoor dat de kleur intensief wordt onderhouden. Het zorgt ervoor dat de kleur mooi blijft en dat het diep verzorgd wordt. Deze lijn is gericht op bruine en rode tinten en zijn voornamelijk shampoo's en conditioners. 
welke Color Recharge haarverzorging is geschikt voor bruine tinten?
Intensiteit van brunettes te verfrissen of versterken? Ben je opzoek naar een silver conditioner voor brunettes? Dan zit aan je het juiste adres!
Gebruik dan de Wella Invigo Color Recharge Brunette Conditioner 
Welke kleurconditioner is geschikt voor mijn rode haren?
De heerlijk rijke formule van de conditioner bevat rode pigmenten en geeft een extra intensieve verzorging aan het haar. Bovendien wordt het haar heerlijk zacht. 
Gebruik dan de Wella Invigo Color Recharge Red Conditioner 
Welke kleurconditioner en silverconditioner is geschikt voor mijn blonde haren? 
Wella Invigo Blonde Cool Recharge Shampoo zorgt ervoor dat gele tinten in grijs of blond haar geneutraliseerd worden. De shampoo zorgt ervoor dat natuurlijk of gekleurd blond of grijs haar niet vergeelt. De violet pigmenten neutraliseren het haar en voorkomt hierdoor vergeel effect. Wella Color Cool Blonde Recharge Shampoo laat het haar heerlijk zacht aanvoelen. Het haar zal weer prachtig stralen en haar oorspronkelijke kleur terug krijgen.
Gebruik dan Wella Invigo Blonde Cool Recharge Shampoo
Voor optimaal resultaat gebruik dan ook de Wella Invigo Blonde Cool Recharge Conditioner 
Heeft de Wella Color Recharge ook een zilvershampoo?
Je bent opzoek naar een steengoede zilvershampoo die naadloos aansluit bij de behoeftes van je prachtige haren. Echter ben je er nog niet helemaal welke zilvershampoo dan ook echt aansluit bij de behoeftes van je haren. Daarom raden we je aan om eerst de informatie op de pagina Zilvershampoo te lezen, hier lees je werkelijk waar alles wat er te weten valt over zilvershampoos. Uiteraard heeft Wella ook een zilvershampoo, en dat is de Wella Color Recharge Zilvershampoo.
Ik heb een vraag over de Wella Professional Color Recharge lijn? 
Mocht je na het lezen van bovenstaande er toch niet helemaal uitkomen, dan kan je natuurlijk altijd vrijblijvend contact opnemen met ons team via [email protected] Wij helpen je graag verder! Bel je liever, dat kan! Ons team is bereikbaar op werkdagen van 9.00-17.00.