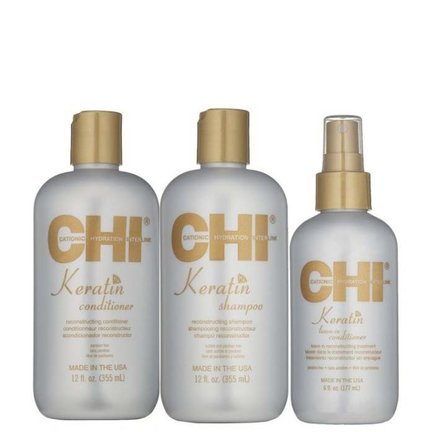 CHI Keratin haarverzorgingslijn transformeert droog, pluizig en futloze lokken in gezond, glad en glanzend haar door middel van Keratrix™. Deze verbinding vult de natuurlijke keratineproteïne in je lokken aan waardoor de elasticiteit van het haar drastisch wordt verbeterd. Daarnaast voorkomt het afbreken van je haar. CHI Keratin werkt vochtregulerend en herstellend, wat zorgt voor prachtig zacht én glanzende lokken. De Keratin lijn bestaat uit een shampoo, een conditioner, een leave-in conditioner en een silk. 
CHI Keratin Producten
De CHI Keratin Shampoo reinigt je lokken op milde wijze en herstelt beschadigde lokken door het aan te vullen met natuurlijke keratine. Essentiële verzorgende jojobaolie en arganoliën dringen diep in de haarschacht zodat je lokken gezonder eruit gaan zien, maar glans krijgen en het het voorkomt slijtage. De CHI Keratin Conditioner herstelt de vochtbalans van je lokken. Krijg weer soepel vallend en gezonde lokken. Herstellende ingrediënten versterken je lokken en sluiten de schubbenlaag zodat deze vocht kan vasthouden. De CHI Keratin Leave-in Conditioner is een leave-in re-constructing treatment, de leave-in gebruik je als extra versterking van je lokken ná de conditioner. De CHI Keratin Silk Infusion  is een Keratin and Silk Reconstructing Complex die ervoor zorgt dat droog en beschadigde lokken herstellen en gehydrateerd wordt. Daarnaast verbetert het de elasticiteit van je lokken ook intens.
Ben je écht een fervente gebruiker van warmte stylingtools dan is er de CHI Keratin K-trix 5 Thermal Soothing! De behandeling zorgt ervoor dat je lokken vanaf de aanzet glad wordt gemaakt en daarnaast worden je lokken gehydrateerd. Dit betekent dat de haren tot 5 dagen zacht en pluisvrij zijn. CHI Keratin K-TRIX 5 – Thermal Active Smoothing Treatment bevat de formule Keratrix. Dit is een unieke verbinding met een doorlopende afgifte van versterkende en gladmakende eiwitten wat ervoor zorgt dat de behandeling langer houdbaar is. Oftewel de 5 dagen zacht en pluisvrije lokken. Als finishing touch is er de CHI Keratin Flexible Hold Hairspray, een haarlak die niet plakt of hard wordt. Het beschermt je lokken en ook bevat het keratine, om je lokken te versterken en slijtage te verminderen. Ook zijn je lokken beschermd tegen vochtigheid, dus zeg maar doei doei tegen kroezig en/of statisch haar! Als allerlaatste in de reeks is er de CHI Keratin Styling Cream, deze Cream doet hetzelfde als de haarlak van CHI. Echter kan je deze cream ook op droog haar gebruiken zodat je puntjes rustig en glanzend worden. Zoals je merkt heeft CHI aan alles gedacht met de CHI Keratin lijn. 
Achtergrond informatie over CHI
CHI, afkorting van Cationic Hydration Interlink, onderdeel van Farouk Systems USA is een van de snelst groeiende merken in de professionele kapsalons. CHI is doordat alle haarproducten niet getest zijn op dieren, een diervriendelijk merk. CHI heeft een ruim assortiment haarproducten waarbij u kunt denken aan shampoos, conditioners, treatments en nog veel meer haarproducten. Daarnaast heeft CHI ook een divers assortiment haartools, zoals de CHI stijltang, CHI föhn en CHI krultang. Bovendien is topmodel en tv-presentatrice Daphne Deckers ambassadrice voor het merk. 
Is CHI Keratin geschikt voor jou?
Is de CHI Keratin lijn niet geschikt voor jouw lokken, of weet je het niet zeker. Dan verwijzen wij je graag naar de hoofdpagina van CHI, hier vindt je alle productlijnen van CHI. Hier staat tevens aangegeven voor wie en welk soort haar de producten geschikt is. Heb je alsnog vragen? Neem dan contact op met ons team via [email protected]
Service van Haarspullen.nl
Bij haarspullen.nl kun je in onze online shop CHI Keratin online kopen. Wij zorgen ervoor dat je order, die je plaatst vóór 23.00 uur, dezelfde werkdag aan jou wordt verzonden. Bij een bestelling vanaf € 35,- profiteer je van gratis verzending. Daarnaast bieden wij jou de service van achteraf betalen. 
Heb je een vraag over één van onze producten of onze service? Je kan van ons verwachten dat wij supersnel antwoord geven op al jou vragen via mail. Vaak ook buiten kantooruren. Daarnaast kun je ons ook telefonisch bereiken. Wil je meer informatie? Bekijk dan eens onze veelgestelde vragen. Wij wensen je veel plezier met het shoppen van CHI Keratin bij haarspullen.nl.