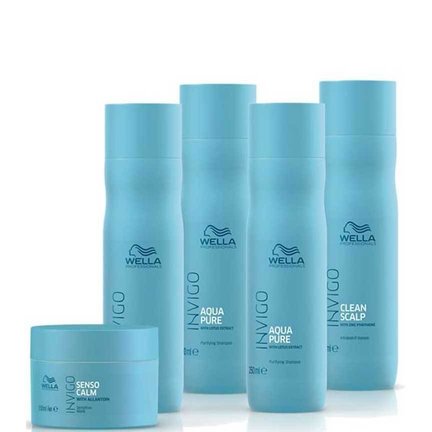 Wella Professionals Balance Invigo
Het woord zegt het al : Balance. Deze haarlijn zorgt ervoor dat je haar EN hoofdhuid weer in balans komt. Het verzacht de hoofdhuid, stimuleert en het werkt jeuk verminderend. Deze lijn is ook ongeparfumeerd. Alle haartypes die last hebben van roos, een gevoelige hoofdhuid en haaruitval zijn hier aan het goede adres. De hele haarlijn is hierop ingesteld. Met de benodigde producten maak jij je hoofdhuid weer zoals het hoort en breng je de conditie van het haar weer op peil.
Als basis is een goede shampoo en conditioner van belang die geen parfum bevatten. Om de kwaliteit van deze producten te blijven behouden is het belangrijk om de stylingsproducten bij deze lijn ook te gebruiken. Als je last hebt van een jeukende hoofdhuid en roos, je gebruikt dan de shampoo van Wella Professionals Balance Invigo, en dan gewone geparfumeerde stylingsproducten; de jeukende hoofdhuid blijft dan terugkomen. Dus voor optimaal resultaat gebruik je de hele lijn. Mis je toch hydratatie? Of wil vind je dat je volume afneemt? Gebruik dan het Senso Calm Haarmasker. Vanwege de gevoelige hoofdhuid adviseren wij om een stuk vanaf de aanzet het masker in te brengen. Het belangrijkste is deze goed in de punten aan te brengen. 
Is Wella Balance Invigo geschikt voor mijn haar?
Wella Balance Invigo is geschikt voor elk type haar. Of je nou krullen hebt, stijl, kroes of dun haar, het maakt allemaal niet uit. Het heeft vooral een actieve werking bij haar en/of hoofdhuid dat geïrriteerd is en wat extra verzorging kan gebruiken. Het brengt namelijk je conditie weer op peil en het is natuurlijk zonde als je al kerngezond haar hebt en dan geen producten gebruikt die het nog mooier maken. Deze lijn is dus expliciet voor beschadigd haar. Het is ook ongeparfurmeerd, dit zorgt ervoor dat de hoofdhuid niet nog verder geprikkeld wordt. 
Is Wella Balance Invigo vrij van sulfaten en parabenen?
Ja, Wella Balance Invigo is VRIJ van sulfaten, parabenen en parfum. Het bevat natuurlijk ingrediënten. Het geeft het haar energie, door de natuurlijke stoffen die erin zitten. Denk daarbij aan Bamboe, cafeïne en menthol. Deze producten zijn toegevoegd op een natuurlijke basis. Ze geven je hoofdhuid een natuurlijke boost en het zorgt ervoor dat de hoofdhuid hersteld wordt. 
Ik heb een vraag over de Wella Professional Balance lijn? 
Mocht je na het lezen van bovenstaande er toch niet helemaal uitkomen, dan kan je natuurlijk altijd vrijblijvend contact opnemen met ons team via [email protected] Wij helpen je graag verder! Bel je liever, dat kan! Ons team is bereikbaar op werkdagen van 9.00-17.00.