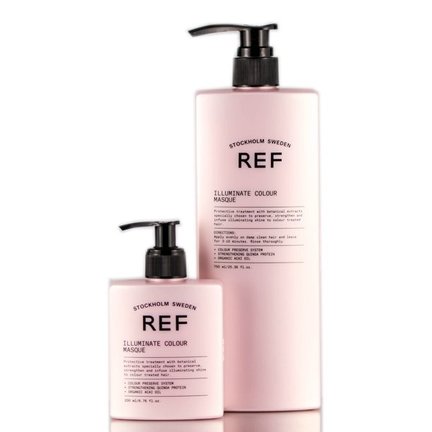 REF Stockholm is een fantastisch merk uit Zweden. REF staat voor Reference of Sweden. REF Stockholm is 100% vegan en crualty free en dat maakt ze briljant. Zoals we gewend zijn van de mensen uit Zweden is REF Stockholm een kwalitatief merk. Ze hebben een compleet assortiment van haarverzorging én haarstyling. REF Stockholm wil via hun branding natural beauty uitstralen en dat doen ze. Natural Beauty is hét rode draad in alles wat ze doen. Eenvoud, duurzaam en kwaliteit. "Natural Beauty, embracing all the words' diverse people, culture and ethnical background." Een prachtige, clean & fresh look die elke badkamer een prachtige, luxe feeling geeft. 


Welke REF Illuminate Colour producten zijn er allemaal?  
Deze lijn is speciaal ontwikkeld voor gekleurd haar. het geeft je haar weer een boost!
REF Illuminate Color Shampoo, een speciaal ontwikkelde shampoo voor gekleurd haar. Deze shampoo geeft gekleurd haar de extra verzorging die het nodig heeft. Daarbij blijft de haarkleur behouden en daardoor komt de haarkleur mooier uit
REF Illuminate Colour Conditioner, een conditioner die het haar beschermd voor kleurvervaging en schadelijke invloeden van de zon. Ook geeft dit product jou meer volume en wordt het super zacht, dit dankzij de zijdeproteïnen en tamalu olie die het product bevat.
REF Illuminate Colour Mask, dit mask bied verzorging door middel van het toegevoegde acai-olie die de haargroei bevordert en gespleten punten uit de weg gaat. Het masker vergroot de intensiteit van de haarkleur en maakt het haar ook meteen zacht en glanzend.


Is REF Stockholm 100% Vegan en vrij van sulfaten, parabenen en siliconen?
REF Stockholm is 100% Vegan en maakt alleen gebruik van plantaardig ingrediënten. De proteïnes die gebruikt worden in de REF Stockholm zijn dan ook niet afkomstig van dieren maar van Quinoa. Ook zijn alle producten van REF Stockholm Sweden vrij van sulfaten, parabenen én siliconen.
       
Is REF Stockholm geschikt voor mijn haren?
Ben je opzoek naar goede haarverzorging die werkt met natuurlijke producten, en die schadelijke ingrediënten achterwege laat? Dan ben je helemaal aan het goede adres! REF Stockholm is daarnaast ook nog eens 100% vegan. REF Stockholm heeft voor ieder wat wils, dus er zit zeker haarverzorging tussen die  naadloos aansluit bij jouw wensen en de behoeftes van je lokken. 
Wil je graag sparren met één van onze teamleden, omdat je niet helemaal weet wat nu heb beste bij je wensen past? Neem dan geheel vrijblijvend contact op via [email protected] of bel ons tijdens kantooruren.