American Crew
American Crew Official Supplier to man
-52% Sale

19,95 9,50

-50% Sale

13,95 6,95

-50% Sale

15,95 7,95

-55% Sale

17,50 7,95

-50% Sale

15,95 7,95

-37% Sale

16,95 10,75

-40% Sale

17,95 10,75

-48% Sale

14,95 7,75

-43% Sale

18,95 10,75

-42% Sale

18,95 10,95

-41% Sale

16,95 9,95

-40% Sale

19,95 11,95

Gratis

verzending vanaf €35!
Advies nodig? Bel

038-4582584

Voor

23:30

besteld morgen in huis!

-42% Sale

18,90 10,95

-50% Sale

19,95 9,95

-27% Sale

21,95 15,95

-53% Sale

17,- 7,95

-40% Sale

19,95 11,95

-50% Sale

31,90 15,95

-50% Sale

15,90 7,95

-45% Sale

22,60 12,50

-50% Sale

15,50 7,75

-41% Sale

19,50 11,50

-47% Sale

16,95 8,95

-40% Sale

19,95 11,95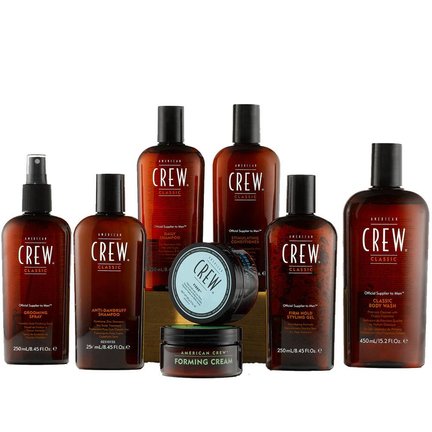 American Crew is begonnen met een lijn die enkel bestond uit styling producten maar al snel kwamen er ook verzorgingsproducten bij. America Crew is speciaal voor mannen en straalt klasse en superioriteit uit. Het is een echte mannenlijn die ontwikkeld is door mannen. Ontstaan uit een behoefte vanuit de barbershops om met producten te werken die werkelijk gemaakt zijn voor het haar en de huid van een man. Zonder zoete geur of andere poespas. Men's Grooming zoals dat hoort te zijn. Niets minder, maar wel zo veel meer. 
Als je denkt aan American Crew, dan krijg je direct een 60's vibe. In 2016 heeft American Crew een verandering ondergaan, ze zijn namelijk geïnspireerd geraakt door de stijl van Elvis Presley. Hoewel dit merk ontstond in de jaren '80, realiseerde de mannen van American Crew ook dat het tijd was voor een nieuw fris uiterlijk.
American Crew - Official Supplier to men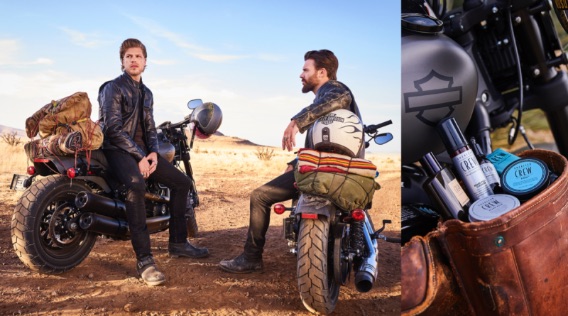 Bron - AmericanCrew.com
Een absolute lifestyle brand die niet alleen jij en je haar intens gelukkig maakt, ook je badkamer wordt er een stukje mooier door.

American Crew is in de VS uitgegroeid tot het bekendste merk van haarproducten exclusief voor de man en heeft op dit moment de meest complete productenlijn voor mannen. Neem bijvoorbeeld de Pomade van American Crew, dit is een Pommade op waterbasis, die geeft je haar een medium hold en high shine voor een slikke pompadour. Wil jij meer een nochalante look, probeer dan eens de Forming Cream van American Crew, deze geeft je een extra volle bos die eenvoudig te restylen is. De producten zijn super makkelijk in gebruik, worden niet getest op dieren en worden verkocht over de gehele wereld.
American Crew heeft voor 2018/2019 een samenwerking met niemand minder dan Harley Davidson. Een droomcombinatie die gaat zorgen voor vele mooie projecten.
Welke producten heeft American Crew allemaal?
American Crew heeft een divers assortiment voor mannen! Er kan keuze worden gemaakt uit: American Crew Shampoo, American Crew Conditioner, American Crew Styling, American Crew Body en American Crew Shave. Voor iedere man is er wel iets te vinden uit deze stijlvolle en dandy verzorgingslijn! 
American Crew Shampoo: American Crew heeft diverse shampoo´s voor vet tot droog haar. Het haar wordt heel goed verzorgd en krijgt ook een gezonde boost.
American Crew Conditioner: American Crew heeft een geweldige conditioner die het haar en de hoofdhuid versterkt. Dankzij de gezonde reiniging wordt de hoofdhuid ook gestimuleerd, met het effect dat het niet vettig wordt.
American Crew Styling: American Crew heeft verschillende producten op het gebied van styling. Het merk bevat: Cream´s, Spray´s, verschillende soorten Wax, verschillende soorten Gel, Pomade en Powder. De keuze is er reuze!
American Crew Body: American Crew heeft verschillende soorten 3-in-1 Shampoo´s die ook geschikt zijn voor lichaamsverzorging. Een Bodywash waarbij het lichaam de hele dag fris blijft. En een heerlijke parfum opgebouwd uit een lichte citrusbasis, wat een stevige balans geeft.
American Crew Shave: Ook uit de scheerproducten heeft de American Crew een ruime keuze. Deze producten zitten vol natuurlijke ingrediënten zoals verschillende oliën en extracten die de huid beschermen en irritaties voorkomen.
Wat is het best verkochte American Crew product?
De absolute bestseller van de American Crew is de American Crew Forming Cream. Deze Forming Cream geeft je lokken een medium fixatie, een prachtige lichte glans en een natuurlijke look. Oftewel een gezonde, stralende gestijlde lokken. Daarnaast geeft het je haren ook body én volume, wat betekend dat de Forming Cream uitermate geschikt is voor dunner haar. Na absolute runner up is de American Crew Grooming Cream. De Grooming Cream is hét ideale product voor krullend lokken die een strakke look wil creëren. Het ideale van de Grooming Cream is niet alleen dat het golvende haren én krullende lokken een strakke look geeft, maar tegelijkertijd ook voor intense verzorging zorgt. Wat dit type haar juist nodig heeft. Bijenwas, Aloë Vera, en kokosolie om precies te zijn.
Is American Crew vrij van sulfaten, parabenen en siliconen?
De producten van American Crew zijn niet vrij van sulfaten, parabenen of siliconen. 
Service van Haarspullen.nl
Bij haarspullen.nl kun je in onze online shop American Crew voor mannen online kopen. Wij zorgen ervoor dat je order, die je plaatst vóór 23.00 uur, dezelfde werkdag aan jou wordt verzonden. Bij een bestelling vanaf € 35,- profiteer je van gratis verzending. Daarnaast bieden wij jou de service van achteraf betalen. 
Heb je een vraag over één van onze producten of onze service? Je kan van ons verwachten dat wij supersnel antwoord geven op al jou vragen via mail. Vaak ook buiten kantooruren. Daarnaast kun je ons ook telefonisch bereiken. Wil je meer informatie? Bekijk dan eens onze veelgestelde vragen. Wij wensen je veel plezier met het shoppen van American Crew bij haarspullen.nl.