-7% Sale

139,- 129,95

-29% Sale

28,- 19,95

-5% Sale

189,95 179,95

-12% Sale

199,- 175,-

-36% Sale

23,50 14,95

-4% Sale

129,95 125,-

-36% Sale

139,95 89,95

-12% Sale

199,- 175,-

-14% Sale

185,- 158,95

-22% Sale

22,95 17,95

-14% Sale

175,- 149,95

-14% Sale

76,- 65,-

Gratis

verzending vanaf €35!
Advies nodig? Bel

038-4582584

Voor

23:30

besteld morgen in huis!

-36% Sale

21,95 13,95

-20% Sale

225,- 179,50

-16% Sale

195,50 165,-

-29% Sale

35,- 25,-

-32% Sale

24,95 16,95

-10% Sale

249,- 225,-

-12% Sale

199,- 175,-

-17% Sale

21,50 17,95

-29% Sale

29,50 20,95

-24% Sale

23,50 17,95

-40% Sale

29,95 17,95

-7% Sale

189,- 175,-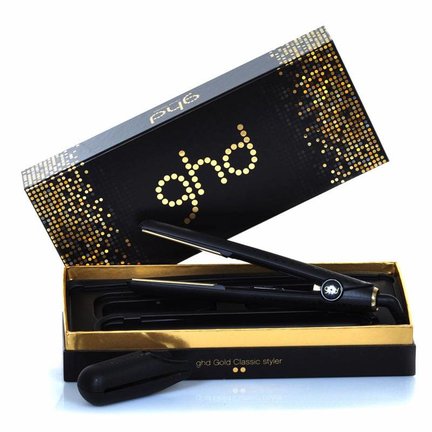 GHD staat gelijk aan Jennifer Aniston, Madonna en Victoria Beckham. Met dit absolute a-merk haal je pure kwaliteit in huis. GHD staat voor "Good Hair Day", precies wat ze leveren. Naast de diverse stylingstools heeft ghd ook styling producten. Deze styling producten geven stevigheid aan je haar, maar zijn daarnaast ook verzorgend. Denk hierbij aan een volume spray zoals de GHD Total Volume Foam, spray voor hittebescherming met de GHD Heat Protect Spray en als finishing touch de GHD Final Shine Spray. Je briljante look waar menig dames jaloers op worden heb je met deze producten in een handomdraai
Ontstaan van GHD Producten
Het verhaal van GHD is een waar succesverhaal. Martin Penny, Gary Douglas en Robert Powls hebben Good Hair Day opgericht in 2001. Ze kochten gezamenlijk de rechten van de stijltang van een Zuid Koreaanse uitvinder. GHD groeide organisch zo ontzettend hard, dat ze nooit echt hebben hoeven adverteren of überhaupt aan hoefde te denken in de eerste twee jaar. Na twee jaar hadden kapsalons en mond -op- mond reclame ervoor gezorgd dat GHD 12 miljoen pond waard was in plaats van de verwachte 3 a 4 miljoen pond.
In 2011 zijn ze begonnen met de GHD V Gold Series Styler, die in 3 maten verkrijgbaar zijn. In 2012 kwam de GHD Air Professional Föhn erbij. In maart 2013 kwamen de heren met de GHD Eclipse (wordt niet meer gemaakt) die gebruik maakte van zes sensoren die ervoor zorgen dat de stijltang op een constante warmte blijft van 185 graden. Volgens GHD is deze temperatuur de optimale temperatuur voor de beste resultaten. De Daily Mail noemde de GHD Eclipse de "The Rolls-Royce of irons". Dat is niet niks! In 2014 kwam daar de GHD Aura Föhn and Curve bij en het laatste wat ze op de markt hebben gebracht is de GHD Platinum Styler. Je kan dus wel zeggen dat GHD kwaliteit leveren, en eigenlijk de neusje van de zalm zijn. 
We mogen dan ook wel zeggen dat GHD een ontzettend belangrijk onderdeel is geworden van de haarverzorging industrie. Daarnaast heeft GHD iets gedaan wat nooit iemand eerder heeft gedaan. Ze zijn de eerste sponsor ooit met styling van Victoria's Secret Fashion Show en dat is zo ontzettend goed bevallen van beide partijen dat ze is nu zelfs een jaarlijkse bijdrager zijn!
Visie van GHD
GHD's visie 'Je kan alles doen met je haar'.
Om die visie te realiseren hebben ze stijltangen, föhns en krultangen maar ze hebben ook borstels en sprays. Dat is opzich niet een heel groot assortiment, maar dat is ook niet nodig volgens GHD. Met weinig producten kan jij je lokken om toveren tot een ware creatie. Je hoeft niet langer naar een stylist te gaan om die prachtige hairdo te krijgen - krijg een Good Hair Day met de producten van GHD.
Briljante creatie met GHD Producten:
Service van Haarspullen.nl
Bij haarspullen.nl kun je in onze online shop GHD online kopen. Wij zorgen ervoor dat je order, die je plaatst vóór 23.00 uur, dezelfde werkdag aan jou wordt verzonden. Bij een bestelling vanaf € 35,- profiteer je van gratis verzending. Daarnaast bieden wij jou de service van achteraf betalen. 
Heb je een vraag over één van onze producten of onze service? Je kan van ons verwachten dat wij supersnel antwoord geven op al jou vragen via mail. Vaak ook buiten kantooruren. Daarnaast kun je ons ook telefonisch bereiken. Wil je meer informatie? Bekijk dan eens onze veelgestelde vragen. Wij wensen je veel plezier met het shoppen van GHD bij haarspullen.nl.