-7% Sale

129,- 119,95

-7% Sale

189,- 175,-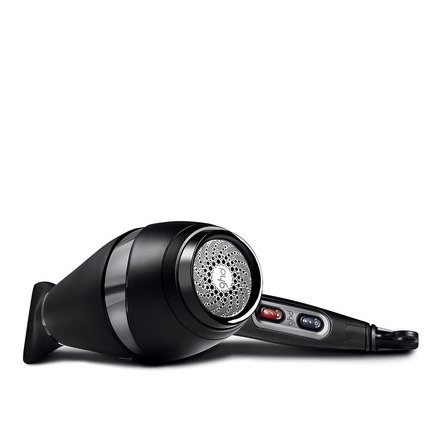 GHD heeft twee föhns in hun collectie opgenomen die van extreem hoge kwaliteit zijn. Met de föhns maak jij je haar gemakkelijk pluisvrij stijlen of creëer een heerlijke nonchalante slag in je lokken. Geef het haar daarna nog een finishing touch met de GHD Final Shine Spray voor schitterende glans of  gebruik de GHD Final Fix Hairspray voor stevige fixatie. Met GHD styling tools en producten is het resultaat altijd niet alleen maar perfect maar ook extreem langdurig! Oftewel de hele dag bouncy lokken of een super strakke style look! Bij GHD kan je ervan uitgaan dat je haar doet wat het moet doen. A daily Good Hair Day was never this easy!
Kwalitatieve GHD föhns voor iedereen
De GHD Air föhn maakt gebruikt van geavanceerde ionische technologie waarmee het haar een briljante glans krijgt en daarnaast óók pluisvrij blijft. Met de koude lucht knop, cool shot, sluit je de haarschubben af van je lokken voor smooth finish. Alsof je net bij de kapper vandaan komt! Deze kwalitatieve Air föhn beschadigd het haar niet. Ben je toch  opzoek naar een innovatieve föhn die gebruikt maakt van de nieuwste gepatenteerde technologieën, dan is de GHD Aura föhn je beste maatje! Wat de Aura Föhn zo bijzonder maakt zijn de Laminair en Cool-Wall technologieën. De Laminair technologie zorgt ervoor dat je lokken extra veel glans krijgen. De Cool-Wall technologie creëert een ring van koude lucht, een aura, rondom de warme lucht. Zo krijgt je een briljante finish zonder na afloop de aparte koude lucht knop te gebruiken! Je lokken worden onweerstaanbaar zijdezacht en glanzend. Voor extra gebruiksgemak is de GHD Aura föhn licht van gewicht en maakt de Aura Föhn weinig geluid.
Ontstaan van GHD Producten
Het verhaal van GHD is een waar succesverhaal. Martin Penny, Gary Douglas en Robert Powls hebben Good Hair Day opgericht in 2001. Ze kochten gezamenlijk de rechten van de stijltang van een Zuid Koreaanse uitvinder. GHD groeide organisch zo ontzettend hard, dat ze nooit echt hebben hoeven adverteren of überhaupt aan hoefde te denken in de eerste twee jaar. Na twee jaar hadden kapsalons en mond -op- mond reclame ervoor gezorgd dat GHD 12 miljoen pond waard was in plaats van de verwachte 3 a 4 miljoen pond.
In 2011 zijn ze begonnen met de GHD V Gold Series Styler, die in 3 maten verkrijgbaar zijn. In 2012 kwam de GHD Air Professional Föhn erbij. In maart 2013 kwamen de heren met de GHD Eclipse die gebruik maakt van zes sensoren die ervoor zorgen dat de stijltang op een constante warmte blijft van 185 graden. Volgens GHD is deze temperatuur de optimale temperatuur voor de beste resultaten. De Daily Mail noemt de GHD Eclipse de "The Rolls-Royce of irons". Dat is niet niks! In 2014 kwam daar de GHD Aura Föhn and Curve bij en het laatste wat ze op de markt hebben gebracht is de GHD Platinum Styler.
We mogen dan ook wel zeggen dat GHD een ontzettend belangrijk onderdeel is geworden van de haarverzorging industrie. Daarnaast heeft GHD iets gedaan wat nooit iemand eerder heeft gedaan. Ze zijn de eerste sponsor ooit met styling van Victoria's Secret Fashion Show en dat is zo ontzettend goed bevallen van beide partijen dat ze is nu zelfs een jaarlijkse bijdrager zijn!
Visie van GHD
GHD's visie 'Je kan alles doen met je haar'.
Om die visie te realiseren hebben ze stijltangen, föhns en krultangen maar ze hebben ook borstels en sprays. Dat is opzicht niet een heel groot assortiment, maar dat is ook niet nodig volgens GHD met weinig producten kan jij je lokken om toveren tot een ware creatie. Je hoeft niet langer naar een stylist te gaan om die prachtige hairdo te krijgen - krijg een Good Hair Day met de producten van GHD.
Service van Haarspullen.nl
Bij haarspullen.nl kun je in onze online shop GHD Föhns online kopen. Wij zorgen ervoor dat je order, die je plaatst vóór 23.00 uur, dezelfde werkdag aan jou wordt verzonden. Bij een bestelling vanaf € 35,- profiteer je van gratis verzending. Daarnaast bieden wij jou de service van achteraf betalen. 
Heb je een vraag over één van onze producten of onze service? Je kan van ons verwachten dat wij supersnel antwoord geven op al jou vragen via mail. Vaak ook buiten kantooruren. Daarnaast kun je ons ook telefonisch bereiken. Wil je meer informatie? Bekijk dan eens onze veelgestelde vragen. Wij wensen je veel plezier met het shoppen van GHD Föhns bij haarspullen.nl.