-17% Sale

7,50 6,25

-17% Sale

7,50 6,25

-50% Sale

15,90 7,95

-27% Sale

9,50 6,95

-47% Sale

16,95 8,95

-25% Sale

46,70 35,-

-20% Sale

19,95 15,90

-38% Sale

16,- 9,90

-28% Sale

14,50 10,50

-10% Sale

12,95 11,65

-36% Sale

12,50 7,95

-8% Sale

9,69 8,95

Gratis

verzending vanaf €35!
Advies nodig? Bel

038-4582584

Voor

23:30

besteld morgen in huis!

-10% Sale

10,95 9,85

-10% Sale

12,95 11,65

-30% Sale

24,95 17,50

-10% Sale

9,95 8,95

-10% Sale

9,95 8,95

-10% Sale

15,90 14,29

-10% Sale

12,95 11,65

-10% Sale

12,95 11,65

-10% Sale

10,95 9,85

-14% Sale

105,- 89,95

-18% Sale

9,50 7,75

-10% Sale

12,95 11,65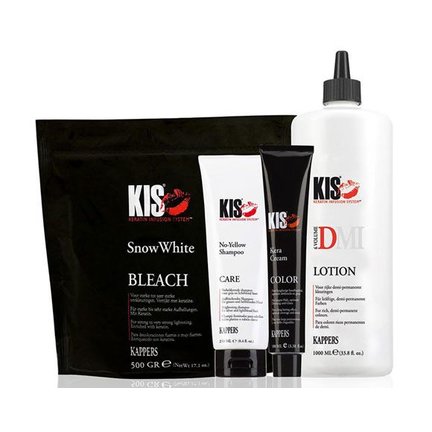 Het belangrijkste uitgangspunt van dit super merk is het maximaal herstellen van je haar met een minimum aan verzwarende cosmetische filmlaagjes. KIS staat voor "Keratin Infusion System". Dit is een revolutionaire formule die je haar herstelt van binnenuit. Alle verzorgende haarproducten van KIS bevatten dit unieke systeem. Je haar is veerkrachtig, super glanzend met natuurlijke volume dat ook de volgende dagen nog goed zit. Met de haarverzorgingsproducten, stylingsproducten, omvorming producten én haarkleuringsproducten van KIS verzorg jij je haar optimaal en creëer jij een onvergetelijk kapsel.  
KIS Kappers producten op een rijtje:


KIS Styling
Met de styling producten van KIS laat jij je beste haarlook zien. De KIS Update en KIS Volume Gel geven je een vollere en dikkere haarbos. Als je wilt opvallen met prachtig glanzend haar zijn de KIS Soft Wax, KIS Gel Wax en KIS Shine Finish styling producten die je niet kan missen. Ook de stylingsproducten KIS Kera Mousse en KIS Groom Gelly geven je haar een stevige hold. En als laatst zorgen de KIS KeraSpray en KISS Gloss Pomade voor de perfecte finishing touch.  

KIS Color
Als je genoeg hebt van je natuurlijke haarkleur of gewoon een keer iets anders wilt zijn de haarkleuringsproducten van KIS een goede optie. Deze haarkleuringsproducten laten je haar namelijk stralen van binnenuit zodat je iedereen omver blaast met een wow-effect. Als jij je haar wilt ontkleuren of blonderen zijn de KIS KeraBlond Bleach Paste, KIS Blondeer Poeder en KeraBlond Bleach Powder goede hulpmiddelen. Als je iets anders wilt dan blond of lichter haar heeft de KIS KeraCream Color een ruime keus aan verschillende kleuren.

KIS haarverzorging
De haarverzorgingslijn van KIS reinigt en verzorgt je haar met een opbouwend effect. Met haarproducten als KIS KeraMoist Treatment en KIS KeraGlide Detangler geef jij je chemisch behandeld of droge haar een intensieve behandeling waarbij je haar op milde wijze wordt gereinigd. En als je last hebt van een doffe haarkleur kan jij je haar een oppepper geven met de KIS KeraFresh Color Conditioner, KIS KeraMoist Shampoo en KIS KeraMax Treatment. Als jij de vochtbalans van je haar wilt herstellen dan komen de KIS KeraControl Shampoo en KIS KeraScalp Revitalizer als geroepen. Voor super glad, heerlijk zacht en prachtig glanzend haar is de KIS Argan Oil Powerserum uiterst geschikt.     
Achtergrond informatie KIS Kappers
In 1995 werd in Nederland het merk Kappers geïntroduceerd. Hun missie was om kapsalons hoogwaardige kwaliteitsproducten te bieden tegen een betaalbare prijs. De haarproducten moesten bovendien naadloos aansluiten bij de specifieke behoefte en werkwijze van de kapsalon. KIS Kappers is nu niet meer weg te denken uit de salons, maar ook voor de thuiskapster en de handige doe-het-zelver is en blijft KIS Kappers een absolute must.
KIS heeft twee van de beste werelden samengevoegd. Kennis en kunde van Amerika én Europa.   Het systeem bevat een revolutionaire formule die, geheel naar Amerikaanse traditie, focust op herstel van het haar van binnenuit. Amerika is ontzettend sterk in het daadwerkelijk repareren van het haar. In Europa lopen ze voor met de technieken in haarkleuring en permanent. KIS brengt het beste van beide werelden samen, oftewel KIS Kappers. KIS staat dan ook voor Keratin Infusion System, wat in elk product zit verwerkt. In dit systeem zitten, naast keratine, ook botanische kruidenextracten. Deze combinatie zorgt ervoor dat de hoeveelheid keratine in je lokken herstelt, en daarmee dus ook het natuurlijke vochtgehalte van je haar.
Service van Haarspullen.nl
Bij haarspullen.nl kun je in onze online shop KIS Kappers online kopen. Wij zorgen ervoor dat je order, die je plaatst vóór 23.00 uur, dezelfde werkdag aan jou wordt verzonden. Bij een bestelling vanaf € 35,- profiteer je van gratis verzending. Daarnaast bieden wij jou de service van achteraf betalen.  
Heb je een vraag over één van onze producten of onze service? Je kan van ons verwachten dat wij supersnel antwoord geven op al jou vragen via mail. Vaak ook buiten kantooruren. Daarnaast kun je ons ook telefonisch bereiken. Wil je meer informatie? Bekijk dan eens onze veelgestelde vragen. Wij wensen je veel plezier met het shoppen van KIS Kappers bij haarspullen.nl.