Soft Glam
Undone Glamour ontmoet op natuurlijke wijze gedroogde lokken voor een coole, moeiteloze look.
Geen producten gevonden...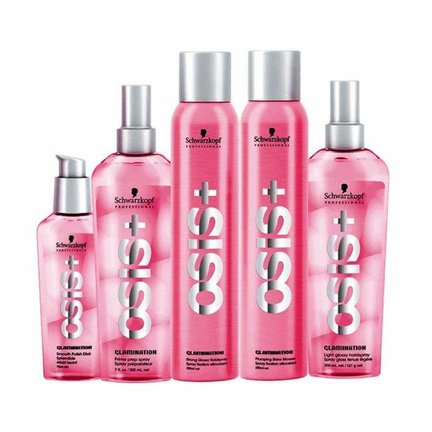 Osis+ Softglam - Undone Glamour ontmoet op natuurlijke wijze gedroogde lokken voor een coole, moeiteloze look. Bereik het ultieme Undone Glamour met de laatste handdoekdroge - en vlechtlooks, gecreëerd met OSiS+ Soft Glam. De vederlichte formule met minerale vloeistoffen geeft je lokken een prachtige glans, terwijl het grip en een flexible hold geeft. Creëer een zacht en natuurlijke haargevoel. 
Wat is OSiS+ SOFT GLAM?
Bron - Schwarzkopf-Professional.nl
Perfectie is verleden tijd. Het draait nu allemaal om een moeiteloos, eenvoudige, authentieke en natuurlijke lokken.
Creëer een prachtige look met een zacht haargevoel - je weet wel - undone curls & beach waves, een natuurlijk warrig haartextuur met een sea-salt look of veelzijdige vlechttypes. Helemaal anno nu - je lokken zo weten te stylen dat het lijkt alsof je er niets aan gedaan hebt. Alsof je weken op vakantie bent geweest, en het van nature prachtig zit. Ontdek deze fascinerende wereld van 'onvolmaakte' hairdo's gecreëerd met de nieuwste vlechttechnieken en specifieke droogtechnieken, en omarm Undone Glamour met OSiS+ Soft Glam.
Wat is de filosofie achter OSiS+ Soft Glam?
OSiS+ Soft Glam is het eerste vrouwelijke productenlijn met minerale vloeistoffen voor een styling performance met een natuurlijke beweging en lumineuze glans. Oftewel prachtige, nonchalante bewegende lokken die schitteren in het licht door gezondheid. Vederlichte formules die je lokken zacht en glanzend maakt - als prachtige, zachte veertjes.
UNDONE TECHNIEKEN met OSiS+ Soft Glam
Bron - Schwarzkopf-Professional.nl
Wil je dit festivalseizoen looks creëeren zónder het gebruik van hitte stylingtools, omdat je haar wel wat rust kan gebruiken?  Nonchalante beachy waves en prachtige, hippe vlechten zijn helemaal hot & happening. Je kan het zonder een haarproduct creëeren, maar we weten allemaal dat jij je voetjes niet van de vloer kan houden tijdens een festivalletje. Tijd om jouw ideale festival look te maken met producten die speciaal voor gemaakt zijn! En dat die natuurlijk de hele dag blijven zitten, tijdens het dansjes doen. Stop met overmatig gebruik dat je lokken eruit laat zien als piekerige lokken en onnatuurlijke, droge look. 
Dankzij OSiS+ Soft Glam kán jij je meest favo look creëeren, en het is nog betaalbaar ook! Dit gecombineerd met het op natuurlijke wijze drogen van je lokken en een paar vluchttechnieken ben jij helemaal festival ready!
Vlecht technieken met OSiS+ Soft Glam
Realiseer zachte looks waar je vingers in door kunnen - undone krullen & heerlijke beach waves, natuurlijk nonchalante lokken die langs je gezicht waaien als de golven op het strand. Met wat simpele inspiratie kom je een heel eind!  
Zoals je ziet zijn er zoveel prachtige manier om je lokken om te toveren naar een prachtige festival look, die je stiekem ook wel dagelijks wilt hebben. 
Service van Haarspullen.nl
Shop OSiS+ Soft Glam haarproducten heel voordeling bij ons online. Wij zorgen ervoor dat je order, die je plaatst vóór 23.00 uur, de volgende bij jou thuisgeleverd wordt. Is het totale bedrage € 35,- of zit je hierboven dan wordt je pakketje gratis thuisbezorgd. Je kan bij ons ook achteraf betalen.
Ons team wenst je heel veel shop plezier van OSiS+ Soft Glam.